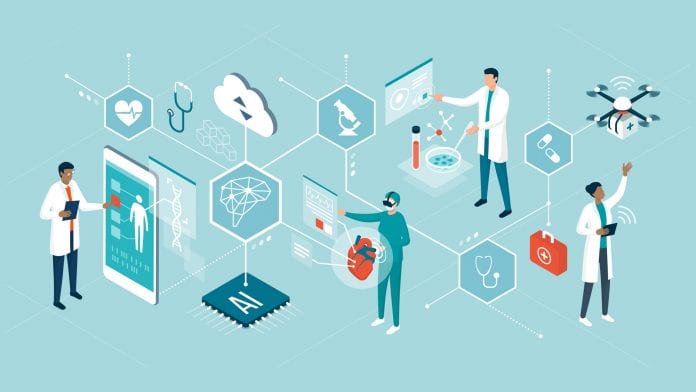 The adoption of information technology (IT) in the healthcare market has achieved a tipping point, the impact of which has been felt across the world, according to an industry report.
The need to ensure security and comfort for patients has led to a major transformation in the medical industry, which has seen the path-breaking integration of healthcare and IT.  The deployment of IT has advanced the medical sector with the help of nanomedicine, 3D printing, virtual healthcare, robot-assisted surgery, and many others.
Advancements, aided by the investments made by both private and public entities across the globe has brought about an enormous change in the healthcare sector and the expectations of the consumers have changed in the last couple of decades, leading to medical providers focusing mainly on effective management of health data. This has considerably led to the adoption of novel technologies in the healthcare ecosphere, boosting the revenue graph of the healthcare IT industry.
Reports estimate that the healthcare information technology market could cross USD $441.8bn (€372.25bn) by the end of 2025. Global Market Insights explores some of the factors expected to influence the global healthcare IT market during the next few years.
Artificial Intelligence (AI) in the healthcare sector
The evolution of AI will act as a high impact factor for the global healthcare IT industry. Artificial Intelligence helps in offering assistance to practitioners. Artificial Intelligence offers assistance to practitioners, as well as simplifying the diagnosis and treatment procedures for tasks like the symptom analysis of the patients, which leads to effective data management decisions.
In terms of geographical expanse, the US healthcare IT industry dominated the market share in 2018. The need to provide healthcare services to the population residing in remote, suburban areas will magnify the regional healthcare information technology market size.
Use of latest information technology in ambulatory surgical units
In ambulatory surgical units, healthcare IT solutions have witnessed tremendous growth potential due to the growing availability of specialised services like ambulatory electronic health records (EHRs). These will enhance the implementation of healthcare IT in ambulatory surgery centers (ASC) settings. Incentives and funds by government authorities and regulatory bodies will supplement growth in the industry.
Healthcare revenue cycle management to witness notable recognition
The healthcare revenue cycle management (HRCM) market has gained considerable recognition over the years since it has an established presence of healthcare information technology companies that lead the market by offering supreme quality of software. The development and preference for big data analytics will magnify HRCM business growth in the future.
Consistent product innovations in the industry
Researchers in the industry are constantly working towards product improvements to meet the demands of the vast healthcare sector in an effective, reliable, and safe manner. For instance, the machine learners at MIT's Computer Science and Artificial Intelligence Lab have designed a novel AI diagnostic technology which carries the ability to make necessary diagnoses on the basis of digital findings.