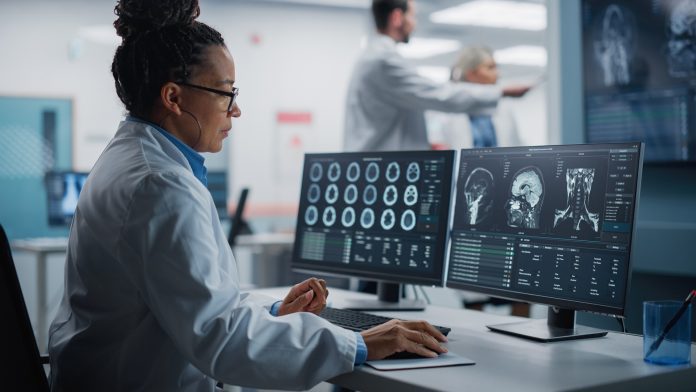 The NHS has rolled out fast-track testing to speed up cancer diagnosis, which will help patients across England. 
NHS England is expanding direct access to diagnostic scans across all GP practices, helping cut waiting times and speeding up a cancer diagnosis or all-clear for patients. From November 2022, every GP team can order CT scans, ultrasounds or brain MRIs for patients with concerning cancer symptoms but fall outside the National Institute for Health and Care Excellence (NICE) threshold for an urgent suspected cancer referral.  
Richard Evans, CEO of the Society of Radiographers, said: "Everyone working in health care knows that earlier diagnosis is key to improving outcomes for patients with cancer and many other conditions. The opportunity for primary care clinicians to refer cases that have concerning features directly for imaging could help to achieve an earlier diagnosis for many people and this has to be a good thing. It's important that the growth in workforce is prioritised in order to support initiatives such as this". 
Introducing methods to speed up cancer diagnosis
Around one in five cancer cases are detected after routine testing following referral to a hospital specialist, meaning some people can wait long periods for a cancer diagnosis. However, this new scheme means GPs can order checks directly, reducing wait times to as little as four weeks.  
The scheme will also free up thousands of initial hospital appointments by reducing the need for a specialist consultation first, consequently, reducing the COVID-19 backlog. 
The Direct Access scheme means that around 67,000 who are usually diagnosed with cancer through non-urgent testing will now be eligible for fast-tracking, giving them a better chance of having a quicker cancer diagnosis at an earlier stage.  
NHS chief executive Amanda Pritchard will say at NHS Providers annual conference in Liverpool: "GPs are already referring record numbers of patients for urgent cancer referrals, so much so that the shortfall in people coming forward for cancer checks caused by the pandemic has now been eradicated. 
"This new initiative builds on that progress, supporting GPs to provide more opportunities for testing across the country for people who have vague symptoms. 
"By sending patients straight to testing, we can catch and treat more cancers at an earlier stage, helping us to deliver on our NHS Long Term plan's ambitions to diagnose three-quarters of cancers at stages one or two when they are easier to treat. 
"As ever, if you have a potential cancer symptom – please come forward and get checked – it could save your life". 
GPs will continue to follow NICE guidelines
GP teams will follow NICE guidelines for referring patients to urgent cancer diagnosis pathways. However, the new scheme will see patients who have vague symptoms and fall outside the standards to receive quicker tests. It will also offer peace of mind to concerned patients.  
The NHS will develop existing hospital diagnostic services with the significant additional capacity provided by Community Diagnostic Centres and, support primary care teams increase GP Direct Access Tests available. 
The first phase of the scheme will focus on urgent cancer diagnosis referral pathways, whereas phase 2 will be built in 2023/24 to include a wider range of tests which will involve dialogues with GPs, integrated care boards and key stakeholders.  
Louise Ansari, National Director of Healthwatch England, added: "People tell us that when they experience unnerving symptoms they need quicker and easier access to diagnostic tests to either give them reassurance that nothing is wrong or spot problems early so they can have a treatment plan put in place. 
"This new initiative will give every GP practice in the country much greater flexibility in what tests and scans they can order for their patients. 
"Ultimately, we hope this will help diagnose people who have cancer as early as possible, leading to better quality care and better long-term survival rates". 
Recommended Related Articles