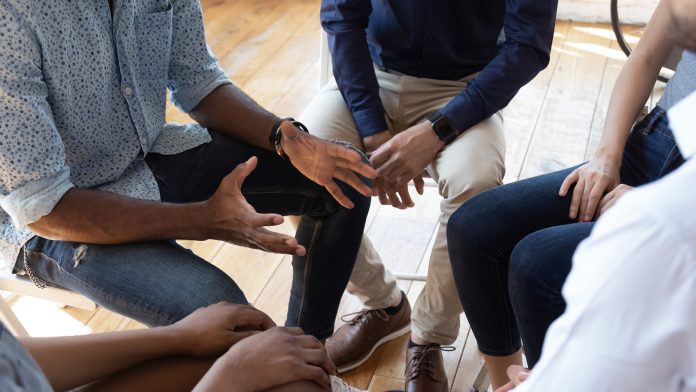 Group talking therapy can relieve psychological distress, improves quality of life and results in fewer readmissions for heart problems, according to a new study.
Around 20% of all cardiac patients, and one-third of employed patients, experience symptoms of psychological distress. Many programmes for treating psychological issues in heart patients are lengthy and require individual talking therapy from a therapist or psychologist, making treatment difficult to sustain. 
The new study, from the European Society of Cardiology, analysed results from five group sessions of cognitive behavioural therapy (CBT). The group talking therapy sessions were conducted by nurses as an add-on to usual cardiac rehabilitation regarding symptoms of anxiety and depression. 
"Psychological symptoms like palpitations and chest discomfort can be difficult to distinguish from cardiac symptoms. This can lead to a vicious circle, with further distress that might limit a patient's ability to live a normal life at home and work," explained Annette Holdgaard, a nurse at Copenhagen University Hospital.   
The full findings of the study have been published in European Heart Journal.  
Assessing the CBT course
The study assessed 147 cardiac patients experiencing psychological distress, which was defined as a Hospital Anxiety and Depression Scale (HADS) score of eight or more for anxiety and/or depression. The average age of participants was 54 years and 67% were men. 
Participants were randomly assigned to five sessions of group talking therapy alongside usual cardiac rehabilitation. Patients with severe distress or a psychiatric diagnosis were not included. Cardiac rehabilitation was delivered over eight weeks, with two 90-minute group sessions per week. The sessions included medication adjustment, exercise and education on diet, smoking, physical activity, body weight, blood sugar, blood pressure, blood lipids, and psychological issues. 
Nurses delivered the group talking therapy sessions after brief training and were supervised by a psychologist. The course was made up of five sessions of two hours for groups containing three to four patients. 
What did the course involve?
In session one, patients clarified their values, such as family and work, and reported difficulties in these areas caused by heart disease, such as poor sleep and exhaustion.  
In session two, patients took part in a review of the anxiety circle, where a threat can cause physical reactions and catastrophising thoughts. This was followed by a discussion around coping mechanisms, such as gradual exposure to anxiety-filled situations and breathing exercises to calm the nervous system. 
In session three, patients analysed the consequences of current behaviour. For example, working 50 hours a week may provide short-term satisfaction but may not allow enough time to properly recover from a heart condition, leading to longer-term issues. 
In session four, patients concentrated on strategies for dealing with concerns. While worrying can lead to problem-solving, it can also lead to harmful overthinking.  
Finally, in session five, patients reflected on how their coping strategies had changed during the course. Patients learned how to use of their strengths and received an individual maintenance plan for dealing with future psychological distress. 
Group talking therapy led to improved outcomes
The primary outcome of change, measured in total HADS scores from baseline to three months, improved significantly in the CBT group from baseline to 8.0 points. This is considerably more than in the control group, which rose to 4.1 points. Compared to the control group, the group talking therapy patients had greater improvement in quality of life at six months, and a 57% lower risk of cardiac readmissions at 12 months.  
Existing research has shown that depressed or anxious patients are less likely to attend cardiac rehabilitation exercise and education sessions. This study found that those receiving CBT were more likely to take part than the control group. 
"The findings indicate that all patients attending cardiac rehabilitation should be screened for psychological distress and offered CBT if needed. Those in the therapy group said it was a relief being with others dealing with the same problems," said Holdgaard. 
"They learned to evaluate and challenge their own thoughts – for example, there may be other reasons for my heart beating faster than that I am dying. Nurses helped them distinguish between cardiac and psychological symptoms. Patients also realised that they could choose how much attention to give a thought, and instead of entering the thought, they can maintain distance and let thoughts pass," she concluded.  
Recommended Related Articles