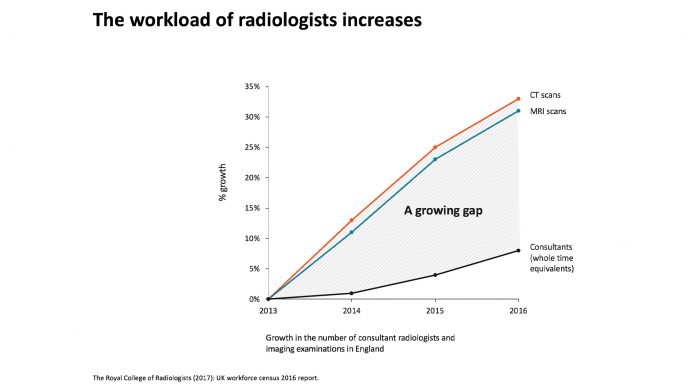 Health Europa spoke to Joerg Aumueller from Siemens Healthineers about the company's views and strategy to apply artificial intelligence into the clinical routine and healthcare.
German based Siemens Healthineers purpose is to enable healthcare providers to increase value by empowering them on their journey towards expanding precision medicine, transforming care delivery, and improving patient experience, all enabled by digitalising healthcare. An estimated five million patients globally everyday benefit from their innovative technologies and services in the areas of diagnostic and therapeutic imaging, laboratory diagnostics and molecular medicine, as well as digital health and enterprise services.
They are a leading medical technology company with over 170 years of experience and 18,000 patents globally. With about 50,000 dedicated colleagues in over 70 countries, they will continue to innovate and shape the future of healthcare. Speaking to HEQ, Global Head of Digitalizing Healthcare Joerg Aumueller explains the integration of AI into healthcare and how Siemens Healthineers are leading the change.
What are the challenges in healthcare delivery that can benefit from AI-powered support?
The single greatest challenge, in that regard, is the exponential growth of data. Predictions tell us that by 2020 medical data will be doubling every 73 days, and there simply won't be enough medical personnel to handle this new flood of information.
Looking into radiology, for example, we will see increases of CT and MRI examinations by 29 and 26 percentage points respectively; all the while, the increase of radiologists themselves will only be 5%. Here we have a clearly growing gap (Fig. 1) that will ultimately translate to an interpretation time of only three to four seconds per image. Studies have also shown that the interpretation time for radiologists can affect the interpretation error rate by a matter of 16.6 percentage points. All in all, it's a balance between volume and the exponential data, but also to be held against a high diagnostic accuracy.
How could AI impact clinical workflows?
Right now, in medical imaging, there are already several AI powered applications running silently in the background. So, that means we are already using these technologies in our imaging devices to accurately acquire medical images. Those images are used to collect accurate data which then allows for the best positioning for the patient on the best scan range. This allows us to deploy a first-time right approach when gathering medical data.
On the other hand, by moving up the ladder into AI powered medical image interpretation, clinicians can be supported by 'augmented reading aids' which derive pre-analysed information, alongside visual annotations with quantified information. This information can then be displayed to the front end immediately to help assist the clinicians in their daily routine.
To help solve the growing gap, Siemens Healthineers created the radiologist assistant AI-Rad Companion.4 This assistant helps take care of the tedious work by supporting routine reading and measuring tasks. If the user confirms the results, they are sent to the user's PACS system, leaving the radiologist in control.
With the AI-Rad Companion Chest CT4, hospitals can rely on their existing IT infrastructure with the goal to allow for a smooth integration into their daily workflow. The AI-powered solution is able to assist radiologists in many ways – for example by measuring the diameter of the thoracic aorta or highlighting suspicious lesions in the lung, and the list goes on: The AI-Rad Companion Chest CT (Fig. 2) is intended to be able to process the following routine steps:
Highlighting, quantification, measuring of defined anatomies and abnormalities; and
Reporting of findings in a structured table which is sent to PACS.
We can also use AI to optimise and refine clinical pathways. Intelligently integrating longitudinal patient data and co-relate insights from imaging, pathology, lab and genetics would reduce variations in practice; and align decisions with evidence-based medicine, operational efficiency, and quality. An AI powered pathway could help empower precise patient management decisions, facilitate objective decision making, and process improved insights.
At RSNA 2018 we presented AI-Pathway Companion5 that works on the basis of data integration and AI-technologies to recognise patterns. For each patient case, the AI can aggregate the patient history, the results from imaging, laboratory, pathology and genetics as well as clinical studies, and evaluate the data. Using this as the basis, the system will be able to provide the patient's status in the clinical pathway, following clinical guidelines, and suggest the next steps.
What is the road to success for the integration of AI into clinical routine?
Applying artificial intelligence has three basic dimensions: productivity and efficiency aspects or transforming care delivery by optimising workflows and expanding precision medicine by reducing unwarranted variations and improving diagnostic accuracy.
What is important for the clinical routine is seamless transitions in the clinician's workflow be­­tween machines. So that no matter where the clinicians are when using our solution, it should be readily available, for instance in the PACS front end or in the viewing front in.
The solution itself should also be scalable, for example a cloud solution should be flexible enough in the digital age to be able to update the algorithms, but also flexible enough to not be limited by a single task. It should be able to take a systematic approach, like a multi-organ interpretation itself.
How will AI change the medical profession as a whole?
Medical specialists shouldn't see AI as a technology to compete against, but rather they should see AI as a valuable tool for solving clinical questions. AI is going to help us smooth out all of the smaller issues that constantly get in the way of diagnosticians and get clinicians the information that they need so they can concentrate on the diagnoses. This is something that intelligence officers already predict, that we will see more diagnosticians using AI for a wide variety of tasks.
From helping to solve ever more complex questions or challenges, to helping to streamline routine tasks, AI will be leading the way. With the help of artificial intelligence in applying data science concepts and tactics we might potentially see a new field for clinical data scientists that use aggregate data to help analyse data and create clinical problem-solving scenarios, which is of the upmost importance.
It has become ever clearer in the last few years that the implementation of AI will require an interdisciplinary collaboration, a symbiotic relationship between the expert and the machine. Siemens Healthineers has developed a comprehensive portfolio of AI solutions that help improve or standardise complex diagnostics to meet the needs of clinicians and patients.
How is AI going to enrich the healthcare landscape?
The healthcare landscape is going to be the one of the most important uses of AI for the future of humanity. Healthcare based AI will not be simply optimising monetary transactions or predicting the fastest possible route through a city, but it will be helping doctors to find the optimum treatment or helping to reduce the burdens put upon patients by being more precise with treatments and treatment decisions. To that point, AI and digitalisation is playing an important part in:
Expanding precision medicine:
Diagnostic precision through quantitative imaging; and
Personalisation with intelligent image acquisition.
Transforming care delivery:
Increased workforce productivity through assistance in automation; and
Clinical operations optimisation.
Improving patient experience:
Prioritising complex/acute cases; and
Avoiding unnecessary interventions.
As a company we are happy to help evolve the healthcare systems by bringing in our established foundation of artificial intelligence. With established AI expertise, future oriented staff, vast medical data sets, and the exceptional computing power needed for creating algorithm-supported healthcare solutions.
References
Densen, P. (2011). Challenges and Opportunities Facing Medical Education. Retrieved June 25, 2019, from: https://www.ncbi.nlm.nih.gov/pmc/articles/PMC3116346/
Lindner, M. (2017, November 30). Adding value with AI in medical imaging. Retrieved April 23, 2019, from https://www.siemens-healthineers.com/news/mso-artificial-intelligence-in-radiology.html
Lindner, M. (2017, November 30). Adding value with AI in medical imaging.
510(k) pending. This information about this product is preliminary. It is under development, not commercially available, and its future availability cannot be ensured.
The product/feature mentioned herein is under development and not commercially available. Due to regulatory reasons its future availability cannot
be guaranteed.
Joerg Aumueller
Global Head of
Digitalizing Healthcare
Siemens Healthineers
+800 20 10 20 22
Tweet @SiemensHealth
www.siemens-healthineers.com/ai
Please note, this article will appear in issue 10 of Health Europa Quarterly, which is available to read now.