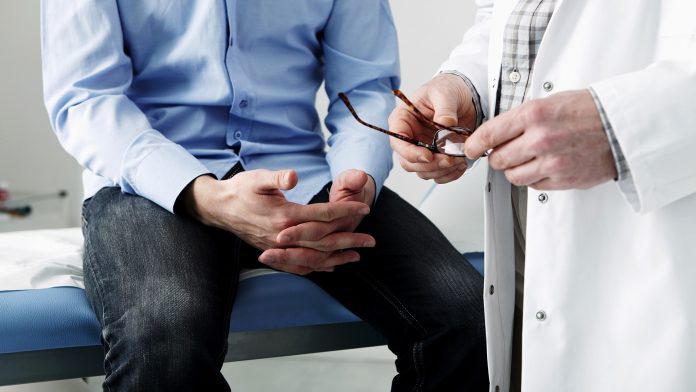 We spoke to Amy Rylance, Head of Improving Care at Prostate Cancer UK, about advancements in diagnostics, research and what can be done to improve prostate cancer treatment.
One in eight men in the UK will be diagnosed with prostate cancer in their lifetime, and around 475,000 men live with prostate cancer or the after-effects of the disease. However, changes to prostate cancer treatment and diagnostic pathways are helping to make care safer and more accurate.
Can you tell us about some recent developments in prostate cancer research?
We've seen huge changes in prostate cancer treatment and diagnostics in the last few years. Men will now be routinely referred for a multiparametric MRI before they have a biopsy. Around a third of men who have an imaging scan come back all-clear.
For two-thirds of men who go on to have a biopsy, that biopsy can be targeted. Here, clinicians take a sample of the tissue from the area of the prostate, which has been highlighted as suspicious, and this means the biopsy is much more accurate.
How biopsies are done in the UK is changing very quickly, moving to a transperineal approach to biopsy, which reduces the risk of sepsis. All these changes are making the diagnostic pathway safer and more accurate.
There are different types of prostate cancer, the most common being adenocarcinoma. Some cancers are indolent and develop slowly, while others are really aggressive that need treating quickly.
It's always been a challenge knowing how to treat slow-growing cancers, and there's a risk that treating these types of cancers can cause more harm than cancer itself.
Recent research has helped to facilitate stronger guidance on treatment, suggesting that those men with the lowest risk should not be given aggressive treatment and should, instead, undergo active surveillance. Data has shown very clearly that active surveillance has increased significantly in the UK, sparing men unnecessary treatment side effects.
There have also been improvements to prostate cancer treatment, such as MRI-guided radiotherapy, which allows radiotherapy to be more targeted and significantly reduces side effects. In addition, the use of spacers – to create a physical barrier between the cancer and healthy tissue – is reducing side effects from radiotherapy.
There have been many developments in the advanced diseases space, meaning that patients who might have had a relatively short life expectancy if they were diagnosed five years ago are now living longer and longer.
What are some of the current challenges in prostate cancer treatment and research?
Prostate cancer kills 12,000 men every year in the UK, but because it's a relatively slow-growing cancer and treatments are effective,it takes a very long time to prove that interventions save lives.
The best way to stop men from dying of prostate cancer will be to diagnose it early when it is very curable – this will require screening. We don't currently have screening for prostate cancer. Running trials for screening methods takes a very long time and is hugely expensive; that's one of the biggest challenges within prostate cancer research.
We understand prostate-specific antigen (PSA) tests are not without fault. Do we need better risk assessments, and why?
It's important to be clear that how PSA blood tests are used has fundamentally changed. Five years ago, you would have had a PSA test and gone straight for a biopsy. The doctor wouldn't have known where to look for cancer; it would have been a systematic biopsy taking samples from across the prostate, meaning there was a risk that cancers might be missed.
Using an MRI scan in the diagnostic pathway means that the way that we are using PSA tests has fundamentally changed because imaging means some men avoid a biopsy altogether. Other men have a biopsy that targets suspicious areas. We believe that makes the PSA blood test a cheap, safe and effective initial test. And it's the best thing we've got right now. However, they do miss some prostate cancers.
In a high-risk group of men, about one in 50 who have normal PSA test results will have fast-growing prostate cancer. So, we need to find ways of spotting those cancers that do not express PSA early. This might involve imaging through different kinds of tests, but that doesn't mean that the PSA test doesn't have value, as the majority of prostate cancers do express PSA.
Another issue with PSA testing is that getting the all-clear on one or more PSA tests doesn't mean that somebody isn't going to get prostate cancer. Men will often think that because they've been given the all-clear, they won't need to be tested again. Only through regular testing can we see a difference in prostate cancer-specific survival rates. We would recommend that men who are at the highest risk access regimented PSA testing, particularly Black men and men with a family history of prostate cancer.
Some men may be reluctant to go for a PSA test. Why would you encourage them to have it done? And what can we do to break down the stigma?
Much of the embarrassment about the PSA blood test is based on confusion with the digital rectal exam (DRE). We use acronyms so much in healthcare, and if you're not in that world, it's very easy to confuse the two. I think people associate prostate cancer with having a physical examination.
We have to be clear that the first examination is a simple blood test. Many men now wouldn't have the digital rectal exam in primary care. We want to reassure men not to be anxious about having a physical examination.
I also think there is a general reluctance among men to come forward for health checks. I think the key here is to normalise that it's okay to have these conversations with your GP. When trusted public figures, such as Stephen Fry and Bill Turnbull, came out and spoke about their prostate cancer diagnoses, thousands of men came forward to speak to their GP.
People also assume that symptoms will be present alongside prostate cancer and that you would feel unwell. We need to challenge the narrative that if there's cancer, you'll know, or you'll feel unwell. Unfortunately, public health messaging around knowing your body and what's normal for you doesn't work for prostate cancer. Instead, we need to have conversations with people about the risk factors. We have an online risk checker at Prostate Cancer UK, which is really quick and easy to use. It's designed to help people understand their risk and, if you are at higher risk, what you can do.
What are some of the warning signs of prostate cancer? And when should someone think about going for a test?
People should look out for any kind of lower urinary tract symptoms and any problems urinating, such as frequency, urgency, pain, and blood in the urine. Men should also look for pain around their pelvic area and lower back pain. These are all reasons to see a GP, but it's important to say that those symptoms are almost always not prostate cancer and are likely caused by other conditions.
However, if you don't have those symptoms, that doesn't mean you don't have prostate cancer. That's why we really want to emphasise our message around risk rather than waiting for symptoms.
What other issues are Prostate Cancer UK currently working on?
In the UK, we've seen a massive decline in the number of men diagnosed with prostate cancer, equating to 14,000 missing men since the beginning of the pandemic. We've been working hard to raise awareness that 14,000 men are not in the system. We don't want these men to be diagnosed late; we don't want to see a rise in incurable late diagnoses.
Over the last year, we have created a lot of public awareness; almost one million people used our risk checker last year, which is really positive. The number of men being referred for suspected prostate cancer has gone up, and the number of men undergoing prostate cancer treatment increased to become significantly higher than pre-pandemic levels. This is around 4,000 more men than we would expect in a normal pre-pandemic year receiving prostate cancer treatment, which is good news, However, 4,000 is still a small proportion of 14,000, so there is a lot more that needs to be done.
Recommended Related Articles