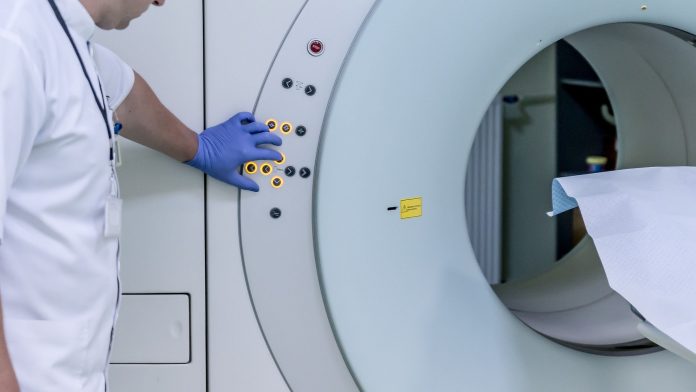 An international study led by the University College London (UCL) and University College London Hospital (UCLH) has found that an MRI scan and targeted prostate biopsies are better at making a positive prostate cancer diagnosis.
The PRECISION Trial comprised 500 randomly allocated men with suspected prostate cancer from 23 international centres and found that using an MRI scan to perform prostate biopsies leads to more harmful prostate cancers and fewer harmless cancers being diagnosed.
Another benefit of the MRI approach found by researchers is that it can reduce the number of men undergoing biopsy by 28%, as men who do not present with abnormal areas in the prostate may be able to avoid biopsy altogether.
This is important as over one million men in Europe undergo biopsy every year, where the procedure is costly, uncomfortable and carries a risk of infection.
The current biopsy method
Men who have suspected prostate cancer typically undergo a standard biopsy test called TRUS (Transrectal UltraSound guided prostate biopsy), where a doctor passes an ultrasound probe into the back passage and then takes a sample of cells from the prostate that might contain cancer.
However, this method is known to have limitations and can easily miss harmful cancers and diagnose harmless cancers that aren't significant enough to identify.
Dr Veeru Kasivisvanathan, the first author of the study, said: "PRECISION is the first international multi-centre randomised trial to show the benefits of using MRI at the start of the prostate cancer diagnosis process.
"In men who need to have [an] investigation for prostate cancer for the first time, PRECISION shows that using an MRI to identify suspected cancer in the prostate and performing a prostate biopsy targeted to the MRI information leads to more cancers being diagnosed than the standard way…."
Avoiding a biopsy
Professor Mark Emberton, UCL Division of Surgery & Interventional Science, is supported by the NIHR UCLH Biomedical Research Centre.
He added: "This study was the first to allow men to avoid a biopsy. If high quality MRI can be achieved across Europe, then over a quarter of the one million men who currently undergo a biopsy could safely avoid it."
Source: University College London
Recommended Related Articles