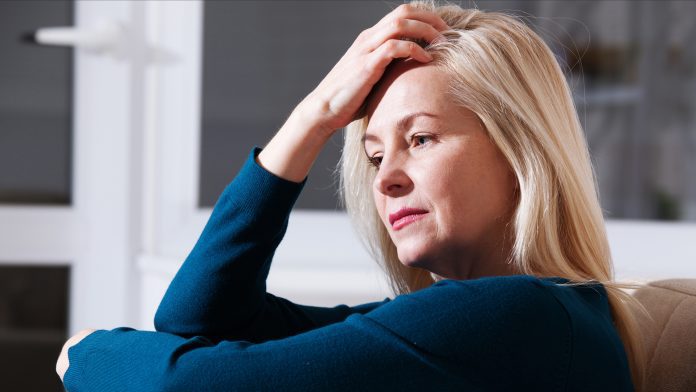 New evidence has identified that suicide rates amongst women experiencing menopause are at their highest since 1996.
A study conducted by a research team at the Menopause Experts Group has elucidated that suicide rates for women aged between 45 and 54 – the common age to be experiencing menopause or perimenopause – have risen by 6% in the last 20 years. These harrowing findings defy the trend of falling suicide rates in older women, indicating that menopause may be a pivotal factor.
The landscape of female suicide rates
Women aged 45 to 54 were found to have the highest suicide rates, with 7.1 deaths per 100,000 females aged 45 to 49 and a rate of 6.9 for 50 to 54-year-olds. In comparison, suicide rates for women aged 65 to 69 were 3.7 per 100,000 in the latest figures.
Between 1981 and 1994, suicide rates for older women declined by 50%, with rates continuing to drop for those aged over 55 ever since. However, the rates for women aged 45 to 54 have opposed that trend, steadily rising since the late 1990s. Between 1998 and 2020, rates for over-55s fell 28% but increased by 6% for 45 to 54-year-olds.
A ten-year moving average demonstrated that suicide rates for 45 to 54-year-olds hit a low point of 6.5 in 1998, with the latest average equivalent 6.9% higher at 7.0. Based on an individual year, rates of 7.0 in 2020 are 14% higher than the low of 6.1 seen in 1999.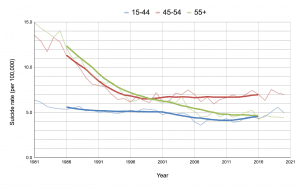 One of the women in the investigation, who cannot be named, explained that she became severely ill with depression at 53 and attempted suicide; she believes that menopause was instrumental in her illness.
She said: "Part of me wonders about the part menopause played in my ill health, and whether I should have been treated with antidepressants or with HRT."
Mitigating effects of menopause
Research suggests that menopausal women often have their symptoms dismissed or misdiagnosed, causing millions to cope alone with exhaustion, anxiety, depression, and weight gain. Adding to this is that menopausal women often find themselves lodged between caring for their children and ageing parents, which may exacerbate their stress levels and make them feel isolated.
For those who are struggling to cope with their mental health, the specialists at the Menopause Experts Group are imploring women to contact a helpline such as The Samaritans, who provide 24-hour support every day of the year.
Founder of the Menopause Experts Group, Dee Murray, has extensive experience from her 12 years as an advanced physiotherapist and has treated many women struggling with their mental health issues during the perimenopause.
Murray commented: "Menopause affects every woman differently, but for many, it can bring unpleasant physical, emotional and psychological symptoms that can be challenging to deal with.
Mental health issues like depression, anxiety and stress are hard to deal with, and many women will not know that they can commonly be caused by menopause. We cannot ignore what is happening or let these women suffer.
"Women who are not aware they are going through menopause can be caught off guard by feelings of worthlessness, confusion and a complete lack of confidence. As well as those in the medical profession, psychologists, psychotherapists and counsellors need to be trained in the basic knowledge of menopause so they can identify the root causes in patients they treat.
"Women going through menopause need support from friends, family and colleagues, and we would recommend that everyone takes our free training, so they are ready for whatever perimenopause and menopause throw at them.
"Many women in their 60s are happier post-menopause as the body and brain adjust to new hormone levels. This clearly has an impact on their psychology and may partly explain why suicide rates drop off later in life. If you are struggling to cope, please call Samaritans or other sources of support, which can be found on the NHS's help for suicidal thoughts webpage."
Recommended Related Articles