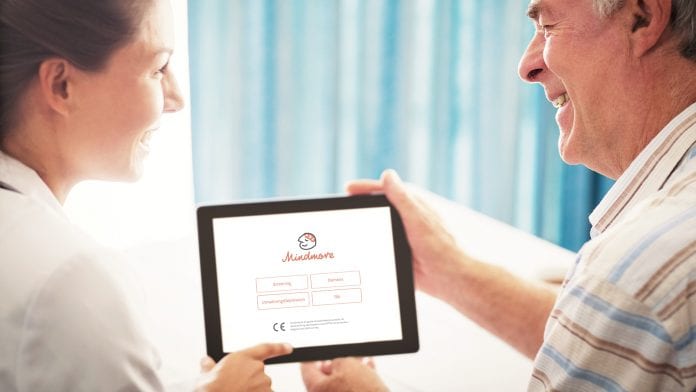 Mindmore supports an accurate and objective diagnosis of cognitive function with digital neurocognitive testing.
50 million people worldwide have dementia, with nearly 10 million new cases reported every year.1 This statistic only covers only the cases which have been detected: it is estimated that 75% of people suffering from Alzheimer's are not diagnosed properly.2 Mindmore wants to change this through innovative neurocognitive testing.
Furthermore, between 8% and 15% of the population of Europe is affected by burnout syndrome. In Sweden, the rate of sick leave caused by mental illness and stress tripled in the last decade.3
There are around 264 million people suffering from depression worldwide.4
What is the common denominator in all of the above problems?
All the issues and conditions detailed above affect brain function. Inaccurate assessment is one of the main barriers in obtaining the right care; yet neurocognitive testing remains relatively inaccessible, even in Europe. The horrendous numbers mentioned are a clear indication of how important efficient tools for diagnosis of neurocognitive diseases are. The inaccessibility of these tools inspired Sara Wallén to found Mindmore in 2017. She dreamed of creating a world where measuring our brain functions is as easy as taking a blood test. A personal incentive to help her dad eventually pushed her to create a new product for healthcare.
Mindmore is a set of digitised cognitive tests: pen and paper versions of these tests have functioned in healthcare for decades and have been taken by thousands of people. Nonetheless, carrying them out, checking and manually comparing results to standardised norms is tedious and time consuming. Mindmore solves this problem: the results generated by our digital tests are automatically compared with the norm values; and can be used as a basis for possible remittance, forecasts or further investigation. In the immediate future, Mindmore intends to introduce AI, machine learning and platform independence to make neurocognitive testing even more accessible and efficient.
Mindmore's tests measure the following neurocognitive functions: executive functions, such as impulse control or problem solving; attention; perception; memory; learning; and language. The quantity and range of data collected support an accurate and precise diagnosis of the cognitive problems the patient is facing.
Mindmore targets primary and secondary healthcare systems; helping doctors, psychologists, occupational therapists and nurses to get a quick and reliable overview of patients' mental health and cognitive profile.
The screening includes tests of neurocognitive functions as well as basic self-assessment forms and takes about 30 minutes to complete.
This format of tests requires significantly less staff time: it can save up to two hours of work time per patient. It results in many additional benefits:
More patients can be tested and their problems can be identified earlier;
The digital format makes it possible to evaluate the effects of interventions and treatments and to share the information about a patient's state between different clinics;
Clinical professionals are able to focus more on their practical work and shift the focus to the patient, instead of administrative tasks and test leading;
Mindmore provides the highest possible level of reliability – neurocognitive testing is performed exactly in the same way every time;
By storing the test results (according to CE mark, GDPR and PDL standards), it is easy to perform retests, which makes monitoring of patients' cognition possible over time; and
Digital assessment is more objective than human assessment and can include non-standardised tests and features (for example timing information), whereas previous approaches leave room for different subjective interpretations. This makes the tool interesting from both patients and professionals' point of view.
Mindmore's team consists of neuropsychologists, licensed clinical psychologists, neuropsychology and geriatric researchers, software developers and interaction designers. The team combines clinical experience in outpatient care, psychiatry and rehabilitation. In accordance with the company's main mission to make cognitive care more accessible, Mindmore plans to introduce new language versions of tests. The same cognitive tests have been used globally for years, meaning this digital solution can easily be implemented in existing healthcare chains internationally.
The design and functionality of the app are based entirely on research and clinical praxis: in total more than 10,000 tests have been performed and assessed, with the results validated and published in the peer reviewed journal Frontiers in Psychology.5 The study suggests that the efficacy of the tests in Mindmore's cognitive screening battery is comparable to that of its traditional paper-based counterparts.
Mindmore aims to co-create the product with user input from both clinicians and patients; and the product has already been piloted at primary healthcare centres in Sweden for over two years. Mindmore's employees have engaged with local senior communities to learn about their user experience, while at the same time spreading awareness about the importance of cognitive screening. Additionally, in partnership with Umeå University, user experience research has been conducted in order to enhance product quality. The same university recognised digital cognitive testing tools as part of healthcare's future; its academic staff use Mindmore app when teaching Psychology students how to conduct cognitive testing.
Mindmore is currently a part of daily practice in over 10 healthcare clinics; and many more are declaring interest in introducing it. Mindmore's team works closely with customers and partners, highly valuing their feedback and constantly improving the solution to meet patients' and professionals' needs. The product is maximising the use of technology to provide modern, efficient and reliable tools for cognitive healthcare.
Mindmore facilitates the entire process of getting proper help in case of cognitive impairment, thereby:
Empowering patients, by enabling them to understand their condition better;
Empowering clinics by helping them save resources; and
Empowering society by contributing to the reduction of the tremendous costs and citizens' suffering related to cognitive problems being detected too late.
References
Sara Wallén
Mindmore AB
+46 735 718 076
sara@mindmore.com
This article is from issue 13 of Health Europa. Click here to get your free subscription today.