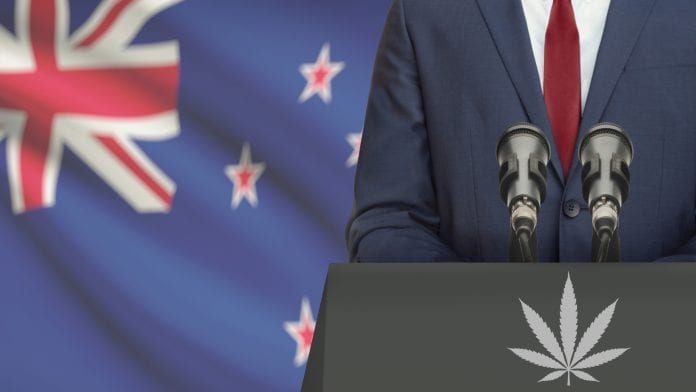 New Zealand has announced it will be holding a voter referendum next year on the legalisation of cannabis.
The first release of public information regarding the referendum to legalise cannabis for adult use, which will be held at next year's General Election, was made on Tuesday, along with the publication of the draft cannabis legalisation bill – the Cannabis Legalisation and Control Bill.
The draft bill shows the strict controls on cannabis that will apply if the voters choose to legalise cannabis.
New Zealand's cannabis legalisation bill
Justice Minister Andrew Little said: "It is important that voters go into the 2020 General Election informed about the referendums. The Government is committed to a well-informed, impartial referendum process.
"By making the referendum questions and the initial draft Cannabis Legalisation and Control Bill available early the intention is to encourage public awareness and discussion. It is important that the public feel they can meaningfully participate in the referendum process.
"I have invited representatives from each party represented in Parliament to meet with me this Thursday to provide their feedback on the draft Bill.
"My aim is to have the final draft Bill available by early next year, so there is time to argue for change."
The referendum website provides information on the draft Cannabis Legalisation and Control Bill and sets out key features of the draft law for the bill.
Little added: "The primary objective of the legislation is to reduce overall cannabis use and limit the ability of young people to access cannabis."
In the event of a 'Yes' vote, the parties making up the Government have committed to honouring voters' choice at the referendum.
Key points in the bill
Key restrictions on cannabis in the draft Bill include:
A minimum purchase and used age of 20;
Ban on all marketing and advertising of cannabis products;
Requires harm minimisation messaging in the retailing of cannabis;
Prohibits consumption in public places and limits use to private homes and specifically license premises;
Limits sale of cannabis to specifically licensed physical stores (not online or remote sales);
Strict controls and regulations on the potency of cannabis; and
Establishes a state licencing regime that all stages of the growing and supply chain are licensed and controlled by the Government, and will limit the amount of cannabis that is allowed to be grown.