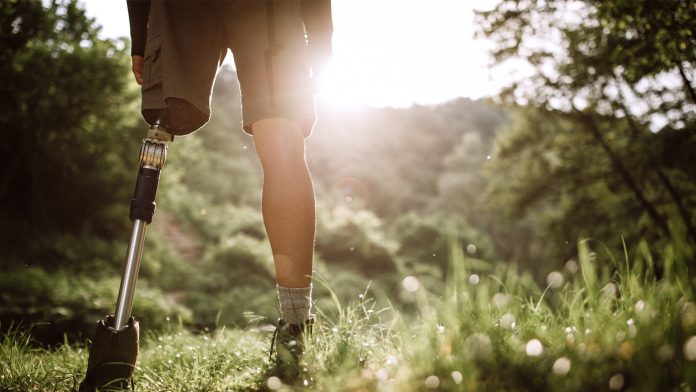 The first national Legs Matter Awareness Week is being held this June, and is urging people to 'stand up' to one of the UK's biggest health challenges – losing a leg due to a non-healing wound.
Due to a non-healing wound, every two hours in England, someone loses their leg and this year 'A Great Big Week For Legs & Feet' – the first national Legs Matter Awareness Week, 3-7 June 2019, is to be hosted to urge awareness.
Losing a leg or foot due to a non-healing wound
Each year, it is estimated that more than a million people in the UK suffer from serious leg and foot conditions and the resulting delays to correctly diagnose and treat them can cause unnecessary suffering, disability, amputation and even death.
Now led by the Tissue Viability Society, a group of the UK's leading lower limb clinicians have joined forces to encourage people to check their legs and feet, to get medical help fast and to provide an insight regarding what level of care patients have a right to.
Having effective care early reduces healing times
Costing the NHS up to £5.3 billion (~€6 billion) annually, leg and foot ulcers, oedema (a failure of the lymphatic system), narrowing of the arteries and other serious problems need to be treated quickly and correctly to reduce the risk of non-healing wounds, secondary health problems and deteriorating health.
An NHS England study estimates that having effective care early, reduces leg ulcer healing times from around two years to just a few months and is 10 times cheaper. But many patients suffer unnecessarily for several years due to a lack of knowledge and not accessing the right care.
Recognising the symptoms of a non-healing wound
Supported by NHS England, a group of eight health care charities and not-for-profit organisations have come together to tackle the issue. As part of this, they have produced an online checklist for people, including health care professionals, to recognise the signs and symptoms of lower leg and foot problems.
Leading clinicians from The Tissue Viability Society, The British Lymphology Society, Accelerate CIC, The College of Podiatry, The Society of Vascular Nurses, The Lindsay Leg Club Foundation, Foot in Diabetes UK and The Leg Ulcer Forum have formed Legs Matter and want to ensure that anyone with a lower leg or foot problem understands their condition and gets the urgent care and support that they need.
A patient will encounter a number of people along their journey to diagnosis and treatment – from the pharmacist, to the practice and community nurse, to the GP and beyond. The Legs Matter coalition want to make sure that every person, including the patient, has the information that they need to take the best steps towards healthy, pain-free legs and feet.
Legs Matter chair Dr Leanne Atkin, is urging people to play their part by checking their own and others' legs and feet for 10 possible problems including swollen, tender legs or sores that won't heal and to get involved by holding their own 'Legs Matter Natter', to take action with the 'Legs Matter Pledge' and by 'Sharing Your One Big Thing' – one important fact people wished they had known earlier about leg and foot health.