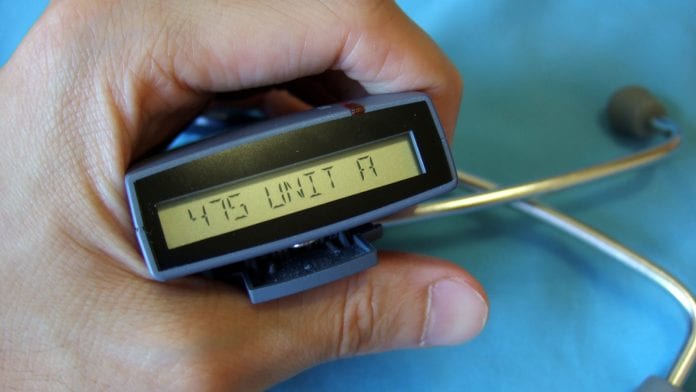 The NHS is set to phase out its outdated communications technologies by 2021 with the launch of a new Clinical Communications Framework.
In February 2019 Health and Social Care Secretary, Matt Hancock, ordered the removal of outdated communications from the NHS, such as pagers, for non-emergency communications. NHSX, which aims to drive the digital transformation of health and social care in the UK, has now launched the £3m Clinical Communications Procurement Framework.
This agreement between the government and suppliers will allow for faster contracts, whilst helping NHS organisations adopt improved communications technologies and task management tools.
Creating a digitised NHS
Outdated pagers and communications will be replaced with modern and proven alternatives such as mobile phones and apps, which will help deliver more accurate communications at a much lower cost, as a single pager device can cost up to £400.
When proposing the initiative, which aims to help NHS organisations meet the objectives of the NHS Long Term Plan by becoming fully digitised, Hancock said: "Every day, our wonderful NHS staff work incredibly hard in what can be challenging and high-pressured environments. The last thing they need are the frustrations of having to deal with outdated technology – they deserve the very best equipment to help them do their jobs."
The Framework will allow clinicians and NHS Trusts to access these new communication tools under one procurement framework agreement, with 25 suppliers being awarded a place.
The website states: 'The suppliers have been assessed to ensure that they meet all legislative requirements; therefore, no formal tendering is required, saving valuable time and money in the procurement process. The framework contains large national companies but also a healthy number of regional SMEs, and all can showcase their products via the framework, helping buyers to make informed local decisions.'
The framework will run from 3 August 2020 to 3 August 2022, with a potential extension for 12 months, and some pagers will be kept by NHS trusts to help with emergency situations, such as the failure of Wi-Fi.