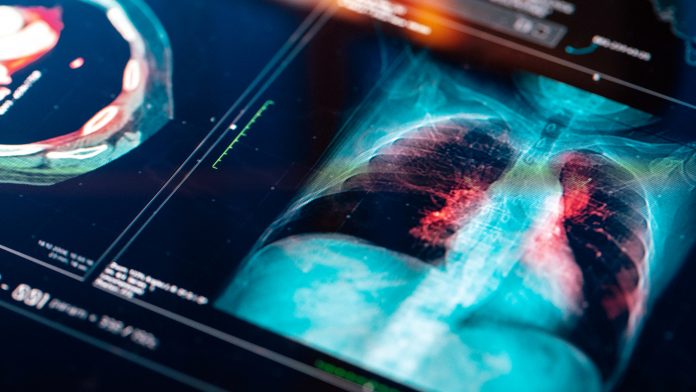 The National Institute of Health and Care Excellence (NICE) has recommended that nintedanib to treat chronic lung disease can be extended to more people.
Idiopathic pulmonary fibrosis (IPF), a chronic lung disease, causes the lungs to become scarred and breathing to become difficult. It is unclear what causes it; however, it typically affects people aged around 70-75 years old. There is currently no treatment that can stop or reverse the scarring of the lungs; however, the main aim of any therapy is to relieve the symptoms and slow down its progression.  
lung  have recommended that nintedanib can be used to treat this chronic lung disease in even more people. Currently, the treatment is currently recommended for people with a forced vital capacity (FVC) value of 50 to 80% of expected normal capacity. Forced vital capacity is the amount of air that can be forcibly exhaled from a person's lung after taking the deepest breath possible. 
What is nintedanib?
Nintedanib is administered by taking one or two capsules twice a day. It is one of the first medicines to be recommended by NICE that went through the new proportionate approach to technology appraisals. It was completed eight weeks faster than a standard appraisal of this type and hopefully, this will be extended to ten weeks faster in the future.  
Helen Knight, interim director of medicines evaluation at NICE, said: "Idiopathic pulmonary fibrosis is a devastating condition which impacts the length and quality of people's lives. Our independent appraisal committee's recommendation means more people will be able to access this treatment sooner.
"The proportionate approach is designed to develop a flexible and pragmatic approach to appraisals, learning from our experience and responding to the increased need of guidance for the healthcare system." 
The proportionate approach to technology appraisals recognises that not all technologies require the full intensity of the existing appraisal process. Some technologies, such as nintedanib for chronic lung disease, can be a shorter and simpler process.  
New recommendation for chronic lung disease
NICE's new recommendation for this treatment extends usage to people with an FVC of over 80% of expected normal lung capacity. It is estimated this means that 5,200 additional patients could now be eligible to receive nintedanib in its first year. 
The clinical evidence showed that nintedanib slows the decline of lung function compared with a placebo in people with idiopathic pulmonary fibrosis with an FVC above 80%. Furthermore, the long-term evidence indicates that the effect of nintedanib on chronic lung disease is maintained over time.  
Recommended Related Articles