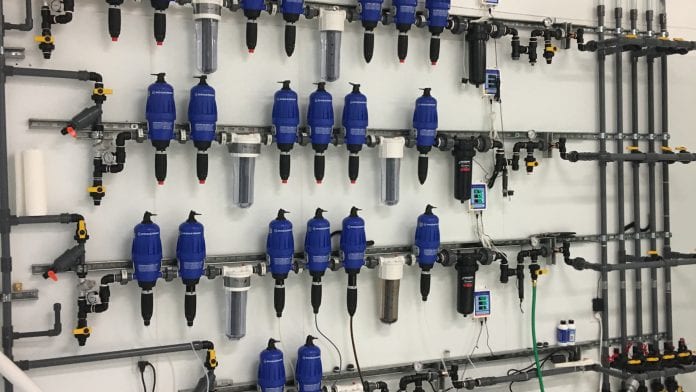 What is cultivation space planning and how can it help a production facility achieve the correct licence?
In order to understand the importance of cultivation space planning (CPS), we must first define it. Cultivation space planning is the first step in properly sketching out a planned building or designing a cultivation facility: it is the planning and allocation of space within that facility. The term 'cultivation' may be a bit deceiving, because the planning reaches further into the whole building during this design process.
Cultivation space planning is the practice of looking at the building from a holistic standpoint, in order to understand the owner or operator's intentions, desires or goals for the facility. It ensures that the design is feasible and that the metrics or throughput calculations add up correctly, so that we are not only efficient with our use of space, but we are also efficient in terms of our use of product, inputs and labour management throughout the operation.
The first step refers to the schematic in the design process. We work directly with architects, operators, traders and general contractors, in order to ensure that there is a design consensus – not only from a facility user standpoint, but also from budgetary and timeline perspectives as they apply to construction and employees.
Why is CPS necessary?
In Europe, a lot of the cultivation space planning parameters are designed and built around Good Manufacturing Practice (GMP) and Good Agricultural and Collection Practice (GACP) processes and standards. If planning does not take into account the design and the facility at this stage, they will become significant roadblocks later on, by which point it is cost-prohibitive to adjust the building following its operation.
By connecting the dots between the pre-licensing, pre-applications, and installation payments, we can see how each of these stages ties back into the overall cultivation space planning strategy; and how the marriage between the stages typically leads to a successful application or licensing process.
Space planning is a fundamental necessity for the pre-licence and pre-application timeframe: it is essential to show the due diligence process put into the project even before the licence is approved. This does not equate to throwing money at the issue, but instead taking a pragmatic approach to the facility, in order to ensure performance is going to be beneficial for investors, owners, and the local government or economy.
Applicants should be able to show that they have thoroughly examined property, budgetary, or investment volumes, as well as the actual operation of the facility. What is the design or operational philosophy of the facility? Is it based in pulp creation, or more towards post-harvest processing?
This may be a facility that is cultivation based, which also acts as a storefront. The parameters and variables come into account obviously during pre-licensing or pre-application timeframe, but also during that cultivation space or that process. This very much rings true in the European market as the available licensing or applications are far less than what we see in North America.
Stand out with early programming
Put yourself ahead of the crowd and your competitors. It's essential to spend the time early to work out these details, but also to utilise the planning process as a foundation or benchmark for creating estimates and budgetary numbers for everything in the cultivation space.
What is the goal?
What are the intentions of this facility? Are they feasible for that location or for that piece of property? The overarching purpose of the facility is a key consideration for regulators and other relevant authorities: operators cannot simply throw things against the wall and hope that they stick.
It is also essential to make sure that this early engagement brings all stakeholders within the project together, including the actual cultivators; the owners of the facility; contractors and engineers; in order to help bring holistic input into the planning and ensure the project is heading in the correct direction on construction, budget, and timeline. This builds the foundation of cultivation-based planning, which is critical to the full application process.
Considerations, processes, and deliverables arising from the project must be taken into account, along with the working allocation of space throughout the facility and its overall operational philosophy of the facility: are we looking for GACP or GMP certification? Are we aiming to achieve the maximum efficiency or square footage of this facility in any way that we can? The first step is to define the goals, buying criteria and operational parameters for the facility.
From there, we are able to build out this layout and map out not only how the facility is going to operate, but the metrics around that operation. We can examine factors such as the ratio of the vegetative canopy to that flowering canopy, the implementation requirements for automation processes; and cultivation issues including irrigation, fertigation, trough planting, potting, and cutting clones; which forms part of the unique economies of scale.
Until we know what we can accomplish in this building from a cultivation standpoint, we cannot make educated decisions regarding automation, or determine the types of technology and equipment which could be best put to use within the facility.
Defining layouts
Once we do start defining our layouts and finding those cultivation metrics, it allows us to factor these metrics into the budgetary numbers within the facility. Defining layouts early on allows us to build some structure around not only the cultivation intent, but also the types of equipment and technology which will be needed to achieve this cultivation philosophy within the context of the design of the facility.
Equipment selection
For the most part, the equipment used for the cultivation of cannabis is largely dependent on the metrics of growth. For example, a facility's A track is dependent on the irrigation practices within the room, plant counts, plant density, the substrate or media which is used for cultivation, and the volume of that media within the room.
Budgeting
These factors are all taken into account to build a solid foundation based on accurate budgetary metrics. We have found that, without these metrics in place, some clients overestimate the volume of canopy they will be able to achieve in their facility, or their facility's total potential production and yield.
In order to ensure both that a project will be successful and that we can demonstrate its potential success within the application process, we must be able to reconcile projected construction demands with the facility's planned timelines and budgets. We can also take into account the construction and installation aspects of the facility, utilising these resources to tailor our final design for the facility.
Collecting data
We may find that there is a particular goal we want to accomplish from a set area of a cultivation room. However, adapting the room or a section of the room to achieve a specific goal may necessitate construction or supplemental changes which may be very expensive or cost-prohibitive to the project. We must investigate and identify those aspects during this cultivation baseline.
We do this by conducting a great deal of collaborative communication, integrating review and feedback from general contractors, building manufacturers, and other tradespeople which are involved in that construction and installation process. This entire process, which is essential, represents not only cultivation space planning at its core: it also allows for consideration of issues around the back end of the planning process – this is very valuable to the application or pre-licensing timeframe.
By setting accurate equipment costs and refining the selection of equipment very early in the process, you can determine accurate budgetary projections – early costing of equipment also helps with the bidding on projects by trade professionals.
Trades and general contractors
General contractors, electricians, and engineers are able to produce much more accurate estimates when they have access to comprehensive early costing information. The metrics which we can calculate within that cultivation space aid in the bidding process as well, leading to more accurate budgets and happy investors.
Another significant issue, which is a broad topic in the global cannabis industry, is consumption: it is important to determine the output of a facility not only in terms of product, but also in terms of waste. You must be able to highlight some of those calculations or estimates for that application process.
Utilities: this covers factors such as energy consumption – power use is a huge topic, not only for what the fully operational facility will take from the grid, but also in identifying additional logistical and financial requirements for that site in terms of a power upgrade

 

Water and wastewater: will excess water just be drained away and returned to municipal treatment facilities, or will your facility conduct wastewater reclamation or even recycling? These decisions can be informed by setting the facility metrics during the cultivation space and planning process
Business model: this is essential, not only for sourcing funding and investment, for the investor side of things, your business model, but also as a point of reference during the application process. What are you going to be producing out of this facility? What are you bringing to the market with this facility? Furthermore, are those calculations accurate?
Accurate estimates

It is not uncommon to see clients overestimating in terms of the potential canopy volume which can be achieved within a single facility; many clients also grossly overestimate the weight of flower which can be produced per square metre of canopy. Especially in a market where the average and industry standard numbers are easily accessible, the decision makers in charge of approving applications look down on applicants who provide inaccurate or easily falsifiable numbers. Furthermore, accuracy in product estimates helps to refine planning from a financial and budgetary standpoint. We need to integrate industry standards at every stage of production; and we need to think of these buildings as being living, breathing machines.
Expect a year to optimise your facility
Few facilities in their first year of operation will be able to attain optimal yield numbers. This can cause difficulties in some markets, such as the Netherlands, where approval of applications and retention of licences are tied to producing a certain volume of product per year; for this reason it is crucial that cultivation space planning is conducted in a way to ensure that even in that first year – which producers would be reasonably expected to spend breaking in a new facility or refining their operation – you will still be able to meet the numbers you have projected, so that you can continue to hold this licence and so continue to be viable in this market.
Lucas Targos
Vice President of Facility Integration
urban-gro Inc
lucas@urban-gro.com
www.urban-gro.com
This article is for issue 4 of Medical Cannabis Network. Click here to get your free subscription today.