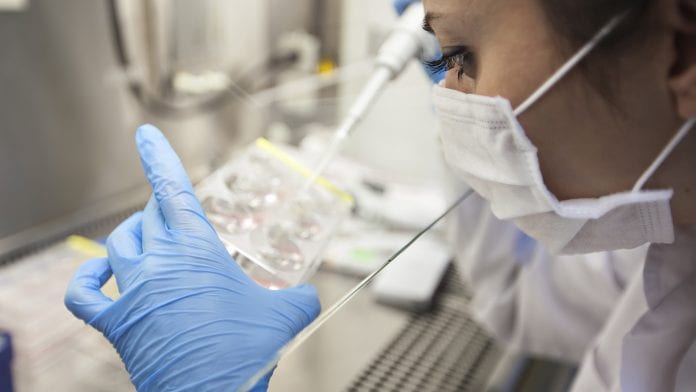 Previous COVID-19 infection does not affect the chances of IVF success despite SARS-CoV-2 receptors being present in the ovary, new research has shown.
A study by researchers in Spain found that the ovarian reserve of women previously infected with the virus was not adversely affected, and that their chance of success from fertility treatment remained the same as it was before infection.
COVID-19 and hormone levels
The study monitored hormone levels in women having IVF at one of 11 clinics in the IVI group in Spain between May and June 2020. The findings were presented by Dr Maria Cruz Palomino from IVI Madrid at the online annual meeting of the European Society of Human Reproduction and Embryology (ESHRE) on 28 June.
All the women involved in the study had baseline hormone measurements taken before starting treatment, which included measurements of anti-Mullerian hormone (AMH), as a marker of ovarian reserve. AMH has become a widely used measurement in fertility clinics in recent years, as it is able to predict how patients might respond to ovarian stimulation in IVF. However, its reliability as a marker of general female fertility is more disputed.
The study included 46 patients having IVF whose baseline measurements of AMH suggested they would be normal or low responders to ovarian stimulation when treatment began.
Dr Palomino said: "Generally, the data showed no variation in AMH levels before and after SARS-CoV-2 infection, and we could assume that the chances of success in their fertility treatment remained intact."
However, researchers did note a slight decline in AMH measurements in those predicted to be normal responders. However, Dr Palomino said this was not a "radical decrease" and unlikely to compromise ovarian reserve, nor, she added, "can we attribute this variation to SARS-Cov-2 infection."
Further research
As this was a small study, Dr Palomino acknowledges that it is not robust enough for emphatic public health conclusions. However, it gives further support to other studies that suggest that ovarian function, as reflected in AMH measurements, is not affected by SARS-Cov-2 infection.
Recommended Related Articles