President and CEO of Project HOPE, Rabih Torbay, shares his experience of being on the ground in Ukraine and the many challenges the healthcare system in Ukraine is facing as a result of the conflict.
In April, I visited hospital staff in the war-scarred suburbs surrounding Kyiv. A few of them had reported coming into work two hours after the Russian invasion began and felt compelled to apologise for being tardy. For days on end, they slept on floors, chairs, and empty beds – wherever they could – through deadly bombardments and the blaring of air raid sirens, all in the interest of treating the citizens in their care.
Russian soldiers wounded one doctor while he was driving to the hospital, riddling the windshield of his vehicle with bullets at close range. More unprovoked violence and destruction lay ahead, but the dedication of these courageous health workers gives me confidence that Ukrainians will ultimately persevere.
Project HOPE is committed to meeting the humanitarian needs of the millions of people impacted by the crisis in Ukraine. However, the healthcare system in Ukraine is facing immense challenges.
The current state of healthcare in Ukraine
In the city of Bucha, I visited a newborn wing at a maternity clinic that had been burned to the ground. In Irpin, I saw a damaged paediatric hospital from behind locked gates because the premises are now littered with land mines and unexploded ordnance. Such attacks on healthcare infrastructure are not accidental; they are systematic. Even hospitals marked with red crosses were shelled. In fact, 260 attacks on healthcare facilities in Ukraine were verified by the World Health Organization in the invasion's first 100 days alone.
From broken bones to bullet wounds, there are too many injuries and too few places to safely seek care. And given the lack of medical supplies and the difficulty of securing supply lines in a war zone, capabilities and the healthcare system in Ukraine will likely be compromised even further.
Meanwhile, refugees, health workers, and other affected populations need mental health and psychosocial support. Families have been ripped apart and are grieving lost loved ones. Women have been targeted with acts of gender-based violence.
Project HOPE: delivering specialist training and vital medical supplies
In February, Project HOPE deployed rapid response teams to Moldova, Poland, Romania, and into Ukraine, leveraging our longstanding relationships in the area, and collaborating with international organisations, local governments, and regional non-profits to coordinate the timely delivery of aid. We are now conducting operations across Ukraine and have multiple offices, including one in the city of Odesa on the Black Sea coast.
We repaired two damaged medical facilities that I visited and have begun multiple other projects to reinstate health services, notably in the Bordyanka municipality and Zagalci village. In the Dnipro and Zaporizhzhia areas, we launched multiple mobile medical units to provide primary healthcare to populations impacted by the violence.
By the end of May, Project HOPE had delivered over 200 pallets of medicines, medical supplies, equipment, and hygiene kits to healthcare facilities in Ukraine and beyond. We expanded specialised training for managing fractures and other traumatic injuries, and sent other essential goods, including dozens of electricity generators to healthcare facilities in Ukraine. And to deliver vital care to refugees, Project HOPE has supported local and regional healthcare providers, backing groups like Servicios de Asistencia Médica de Urgencias, Blue Heron Foundation in Romania, and Podkarpackie Stowarzyszenie dla Aktywnych Rodzin in Poland, to name a few.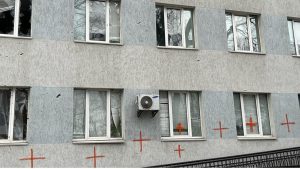 Of course, despite the efforts of Project HOPE and others, healthcare systems in Ukraine and beyond remain overwhelmed. This is not surprising. Some three million people in Ukraine needed urgent humanitarian assistance even before the Russian military incursion, as they coped with a range of health challenges, like diabetes and tuberculosis.
As I was leaving Irpin, one local doctor implored me not to let the world forget what had happened in his community. I was moved by his plea. Unfortunately, experience tells me that even major catastrophes drift from newspaper front pages in weeks, not years. Global attention seems to continually spiral from one calamity to the next– one humanitarian crisis sometimes begetting another.
Given this dynamic, one might wonder: does the aid money that flows to the crisis in Ukraine undercut other humanitarian relief efforts like the looming famine in the Horn of Africa, the poverty in Afghanistan, or the exodus of refugees from Syria? Or, if the aid coffers are drained now, will we have the resources needed to respond to powerful hurricanes that may soon batter communities in Asia or the Caribbean? What are the long- and short-term consequences of neglecting major gaps in vaccine coverage and increasing mortality rates of women and children? Such questions may make us uncomfortable, but the point is, as we address the devastation in Ukraine, we cannot turn a blind eye to other crises.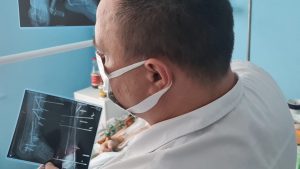 What happens in one part of the world affects other parts of it. For instance, Ukraine is one of the world's largest exporters of items like wheat, fertiliser, and sunflower oil – products that cannot be exported because of the Russian shipping blockade on the Black Sea. Supply shortages of these items have resulted in price increases that undermine efforts to provide food-insecure people around the world with nutritional staples. Meanwhile, big picture issues – climate change in particular – worsen natural disasters, forcing mass migrations, and exacerbating so many of the healthcare-related challenges that Project HOPE tackles.
But again, these are not mutually exclusive concerns. We must be both mindful of macro-level challenges while also vigilantly providing support to healthcare systems in Ukraine and surrounding areas still under assault. Because healthcare facilities in Ukraine are being destroyed, their health workers are dying, and their remaining facilities are filling with war-wounded and struggling to compensate for the lack of services country-wide. Meanwhile, chronic, and infectious diseases are mostly being left unaddressed, and critical training and mental health concerns are being deprioritised.
Even if the war stops now, the needs of the healthcare system in Ukraine will last well into the future, requiring a major external investment for health authorities to rebuild a resilient healthcare system in Ukraine – one with modernised infrastructure and medical professionals capable of ensuring quality health services are accessible to all. And we will need to double down on our efforts to control infectious diseases, tackle non-communicable diseases, and ensure that any declines in vaccinations or maternal and child health services there are reversed.
The doctors, nurses, and health workers that I met in Kyiv, Irpin and Bucha showed me how resilient Ukrainians are, and Project HOPE believes that investing in people like them is always a winning strategy. It is also the best way to clearly prove to the people of Ukraine that the world did not forget them.
Rabih Torbay
President and CEO
Project HOPE
https://www.projecthope.org/
https://www.linkedin.com/company/project-hope/
https://www.facebook.com/ProjectHOPEorg/
https://twitter.com/projecthopeorg
https://www.instagram.com/projecthopeorg/
This article is from issue 22 of Health Europa Quarterly. Click here to get your free subscription today.