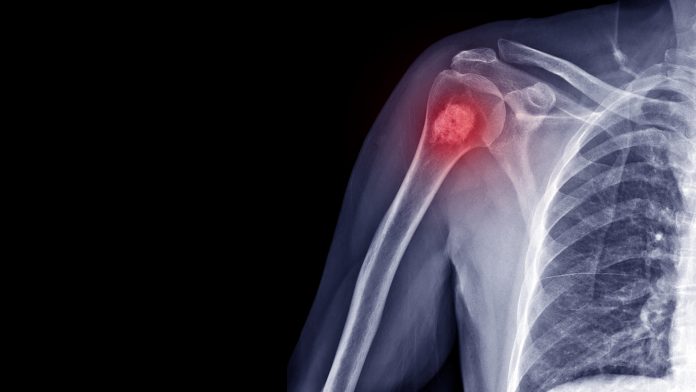 Researchers from the University of East Anglia (UEA) have developed a new, non-invasive bone cancer treatment that is effective against all primary forms of the disease.
Current bone cancer treatment is painful and invasive, often involving limb amputation and outdated chemotherapy. Even with procedures, the five-year survival rate for bone cancer is just 42%; this is largely due to how rapidly bone cancer spreads to the lungs.  
Bone cancer, which mostly affects children, starts in the bones, unlike other cancers, which may spread to the bones. According to the UEA study, the new drug called CADD522 can block the gene associated with the spread of bone cancer in mice implanted with human bone cancer.  
In most cases, the causes of bone cancer are unknown; however, previous exposure to radiation during radiotherapy is thought to increase the risk of developing the disease. Paget's disease of the bone and Li-Fraumeni syndrome can also cause the disease, although both these conditions are rare.  
The study, titled 'YBX1-interacting small RNAs and RUNX2 can be blocked in primary bone cancer using CADD522', has been published in the Journal of Bone Oncology.
Bone cancer treatment without chemotherapy
The researchers say that CADD522 could increase survival rates by 50% and eliminate the need for surgery or chemotherapy. The drug does not have any of the negative side effects associated with chemotherapy, such as hair loss, tiredness and sickness. 
"Primary bone cancer is a type of cancer that begins in the bones. It's the third most common solid childhood cancer, after brain and kidney, with around 52,000 new cases every year worldwide," said lead researcher Dr Darrell Green from UEA's Norwich Medical School. 
"It can rapidly spread to other parts of the body, and this is the most problematic aspect of this type of cancer. Once cancer has spread, it becomes very difficult to treat with curative intent," he continued.  
The researchers collected and analysed bone and tumour samples from 19 patients at the Royal Orthopaedic Hospital in Birmingham. Using these samples, the team were able to detect significant changes in cancer after exposure to CADD522. They used next-generation sequencing to identify genetic regulators called small RNAs that changed during the disease's progression.  
These findings enabled the researchers to develop their new bone cancer treatment using small molecules capable of blocking the effects of the RUNX2 mice with bone cancer. 
"In preclinical trials, metastasis-free survival was increased by 50% using the new CADD522 drug alone, without chemotherapy or surgery. I'm optimistic that combined with other forms of bone cancer treatment such as surgery, this survival figure would be increased further," explained Dr Green.  
The drug will undergo clinical trials soon
Next, CADD522 will undergo a formal toxicology assessment. The research team will assemble all of the data and formally approach the MHRA for their bone cancer treatment to begin human clinical trials.  
"This breakthrough is really important because bone cancer treatment hasn't changed for more than 45 years," said Dr Green. 
"The new drug that we have developed is effective in all of the main bone cancer subtypes, and so far, our experiments show that it is not toxic to the rest of the body. This means it would be a much kinder treatment for children with bone cancer compared to the gruelling chemotherapy and life-changing limb amputation that patients receive today. It will save a lot of lives," he concluded. 
Recommended Related Articles