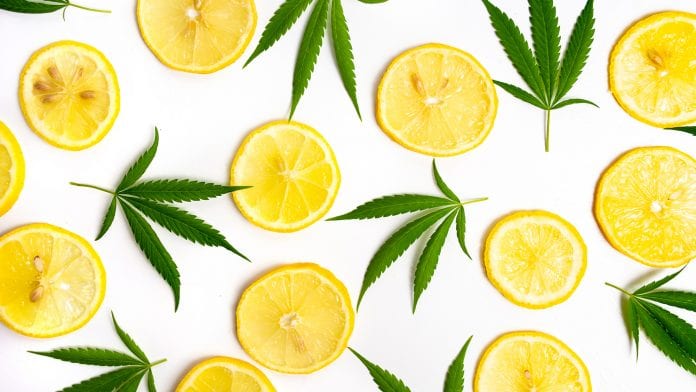 A study to test the efficacy of a unique cannabis terpene formulation for the treatment of viral infections, including COVID-19, has shown early promising results.
The Israeli in vivo study, carried out by Eybna and Cannasoul, is examining the efficacy of the unique cannabis terpene formulation – NT-VRL – in treating a diverse range of inflammatory conditions, including the life-threatening cytokine storm syndrome caused by COVID-19.
The early results from the study show that the terpene formulation combined with CBD is twice as effective than CBD alone, and a common corticosteroids treatment for inflammation, Dexamethasone. The developers of the formulation say the results show that terpenes play an important medical role and are not just for flavour and fragrance.
Successful results treating inflammation
Cytokine storms impact cell communication and can both promote and deter inflammation – when released in large amounts they can cause multisystem organ failure. Recent studies have provided evidence that CBD may reduce cytokine storm and inflammation in COVID-19.
For this study, the compounds used in testing were the specially formulated Eybna NT-VRL, as well as CBD, and Dexamethasone as the positive control. The study, conducted on human peripheral blood mononuclear cells (PBMCs) from healthy donors, induced inflammation using lipopolysaccharide (LPS), and performed cytotoxicity tests prior to a cytokine storm experiment to ensure cell viability in the testing concentrations.
The compounds were tested individually as well as in combination, where their percentage of cytokines inhibition was compared to the positive control. The findings revealed that the addition of CBD together with the Eybna NT-VRL formulation provided the highest inhibition of cytokines.
Professor Dedi Meiri, Chairman & CSO at CannaSoul, said: "MyPlant-Bio's (Cannasoul's Subsidiary) Cytokine Storm Assay is a well-established preclinical in-vitro, or practically ex-vivo, assay. It provides an evaluation of Cytokine Storm Syndrome with human peripheral blood mononuclear cells. The goal of this study was to assess the effect of Eybna NT-VRL terpene formulation on cytokine secretion.
"NT-VRL terpene formulation showed significant anti-inflammatory effect which contributed to a functional immunological response in vitro."
Nadav Eyal, Co-Founder & CEO at Eybna, added: "The preliminary results were highly positive. Demonstrating significant anti-inflammatory activity of terpenes and breaking the perception that terpenes are just flavourings and fragrances compounds with a placebo effect.
"Utilising Eybna's proprietary technology of biological data mining, data processing, and formulation design, allowed us to develop our data-driven NT-VRL formulation effectively targeting specific health conditions. This is opening a new world for synergistically-effective natural formulations – holding therapeutic capabilities in which single active pharmaceutical ingredients will have difficulties to match."