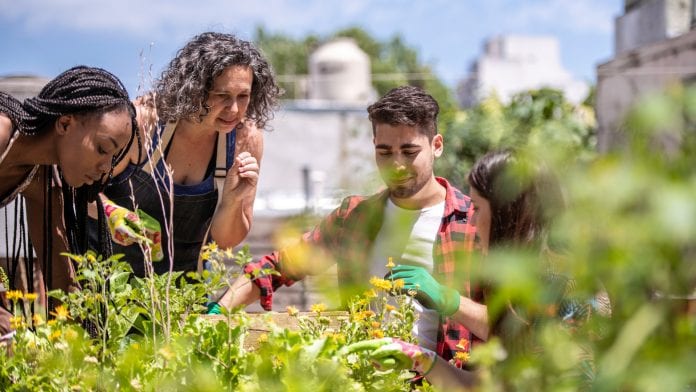 A new report has been launched today that reveals how the NHS can make small changes to better support local communities' health and wellbeing.
NHS Property Services (NHSPS) and The King's Fund have released the report – 'Social Prescribing and NHS Facilities' – which reveals that small transformations, such as turning a small outdoor space into an allotment, allocating kitchen space to a weekly evening cooking class, or giving a charity access to unused space to run a food bank, can make a lasting and impactful change on communities. It also highlights the need to make it practically easier for communities to use NHS facilities by removing bureaucratic rules, enabling the creation of more vibrant social prescribing hubs.
The launch coincides with an event that will see The King's Fund and experts discuss the findings and the next steps to support the NHS to deliver on the ambitions of the Long Term Plan, which has pledged to refer at least 900,000 people to social prescribing by 2023/24.
Delivering on the social prescribing goal is vital as England faces unprecedented cases of mental illness, loneliness, and chronic disease, and with up to 10 million people needing either new or additional mental health support as a result of the pandemic.
Community health
In order to address local needs, the NHS needs to form stronger collaborative partnerships with communities, including working with voluntary organisations to grant access to space wherever practically possible and providing funds for individuals or organisations to act as catalysts and connectors.
Deborah Prince, Director of Customer Services at NHSPS said: "In the wake of the pandemic we are facing a health crisis like never before and we need to find better ways of using our facilities that improve health and wellbeing without putting further burden on the system. Social prescribing can help us do just that.
"While there is often focus on investment in large infrastructure, the report findings show that in actual fact smaller changes to local health centres can have a significant impact on people's wellbeing, and help communities become more involved in their own healthcare. They will also likely be easier to implement and sustain in the long term. We will be working in close partnership with our partners and communities, to ensure these findings inform how we use NHS facilities to better support the public's health and wellbeing through social prescribing activities moving forwards."
Social prescribing will enable GPs, nurses, and other primary care professionals to refer people to a range of local, non-clinical services to support their health and wellbeing including activities such as gardening, cooking, or art classes.
Prescribing sites
NHSPS will be opening 21 social prescribing sites across England by March 2021 in a bid to support the Long Term Plan, with additional sites opening throughout the year.
Many of these sites will see small transformations such as the refurbishment of an onsite kitchen within Axminster Community Hospital for use by the local charity running cooking classes, meals on wheels, and re-enablement services or the refurbishment of a unit to create six listening rooms within Hunter Street Medical Centre in North London.
Ben Collins, King's Fund said: "Social prescribing isn't new, and we know there are clear benefits to providing a wider range of health and wellbeing services within NHS sites; however how we deliver this at scale is key. The report helps to tackle some of these barriers and provide steps as to how we can start to create more vibrant health hubs across the country, similar to those already thriving in Bromley-by-Bow and Trafford.
"We look forward to discussing this in more detail with NHSPS, representatives from NHS England and social prescribing groups, determining how we can work together to ensure NHS facilities are used effectively to meet local people's needs, in partnership with the communities themselves."
Recommended Related Articles