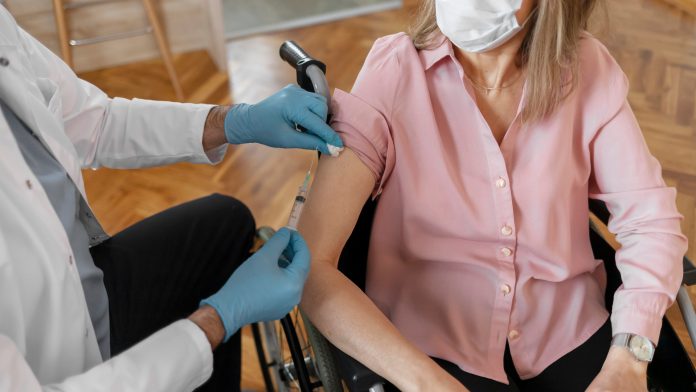 Multiple sclerosis treatment that helps people manage their condition can reduce the effectiveness of COVID-19 vaccines, according to research from Cardiff University and the Queen Mary University of London.
Disease-modifying therapies (DMTs) are a group of multiple sclerosis treatments for people with the disease and affect the immune system. As vaccines work by triggering the body to produce an immune response, it was suspected that some DMTs used in multiple sclerosis treatment could reduce the effectiveness of COVID-19 vaccines.
It is hoped this new information will better equip clinicians to provide guidance to people on multiple sclerosis treatment plans.
The study, published in the journal Annals of Neurology, provides the largest peer-reviewed, published evidence of the effect of DMTs on immune responses to COVID-19 vaccines.
Studying multiple sclerosis treatment
The research team studied almost 500 people with MS and used a technique known as dried blood spot sampling to investigate the effects of DMTs on COVID-19 vaccine effectiveness. This approach reduced study costs as well as the need for potentially vulnerable patients to attend the clinic during the pandemic.
The findings showed that people on multiple sclerosis treatment (either of two specific DMTs – fingolimod and ocrelizumab) were less likely to produce antibodies in response to AstraZeneca and Pfizer COVID-19 vaccines than people with MS not taking any DMT. However, if they did produce antibodies, the levels were lower than those found in people taking other DMTS or not taking any DMT at all. The researchers did find that other DMTs, including some that are highly effective for multiple sclerosis treatment, had no detrimental effect on COVID-19 vaccine response.
Immune cells, such as T-cells, are also an important part of our immune response to vaccines or viruses. The researchers studied T-cell responses in a small group of study participants who failed to mount an adequate antibody response to COVID-19 vaccination. They found that overall, 40% of this group were able to produce a strong T-cell response, despite having a poor antibody response.
Managing the condition during a pandemic
"People with MS have faced uncertainty during the COVID-19 pandemic as a direct result of their condition and the multiple sclerosis treatment they take to manage it," said Dr Ruth Dobson, Clinical Senior Lecturer in Neurology at Queen Mary.
"Our study provides high-quality evidence that will support clinicians to advise people with MS on treatment options considering the COVID-19 pandemic. However, further trials are essential to help us understand how best to balance the risks of potentially suspending or delaying multiple sclerosis treatment with the need to effectively vaccinate people with MS against COVID-19 ."
Dr Emma Tallantyre, Clinical Senior Lecturer in Neurology at Cardiff University, added: "Questions about the Covid vaccine are among the most common we are currently facing from people with MS in our clinics. Highlighting groups who have mounted an inadequate Covid vaccine response has already been helpful in guiding who should receive additional doses of the vaccine, and who may need to continue to take additional infection-prevention precautions over the winter. We hope further work will allow us to individualise our management, to protect people with MS from Covid, while keeping their MS under control."
Jo Welton, 38, was diagnosed with relapsing MS in 2009. She is a medical writer from South Wales. Day-to-day, Jo mainly experiences fatigue, weakness, and pain in her left leg. She has been on disease-modifying treatment (DMT) Gilenya for nearly eight years. She joined the study after being told about it by her MS team. Despite having two AstraZeneca vaccinations, she has been told she has reduced immunity to COVID-19 and is waiting to find out if her booster vaccination has worked.
Jo said: "I have a scientific background, so was interested in the study as soon as I heard about it. It was also important for me to know how much immunity I had as this impacts my day-to-day living. I've followed the guidelines about DMTs and MS right from the start, so this has meant I've been shielding for over 20 months. It's been so difficult seeing everyone getting back to some sort of normality and not feeling like I was able to. I feel vulnerable and, although it's not deliberate, left behind.
"Ignorance is bliss for some people, but it's not a risk I want to take. I lost my grandma to the virus earlier this year – this has made it even more important for me to take the necessary steps to mitigate the risk. Knowing I don't have immunity means I can continue working remotely, socially distance, and ask friends and family to get their booster vaccine and do lateral flow tests when we meet. Having MS is hard enough without getting COVID-19 as well."
Dr Clare Walton, Head of Research at the MS Society, said: "This is the largest published study looking at the relationship between certain high-intensity disease-modifying treatments (DMTs) and the AstraZeneca and Pfizer COVID-19 vaccines. It found some people with MS on these DMTs had a significantly reduced immune response to the vaccine compared to people not taking any.
"While this doesn't mean these patients are necessarily at higher risk of severe illness if they catch COVID-19, it will be worrying for some. It's vital that people with weakened immune systems are better supported to protect themselves from the virus, including a right to work from home and feeling assured that the general public is doing everything they can to help keep them safe. We also advise people with MS on these DMTs not to alter their treatment without speaking to someone from their MS healthcare team."
Recommended Related Articles