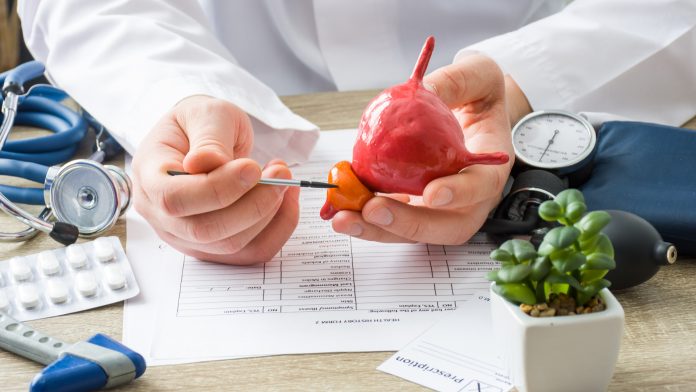 A group of UK senior doctors are calling on the National Institute for Health and Care Excellence (NICE) to change guidelines for transrectal prostate biopsies.
The doctors are part of the 'TRexit' initiative, which aims to replace transrectal prostate biopsies with transperineal biopsies due to this relatively new method being safer for men. The experts will present their argument at the upcoming UK Imaging and Oncology (UKIO) conference taking place in Liverpool from the 4th to the 7th of July.
Dangers of transrectal prostate biopsies
Transrectal prostate biopsies are the traditional method in the UK; however, they carry a 5% risk of infection for men, which has led UK specialists to question their safety. Doctors are now asking NICE to approve transperineal biopsies for routine use, a recommendation that the charity, Prostate Cancer UK backs. Transperineal biopsies are a much safer alternative, accessing the skin close to the prostate to provide an accurate assessment.
Dr Oliver Hulson of Leeds Teaching Hospitals NHS Trust commented: "NICE is currently evaluating the clinical evidence and cost-effectiveness of transperineal prostate biopsies – their decision was due on 22nd June, but this has been delayed. In the short-term transperineal biopsies are more expensive than transrectal biopsies, but the medium and long-term benefits to the patient are self-explanatory, and there are significant savings to the NHS in avoiding infection complications."
Advancing prostate cancer diagnostics
Among men, prostate cancer is the most common type of cancer in the UK, resulting in around 47,000 new cases annually and around 12,000 deaths, and is forecasted to become the leading form of cancer in the UK by 2030.
Prostate biopsies are required to examine a patient for prostate cancer, with Prostate Cancer UK estimating that there are 190,000 prostate cancer biopsies in the UK every year. Doctors are now endorsing the use of transperineal biopsies to enhance patient safety and improve the detection of the disease.
Dr Hulson said: "Transperineal biopsies are more sensitive in detecting prostate cancers than transrectal biopsies, and they can reach parts of the gland which are traditionally hard to access via the transrectal approach. However, the main advantage is that because they don't take samples through the rectum, there is a much lower chance of infection. Around 5% of men end up with an infection after a transrectal biopsy, and around 1% need hospital treatment. Ideally, patients worried about possible cancer shouldn't have to worry about ending up in hospital because of their test.
"The clinical evidence for this novel biopsy technique is strong and growing all the time. The European Association of Urology has recently issued a statement confirming that 'transperineal biopsies are preferred over transrectal biopsies'. The significant benefits that prostate MRI and Transperineal biopsy offer may mean that we see a targeted screening programme for men at risk of prostate cancer in the not-too-distant future."
Chiara De Biase, Director of Support and Influencing at Prostate Cancer UK, said: "Transperineal biopsies have been available on the NHS for several years and are a quick and effective way of detecting prostate cancer. Most importantly, however, they result in fewer cases of infection and sepsis than more traditional TRUS biopsies and ultimately cause less harm to men. That's why we're pleased that this technique is being made available to men where clinically appropriate. We're also proud to be working with brilliant clinicians across the country like Dr Hulson, who is helping transform biopsy services for men as one of our new Clinical Champions."
Dr Rick Popert of Guy's & St Thomas' Hospital concluded: "Although transperineal biopsies have been available for many years, they required a full general anaesthetic which meant they were expensive and generated waiting lists. Before the pandemic, transperineal biopsies accounted for no more than 25% of all prostate biopsies; however, the introduction of local anaesthetic, minimal access to transperineal biopsies and the COVID pandemic have completely transformed the practice within the UK. Hospitals had reduced access to general anaesthetics, but few wished to risk sepsis-related complications of transrectal biopsies.
"Transperineal biopsy techniques can be adopted by Nurse Specialists and Radiographers, making them easier to provide. The most recent Hospital Episode Statistics from April 2022 indicate that transperineal biopsies now account for 75% of all prostate biopsies. The outcome of the NICE review of transperineal biopsies will be of great interest. Although there is a concern in some quarters that wholesale introduction of transperineal biopsies is an expensive resource that the NHS cannot afford, the real question is whether the NHS can afford not to do it."