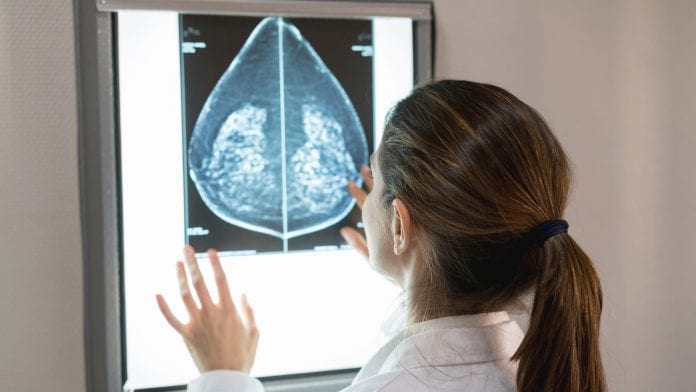 A new study has shown that early breast cancer care in the UK during the COVID-19 pandemic is still as safe and effective as it was before the pandemic.
The UK-wide study, led by the University of Manchester, found that patients with breast cancer have been delivered safe and effective treatment in line with normal practice, on time, and to standard in pre-operative, operative, and post-operative settings.
The team believes that this can be partly explained by the adoption of multidisciplinary UK guidelines published early in the pandemic, which advised on the safe management of patients.
The study has been published in The British Journal of Cancer.
Breast cancer care during COVID-19
The study looked at 3,776 patients who were treated for early breast cancer at 64 hospitals across the UK between March and May 2020. Only 14 of the patients tested positive for COVID-19, with no patients involved in the study dying from the disease.
The team says that the rapid adoption of findings from a 10-year study – known as Fast Forward – could also be attributed to the success of breast cancer care during her pandemic.  Fast Forward recommended shortening radiotherapy course from 15 doses over three weeks to five doses in a week, having showed that five doses were as effective as 15 doses in terms of cancer recurrence. 46 out of 64 of the hospitals involved in the study adopted this protocol.
Other measures which helped provide care were rigorous COVID-19 testing of patients, operations carried out in COVID-19 free surgical theatres known as 'green zones' both in the NHS and private sector, and rapid discharge of patients.
Co-author Mr Rajiv Dave, a Consultant Oncoplastic Breast and Endocrine Surgeon, said: "The Fast Forward study pre-empted the pandemic, the timing of its publication was fortuitous, allowing new treatment guidelines to be based on it. Fast Forward fits well into the changed environment; patients do not need to visit hospital as many times, thus reducing their risk of exposure to COVID-19.
"But what is remarkable that it took many years for hospitals to transition from a regime of 25 doses to 15 doses, this change happened in a matter of months. The NHS reacted quickly to the evidence and there's lots of evidence to suggest the pandemic triggered a permanent change in practice."
Some patients did, however, potentially miss out on breast reconstruction surgery which is likely to have future implications on the breast service in the future regarding the need to offer more reconstructions at a later date.
Screening services
The study only examined existing patients and the researchers highlight that breast cancer screening has been hit by the COVID-19 pandemic, with reduced numbers of women attending for screening.
Paper co-author, surgeon Professor Cliona Kirwan, Clinician Scientist at The University of Manchester, said: "Compromises to cancer care during the COVID-19 pandemic have the potential to impact on survival, as well as quality of life, service provision, and health economics. But this study definitively shows that for patients with breast cancer who are in the system, the NHS is able to deliver effective, timely, and safe care.
"Outcomes are as good as they were before the pandemic took hold, and that's a result of the fantastic work of everyone in multi-disciplinary teams across the UK. The message we want to get across is that it is perfectly safe to come to hospital if you have discovered a lump in your breast and want it checked out."
Screening services are now fully open and, COVID-protective measures are in place.