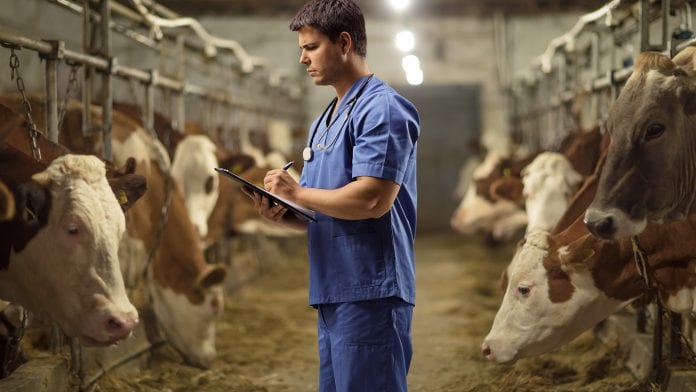 When antibiotic resistance could be responsible for up to 10 million deaths a year by 2050 if left unchecked, it is natural to want simple explanations and immediate solutions.
The truth is that drug resistance is complicated. All who handle and use antibiotics contribute to this challenge, and we are all – animals, people and planet – at risk from it as well.
Steve Hallahan, chair of the European Platform for the Responsible Use of Medicines in Animals (EPRUMA) and practising veterinarian, tells us why veterinarians should be at the very heart of the drug resistance fight back.
Vets leading the fightback
Veterinarians, who work with farm animals and pets, operate at the nexus of human and animal health, making us uniquely placed to drive the fightback against antibiotic resistance.
The difficulty in properly managing drug resistance is compounded by the fact that there is no alternative treatment to bacterial disease, so we cannot simply use fewer antibiotics without leaving sick animals and people untreated.
This puts veterinarians, alongside doctors as the custodians of these medicines, in the difficult position of weighing up the risk posed by the disease against the risk of contributing to drug resistance.
There is no magic formula – instead, our best hope lies in empowering veterinarians to use their scientific training, technical knowledge and professional judgement to carefully select the correct approach based on scientifically sound methods.
In the first instance, this means supporting veterinarians to prevent disease in the first place, and not only in animals but in people as well.
Reducing the need for antibiotic treatment
Some diseases, such as leptospirosis, can pass between animals and people, and so preventing these diseases in pets and livestock means reducing the chance that both animals and people contract an illness that needs antibiotic treatment.
In recognition of this "One Health" concept – in which the health of people, animals and the environment are inextricably linked – veterinarians have been working hard to reduce spread of disease to reduce the need for antibiotics.
This involves the full and proper use of vaccination as well as good hygiene, nutrition and animal husbandry. Such a preventative approach contributed to the fall in sales of antimicrobials for animals by a third in Europe between 2011 and 2017.
However, we will never eradicate all bacterial disease, which means that there will always be a need for antibiotics to treat sick animals.
In this case, we must develop and follow guidelines to ensure they are used as little as possible but as much as necessary. Veterinarians need to be equipped to be able to determine the right treatment to tackle the disease threat in an animal or across a herd that both minimises the chance of disease spreading and drug resistance developing.
Animal health organisations, including the European Platform for the Responsible Use of Medicines in Animals (EPRUMA), have carried out publicity campaigns to raise awareness of the issue and encourage the responsible use of these important medicines.
We can do more, however, to ensure there is consistency in responsible use guidelines across all relevant organisations from national authorities to the European Medicines Agency (EMA) and the World Organisation for Animal Health (OIE).
By developing shared and consistent approaches, veterinarians can be better placed to administer antibiotics responsibly.
Treating sick animals
Finally, regulatory authorities should resist the temptation to introduce outright bans on critically important antimicrobials (CIAs) in animals.
While this move might be intended to protect these medicines for future generations, comprehensive restrictions would tie the hands of veterinarians and leave them unable to treat sick animals, who pose a risk not just to other animals but to people as well.
Untreated livestock face unnecessary suffering and even death, which would mean that a ban on antibiotics produces the direct opposite effect to that which was intended.
Rather, we should focus on guaranteeing access to a full range of preventative and therapeutic tools as well as adequate training in all products and approaches for veterinarians.
In a relatively short period of time, veterinarians have helped to significantly reduce the use of antimicrobials in animals through education, vaccination, increased biosecurity and hygiene, as well as improved husbandry.
Drug resistance is a many-headed beast that must be combatted with a multi-faceted strategy. Veterinarians can be the lynchpin that unites doctors, drug developers, regulators and industry to make sure we fight back against drug resistance on all fronts.
Guest Article
Steve Hallahan
Chair of the European Platform for the Responsible Use of Medicines in Animals (EPRUMA) & Practising Veterinarian.