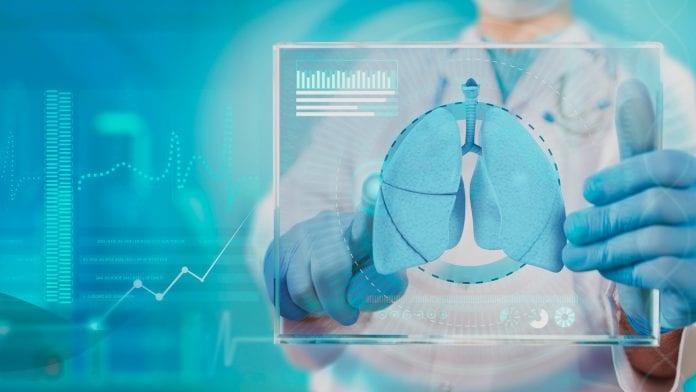 Artificial Intelligence (AI) technology offers time savings, improved performance, case rating by prioritisation and earlier detection of cancers.
Between 1960 and 2020, the population of the EU grew from 354.5 million to 447.7 million, an increase of 93.2 million people. On 1 January 2020, the total population of the EU's 27 Member States was estimated to be 0.9 million more than the previous year, showing a growth of 0.26%. With the current population growth and the increase in life expectancy worldwide, the share of people aged 80 years or above within the total population of the EU is projected to grow 250% between 2019 and 2100, bringing the total proportional elderly population from 5.8% to 14.6%. This growth is expected to result in a corresponding exponential rise in cancer diagnoses.
Female breast cancer is the most commonly diagnosed cancer in Europe, with over 355,000 women in the EU diagnosed with breast cancer (13.3% of all cancer diagnoses) in 2020. This is followed by colorectal (341,000, 12.7%), prostate (336,000, 12.5%) and lung cancer (318,000, 11.9%).
As the European population expands and the proportion of older patients grows, the number of breast and lung cancer cases is rising correspondingly. With the current shortage of radiologists in Europe expected to continue in the future, this profession is facing multiple challenges, the largest of which is time. At any given time in the UK, there are an estimated 330,000 X-rays which have been waiting more than 30 days for a report. In many European countries, a double reading process is necessary and in southern European countries chest X-rays and mammograms still need to be printed.
Lunit is a medical AI software company devoted to developing advanced medical image analytics and data-driven imaging biomarkers through cutting-edge deep learning technology. Lunit's mission is to provide AI solutions in order to open a new era of data-driven precision medicine, with the aim of solving the most critical issues in cancer care today: offer healthcare systems a stronger time efficiency, reducing medical costs and prolonging patient survival.
Lunit INSIGHT MMG
Lunit INSIGHT MMG assists both breast specialists and general, non-specialist radiologists by increasing the cancer detection rate and decreasing the rate of false positives when interpreting screening mammograms. Studies show the software has an accuracy of 96% and significantly improves the interpretive capabilities of radiologists by up to 10%.
Implementing AI in the analysis of mammogram images could help reduce false positive and false negative recalls and successfully triage up to 60% of all cases without human interpretation, reducing the reading workload by more than half. In addition, INSIGHT MMG improves diagnostic accuracy of mammograms for dense and fatty breasts by up to 9% and 22% respectively.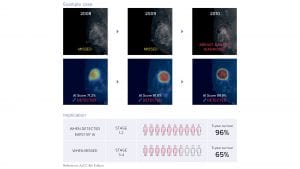 Lunit INSIGHT CXR
Diving into chest X-rays, Lunit INSIGHT CXR supports radiologists with difficult cases of chest abnormalities, helping them minimise the risk of missed cases. Studies show that this AI-supported technology has an accuracy of 97% to 99% and increases workflow efficiency through decreasing the total report reading time by 34%. INSIGHT CXR automatically generates a case report which includes an analysis of each radiologic finding and its location information. Radiologists can customise detectable findings and their visualisation methods according to the user's clinical environment.
Lunit Insight CXR detects nodules, atelectasis, cardiomegaly, fibrosis, calcification, consolidation, mediastinal widening, pleural effusion, pneumoperitoneum, and pneumothorax. It also supports with tuberculosis screening. Lunit Insight CXR detects nodules, atelectasis, cardiomegaly, fibrosis, calcification, consolidation, mediastinal widening, pleural effusion, pneumoperitoneum, and pneumothorax. It also supports with tuberculosis screening.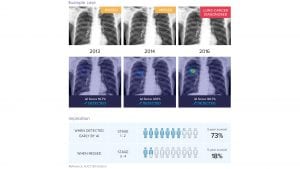 Education in AI
In reference to the abnormality scores on the worklist, radiologists can prioritise exams in their reading order, resulting in a 65% reduction in reading time for normal cases and a 25% reduction for abnormal cases. The AI-aided, automatic detection of small, subtle pulmonary nodules, especially during regular checkups, enables radiologists to reduce false negative cases and detect lung cancer at early stages.
Many radiologists are aware of the potential offered by Artificial Intelligence (AI), as it has been a popular concept in recent years and has made many appearances in different congresses. Nonetheless, based on the results of a study published recently in the Academic Radiology journal, the knowledge gap remains an obstacle to AI implementation. 39.8% of radiologists who participated in the survey said they have no understanding of AI, while 30% reported that they were familiar with the basics. Therefore, education will be key in the implementation of AI.
Lunit offers all healthcare professionals interested in this topic, free webinars and sessions to learn and discuss how AI should be implemented properly and how it can support HCPs.
To learn more about Lunit's AI solutions and try our FREE demo, go to https://insight.lunit.io/
Bas Baltrons Van Dijk
Lunit Inc.
www.lunit.io
This article is from issue 16 of Health Europa. Click here to get your free subscription today.