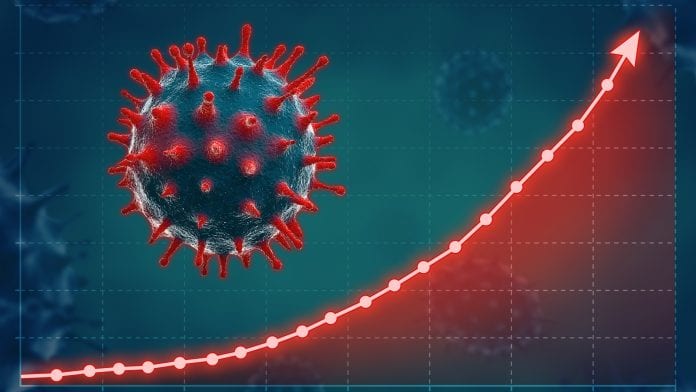 The latest REACT-1 report looking into COVID-19 infections in England has shown a 50% increase since the last study in May of this year, with one in 670 people infected.
In order to investigate COVID-19 infection levels, researchers tested around 109,000 volunteers with PCR tests in England between 20 May and 7 June 2021. The results, published by Imperial College London and Ipsos MORI, show infections in England have increased by 50% since the last REACT-1 report period, between 15 April and 3 May 2021.
In the period between data collections from round 11 (15 April to 3 May) and round 12 (20 May to 7 June), national prevalence of COVID-19 infection increased from 0.10% to 0.15%. In this latest round, the highest prevalence was found in north west England and the lowest prevalence was in the south west. The highest number of cases were found in those aged five to 12 and aged 18 to 24.
Delta variant
This latest REACT-1 report also details which variants were detected in swab-positive test samples. Data suggest most COVID-19 infections are now the Delta (B.1.617.2) variant. Public Health England's (PHE) latest weekly data also shows that the Delta variant now accounts for 90% of UK cases.
Health and Social Care Secretary Matt Hancock said: "These findings highlight the stark context in which we took the difficult decision to delay Step 4 of the roadmap out of lockdown.
"Cases are now rising, but thanks to our incredible vaccination programme and enhanced response package, including surge testing, we have the tools to curb the spread of this virus."
New data published this week by PHE shows the AstraZeneca vaccine is 92% effective against hospitalisation from the Delta variant after two doses, and the Pfizer vaccine is 96% effective against hospitalisation after two doses.
Professor Paul Elliott, Director of the REACT programme from Imperial's School of Public Health, said: "We found strong evidence for exponential growth in infection from late May to early June in the REACT-1 study, with a doubling time of 11 days on average for England. These data coincide with the Delta variant becoming dominant and show the importance of continuing to monitor infection rates and variants of concern in the community."
The published report can be found here.
Recommended Related Articles