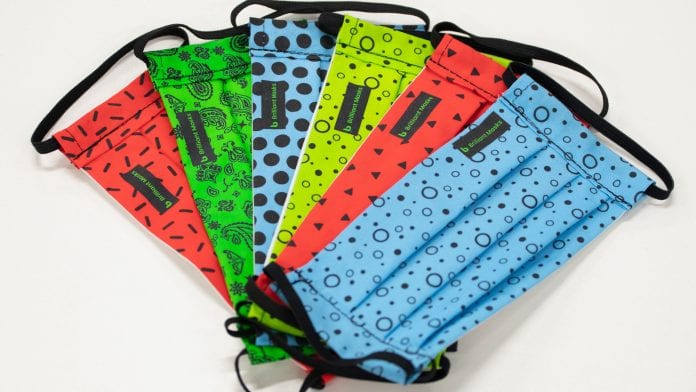 Clinicians at Alder Hey in Liverpool have teamed up with Brilliant Masks to design and produce a face covering that meets the highest industry and infection control standards.
Alder Hey Children's Hospital clinicians and innovators have teamed up with Brilliant Masks to launch the non-medical face coverings to help stop the spread of COVID-19, with a contribution from each sale going to Alder Hey Children's NHS Foundation Trust.
Industry standard face coverings
Sustainably sourced and with a transparent and traceable supply chain, Brilliant Masks are manufactured in the UK and are printed using toxic-free Greenprinted™️ Technology. The masks are made of super soft 450 thread Supima cotton and have an anti-viral coating tested against COVID-19.
For every mask sold, 20% of the funds will go to Alder Hey Children's NHS Foundation Trust and could raise hundreds of thousands of pounds for vital research, development, and innovation projects at the specialist children's trust.
Emma Hughes, Chief Innovation Officer at Alder Hey Children's NHS Foundation Trust, said: "There are so many face coverings available in the UK, often shipped in from across the world, but also with a huge variation in their safety, comfort and practicality levels.
"Early on in the pandemic we identified a need for a non-clinical and child-friendly face covering that could provide some protection from COVID-19, so we began to develop a cloth face covering that would be one of the best in the market in terms of comfort, breathability, fit and protection.
"We were also keen to support the UK manufacturing industry during these challenging times and are delighted to have partnered with English Fine Cottons and Brilliant Masks, both close to us here in the North West. Combining our expertise has been invaluable in creating a covering that looks both fashionable and comfortable while most importantly efficiently catching coughs and sneezes and helping to protect our children, families and staff from viruses including COVID-19."
Michael Conway, Founder of Brilliant Masks, said: "We're immensely proud to be able to team up with Alder Hey to launch Brilliant Masks and we hope the nation really gets behind them. With a percentage of the price going to Alder Hey, people can ensure they're also supporting the delivery of some truly ground-breaking projects.
"With a low carbon footprint and excellent eco-credentials, by choosing one of these masks, people are helping keep our planet free of single-use plastic waste which ends up in our oceans or landfill, whilst also supporting Alder Hey and limiting the spread of COVID-19."