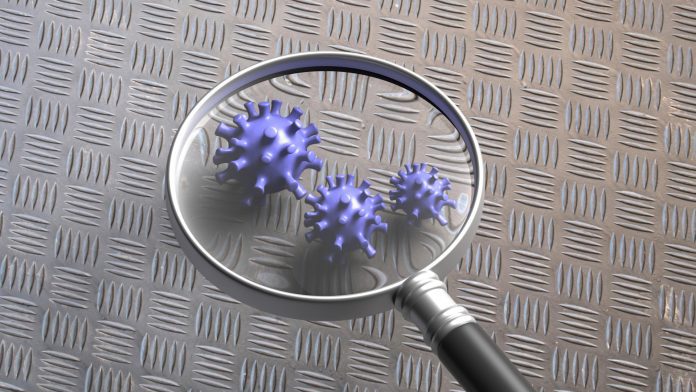 A prototype technique to remotely detect viruses deposited on a surface has been developed by researchers in Spain.
The ongoing project, carried out by the Universidad de Sevilla (University of Seville), has so far seen researchers develop and patent a prototype method that can find viruses on surfaces by analysing images taken at multiple wavelengths – known as hyperspectral imaging. Researchers are currently testing the device on human samples of coronavirus.
The findings from the research so far have been published in Scientific Reports.
Led by Emilio Gómez-González, Professor of applied physics at ETS Engineering School at Universidad de Sevilla, the research team designed a new optical technique that can detect the presence of viruses in drops of fluids or in dry residuals spread over a surface. The now patented technique enables numerous samples to be analysed simultaneously, without the need for contact or reagents.
Hyperspectral imaging
Based on hyperspectral image stacking, the new technique uses images taken at multiple wavelengths in the visible and near-infrared ranges and processes these through advanced statistics algorithms and artificial intelligence. It has been applied to detect two types of synthetic virus, usually taken as models for SARS-CoV-2, in two fluids (saline solution and artificial saliva).
The technique registers images of the samples arranged in a matrix and determines the positions in which the virus is detected, as well as its concentration. Hyperspectral imaging is already used in the farming and biology industries, but this research highlights the potential of the technique to go beyond this; developing and extending the technology to be used within the health sector to detect viruses through innovative and complex processing.
The research has been developed within the framework of the C-CLEAN project, from the COVID-19 Emergency Call from the Carlos III Health Institute, depending on the Spanish Ministry of R&D. Researchers stress that the project has been carried out in a very short timescale (15 months only) and under extraordinarily difficult circumstances deriving from the COVID-19 pandemic.
More than 30 researchers from 11 different centres are participating in C-CLEAN: the University of Seville, coordinating the project; the Explosive Ordnance Disposal (EOD), specialists of EOD-CBRN Group of the Spanish National Police; the 'Virgen del Rocío' and 'Virgen Macarena' University Hospitals in Seville; the Institute of Biomedicine of Seville (IBIS); the Andalusian Network for the Design and Translation of Advanced Therapies (RadytTA); the University of Cádiz-INiBICA; the Spanish-German Astronomical Center (Calar Alto Observatory, Almeria); the Institute of Astrophysics of Andalusia-CSIC (Granada); the Andalusian Technological Corporation (CTA); and the HUMAINT project from the Joint Research Centre (JRC) of the European Commission.
Recommended Related Articles