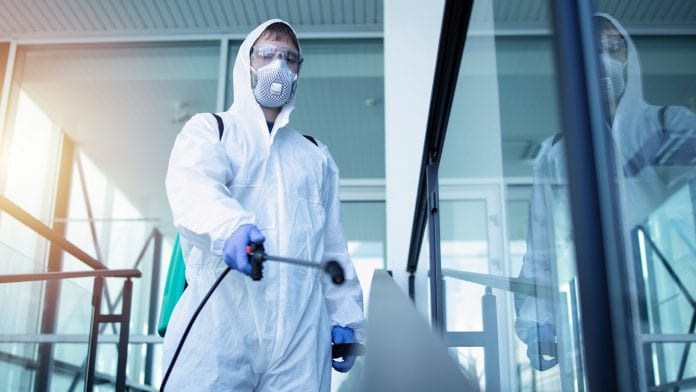 HEQ speaks with Clean Hospitals about the importance of healthcare environmental hygiene for patient safety.
The COVID-19 pandemic has thrown into sharp relief a number of ongoing issues facing the healthcare sector, key among which has been the challenge posed by establishing and maintaining hospital hygiene.
Speaking at the iClean 2020 conference in June, Professor Didier Pittet, Chair of Clean Hospitals, and Director of the Infection Control Programme at the World Health Organization (WHO) Collaborating Centre on Patient Safety at the University of Geneva Hospitals in Switzerland, said: "During this devastating COVID-19 pandemic, up to one in five people who contracted the virus globally are healthcare workers; and we saw similar numbers in the SARs and MERS outbreaks. Furthermore, aged care residents accounted for 29% of COVID-19-related deaths in Australia, and this rate is even higher in Europe, the United States and the United Kingdom, who have been hardest hit by the pandemic. We are therefore calling for urgent reform in our approach to cleaning and disinfection in hospitals and aged care homes."
Clean Hospitals is a healthcare environmental hygiene network which brings together representatives from healthcare facilities, commercial and industrial bodies, academia, governments and other integral stakeholders, in order to heighten awareness throughout the industry of the hospital environment in patient care. The key purpose of Clean Hospitals is to increase patient safety and bring international attention to the need for an increased focus on hospital environmental hygiene.
10 October 2020 saw the inaugural Clean Hospitals Day: a day dedicated to highlighting the importance of healthcare environmental hygiene as an integral aspect of patient safety. In addition to raising awareness of the importance of environmental hygiene across the healthcare sector, this year's Clean Hospitals Day aimed to draw attention to the essential and under-recognised work of the healthcare professionals – 'our Heroes behind the scene' – who ensure hospitals and healthcare facilities are clean, as well as calling on hospital management, healthcare decision-makers and stakeholders to support environmental hygiene initiatives.
Florence Kuijl, International Project Manager at Clean Hospitals, tells HEQ about the work of the initiative and the key challenges to environmental hygiene in healthcare.
What role does Clean Hospitals play within the European healthcare landscape?
The primary objective of the Clean Hospitals initiative is the improvement of hospital environmental hygiene and the protection of patients, employees, and the environment.
Clean Hospitals seeks to harness the collective strengths of industry, academia, hospitals, governmental bodies, and key stakeholders in order to collaborate across disciplines and interest groups. We aim to use the knowledge and momentum generated by our research and working groups to raise industry standards and increase the visibility of the hospital environment in patient care.
The purpose of the initiative is to increase patient safety and bring international attention to the need for an increased focus on hospital environmental hygiene.
Although the hospital environment tends to be one of the most understudied and underfunded areas in healthcare, there is enough literature in the field to prove that a well-maintained patient environment is crucial for preventing the spread of healthcare-associated infections and antimicrobial resistance. Beyond patients, hospital environment hygiene also has a direct impact on the lives of the people working in the hospitals, as well as a broader impact on communities and the environment.
These improvements in hospital environmental hygiene will benefit public health by lowering rates of healthcare-associated infections, reducing antimicrobial resistance, and protecting hospital staff as well as the larger environment.
What makes Clean Hospitals unique?
Clean Hospitals offers a unique blend of environmental hygiene experience and expertise from diverse stakeholders in all regions of the world. Competitors collaborate and discuss each other's opinions with a common goal: that of consistent environmental hygiene and raising standards. We want to harness our collective strength and make improvements while anticipating the future.
Is misinformation a particular concern in infection prevention and control?
Misinformation is becoming an increasingly grave threat to infection prevention and control, as well as patient safety.
There are many products, practices, and recommendations on the market which are not evidence-based, and some which are dangerous. In some publications, the science is good, but taken out of context which can manipulate public opinion. The current scientific publishing model and the rise of predatory journals complicate an already complex issue by making it difficult for people to access quality information.
Joining the Clean Hospitals Fake News working group means being part of a network that allows you to react quickly to fake news that threatens patient safety and public health.
Clean Hospitals aims to become a reference for scientifically verifiable and proven information.
Florence Kuijl
International Project Manager
Clean Hospitals
This article is from issue 15 of Health Europa. Click here to get your free subscription today.