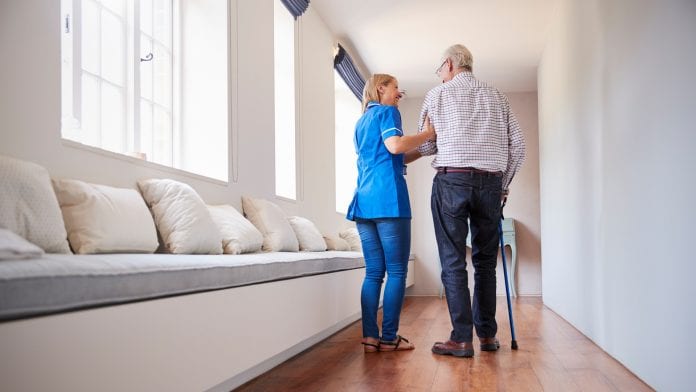 A new report from the Health Information and Quality Authority (HIQA) in Ireland has examined compliance with infection control guidelines in nursing homes.
The HIQA report highlights that whilst over 50% of premises were compliant, or substantially compliant, with infection control guidelines, 32% were not – suggesting that this was due to poor governance, a lack of planning, and outdated facilities and premises.
Nursing and care homes have been at the epicentre of the COVID-19 pandemic, and the virus has disproportionately affected elderly populations across the globe. The report examined how nursing homes were impacted by the pandemic, how residents and their families experienced the pandemic, and the efforts of staff and management to keep people safe.
Noncompliance with infection control guidelines
Although the majority of nursing homes had complied with infection control protocol – a number of different factors contributed to the noncompliance of 32%.
Lack of adequate management staff was cited as a contributor, 'It is the Chief Inspector's experience that impact of the outbreaks of COVID-19 in nursing homes was exacerbated by the absence of senior management on site, as a result of contracting the virus themselves. As such, it was alarming that some registered providers had failed to demonstrate sufficient preparation for such an eventuality.'
Further, the report highlights noncompliance in arrangements for the isolation of infected patients, noting that, 'While most nursing homes had devised such plans, some would not have been effective in the event that a significant number of residents became infected,' and adding that multiple-occupancy bedrooms and insufficient communication and liaison with local public health officials was a problem.
Facilities were also a problem in some nursing homes, with 14 people sharing one shower room in one instance, as well as laundry protocols posing a problem. The report notes, 'Inspectors also found issues relating to contingencies for laundry facilities. Many nursing homes process their own laundry on site. One assessed nursing home had not made adequate plans in the event that staff working there were unavailable to do laundry. It was suggested to the inspector that they "might ask a neighbour or a member of the local community to do the laundry." Any use of untrained people to manage laundry for vulnerable residents in such high-risk circumstances would have been highly inappropriate.'
Updating regulations and models of care for the elderly
The report suggests that reform of the current regulatory framework and models for care of elderly people is vital, and that alternative models of care must be explored, such as 'homecare and assisted living, and integrate clinical oversight in nursing homes.'
The report states: 'As a result of COVID-19, it is absolutely vital that premises are modernised as a matter of urgency in order to facilitate physical distancing requirements, promote modern infection prevention and control practices, and provide residents with the dignity and privacy they deserve.'
It also stated: 'The 2013 nursing home regulations need to be strengthened to protect older people into the future, particularly with regard to staffing numbers, skill-mix, and expertise in infection prevention and control. It is clear that greater interagency collaboration will be necessary to prepare for and prevent a second-wave of COVID-19, or indeed, any future pandemics.'
HIQA's Chief Inspector of Social Services and Director of Regulation, Mary Dunnion, said: "COVID-19 has deeply affected many people and the fallout will be with us for a considerable period of time. Our sympathies go to all those who have lost a loved one or a friend due to the virus.
"Residents in nursing homes who spoke with inspectors expressed a range of emotions. Some feared contracting the virus and worried about their family and friends, while others felt a deep sense of isolation and loneliness as a result of the visiting restrictions. Without exception, residents were deeply grateful to staff in nursing homes for the care they provided in extremely challenging circumstances.
"Relatives and friends of residents spoke of the worry and anxiety they felt for their loved ones. Some reported that they experienced poor communication with nursing homes, which only served to heighten their anxiety. Others raised concerns regarding the adherence to public health guidance and the appropriate use of PPE."
Ms Dunnion continued: "COVID-19 has brought into sharp focus the need for reform of current models of care for older people in Ireland. The continued use of multi-occupancy rooms and outmoded premises in some nursing homes undoubtedly created challenges in containing the spread of infection. We must look to complementary models of care, such as homecare and assisted living, and ensure that there is improved clinical oversight in all nursing homes.
"Furthermore, the regulations governing nursing homes are outdated and must be revised to make them fit for purpose, particularly as regards governance, staffing numbers, skill-mix, and infection prevention and control. HIQA will continue to listen to the experiences of residents, relatives and staff to strive for safer, better care that focuses on the human-rights and individual needs of the person."