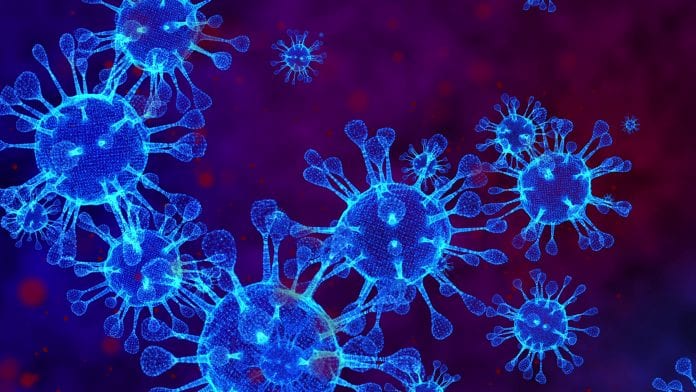 LED Direct is committed to leveraging UVC radiation in the global fight against COVID-19.
At LED Direct we supply LED lighting and smart home products to customers throughout the UK. Located in South Yorkshire and operated by a team of lighting professionals with over 60 years in the lighting industry, we strive to provide quality projects, products, and innovative technology to our customers. We saw that many public health organisations needed an antiviral sanitation product to prevent their staff and the public spreading the COVID-19 virus. Additionally, we saw how challenging the ever-changing guidance was for local businesses, who needed a steadfast way of protecting staff and customers.
We implemented the UVC range as a way of providing UK organisations with the best tools possible to prevent contamination, offering bespoke project management, installation and virtual/physical site surveys. We wanted to provide a product that actually helped, not just during this awful pandemic, but for infection control in the future.
The research speaks for itself. The 2018 Columbia University study demonstrated just how effective UV light can be against viruses, as it destroyed over 95% of all pathogens. UV light can do this in a room in 20 minutes.
UVC technology is already being used by the NHS. The system allows for continuous decontamination of the air and surfaces in patient waiting areas, wards and surgical theatres. Infection control in high footfall areas is essential in reducing the risk of spreading the virus. The Walton Centre in Scotland has hailed UVC lighting as an exciting piece of equipment which offers a robust sanitisation solution in a busy hospital. Patients come from all over the UK to access the hospital's specialist neurosurgery and pain services, which led the local NHS Trust to seek out a solution for additional decontamination.
The Trust has clearly demonstrated the importance of using UVC technology in infection control, noting that its effectiveness and speed are welcome benefits. Patient flow can continue as infection outbreaks are reduced. Staff are able to decontaminate a space with ease, and using the UVC stand makes the product fully portable.
Radioactive disinfection, especially ultraviolet radiation, is a well-documented inactivation approach for all known microorganisms and viruses. In fact, UV radiation offers several advantages over conventionally utilised liquid disinfectants as well as heat sterilisation. We are now at the start of flu season; and the road ahead is still very unclear to millions of people. We want to support public services in their desperation to manage infection control and prevent the virus spreading across their services.
UVC has so much potential in limitless industries. Coupled with good infection control policy, we could create safer environments for the population – imagine the potential offered by this kind of technology in schools or care homes. We want to make this transition easy, which is why we have installation and guidance options for this product in particular.
We have achieved the European Union (EU) Declaration of Conformity for the CE mark in 2020 and conform to several additional harmonised standards including – but not limited to – IEC 55015:2019-11 and IEC 63000:2019-01.
Perceptions of UV disinfection
It is interesting to note that, even though it has been over a century since the antimicrobial properties of UV light have been made evident, it has taken a considerably long time to be embraced as a health technology by hospitals. While UV light is ubiquitous as a disinfectant in the wastewater treatment industry, it has barely made headway into healthcare institutions. This has to do significantly with human perceptions, according to Edward Nardell, a Professor of Environmental Health, Immunology, and Infectious Diseases at the Harvard TH Chan School of Public Health. According to Professor Nardell, there is a barrier of fear associated with UVC radiation, even though UVC radiation does not penetrate the skin and eyes well. Second, there is a lack of familiarity: biomedical engineers and healthcare professionals are not taught much about germicidal light during their professional training.
UVC luminaires
We feature four distinct Purelight products – the Purelight Hybrid, Purelight Flow, Purelight Direct Opti and the Purelight Direct. The nuanced differences between the technical specifications of these four products can be found on our website.
Our Purelight products are dual function UVC lamps which are designed to sterilise rooms and surfaces. These are specialised bacterio- and virucidal luminaires which can be mounted on surfaces or stand-mounted. They emit UVC radiation at a wavelength of 253.7 (254) nm. With the Flow mode activated, the luminaires can be used in the presence of people indoors. The Flow mode is characterised by a forced air circulation and safe shielding of the emitted UVC light.
Our Purelight products are also designed to optimise usability. They are conveniently installed and can be remote controlled from a distance, which precludes the risk of proximity with the space undergoing sterilisation. The luminaires also have an in-built hour meter which indicates when the light source requires replacement: the performance of the tubes degrades over time, meaning that when they get past a certain level they are not doing as good a job as they were from new; so this will let the user know when to replace even if they have not obviously failed.
Our UVC luminaires are appropriate for destroying bacteria, mould, fungi and viruses in a variety of settings, including hospitals, laboratories, pharmaceutical and cosmetics industries, hotels, schools, gyms, nurseries, production facilities and even transportation vehicles – and we believe this could change the way in which we handle infection control in public spaces.
We also provide accessories which are compatible with the Purelight – these include a mobile stand to mobilise the luminaire for transport, a protective grille to prevent mechanical damage, and a carbon filter to retain pollutants such as dust, volatile organic compounds, pollen, and allergens. These portable UVC stands can be wheeled into any space, room or office, meaning that departments have full control of their own sanitisation. Transport for London (TfL) is using this technique on all its tube and train stations, using the technology to sanitise handrails and areas of high foot traffic. We hope to raise awareness of just how essential effective sanitation is; and how our luminaire range is not just fixed to the wall, but can be wheeled anywhere.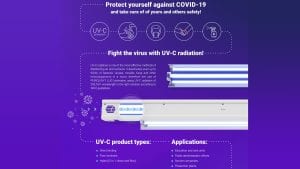 The ultraviolet spectrum
It has been more than a century since Niels Finsen won the 1903 Nobel Prize for discovering that UV light is capable of eradicating germs. The ultraviolet spectrum can be categorised in four sections. Radiation with a wavelength that is between 100nm and 200nm is considered as Vacuum Ultraviolet Radiation (VUV). This type of UV radiation is not used for disinfection, as it is mostly absorbed by the surrounding air. The more commonly known ultraviolet ranges are UVA, UVB and UVC. These have spectral ranges of 315nm to 380nm; 280nm to 315nm; and 200nm to 280nm, respectively. Of these three types, UVC has the strongest antimicrobial and antiviral properties.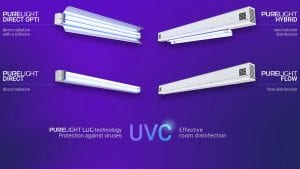 UVC inactivation of the SARS-CoV-2 coronavirus
Even though the term COVID-19 relates to the pandemic attributed to the novel coronavirus, the name of the causative virus proper is SARS-CoV-2. After genetic sequencing and analysis, SARS-CoV-2 was determined to be a member of the beta-coronaviruses.
The main inactivation mechanism of UVC radiation is that of the formation of dimers. UVC radiation is absorbed by the SARS-CoV-2 coronavirus, leading to the formation of pyrimidine dimers. Traditionally, the main source of UVC light has been from mercury discharge lamps (for instance, low-pressure mercury vapour lamps) with an emission peak of 254nm. More recently, xenon lamp technology which emits a broad UV spectrum has been used for this antimicrobial approach. This emission peak is deliberate, as the maximum absorption is 260nm for ribonucleic acid (RNA), the main genetic component of the SARS-CoV-2 coronavirus.
Even though UVC radiation has an inactivation effect on all known microorganisms and harmful viruses, different organisms require different radiation doses to be successfully inactivated. For example, the rotavirus, which is distinct from the coronavirus, requires 25mJ/cm2 of 254nm UVC radiation. In contrast, the adenovirus, which is distinct from both the rotavirus and the coronavirus, requires a dose six times higher (140mJ/cm2) to be inactivated.
A review of the latest evidence reveals that there is significant merit in adopting UVC radiation as a robust, safe, and effective preventative strategy for combating COVID-19. One study conducted in May 2020 sought to measure the radiation dose necessary to eradicate (inactivate) the SARS-CoV-2 beta-coronavirus. Researchers from the University of Applied Sciences, Ulm, Germany, found that coronaviruses are extremely sensitive to UV. The upper limit of the UVC radiation dose determined for inactivation of the virus was determined to be just 10.6mJ/cm2 and the true value was estimated to be about 3.7mJ/cm2. The researchers concluded that the SARS-CoV-2 virus is highly UV sensitive and that common UVC disinfection procedures would inactivate it.
American researchers from the Center for Radiological Research at the Columbia University Irving Medical Center in New York recently established that far-UVC light, with a wavelength of just 222nm, effectively and safely inactivates airborne human coronaviruses. In fact, the researchers adopted the use of an even lower dose of UVC: 1.7 and 1.2 mJ/cm2. At these doses, the UVC radiation was shown to inactivate 99.9% of aerosolised coronaviruses. This is highly ground-breaking research, as the skin safety of 222nm UVC light has been established by previous studies.
Conclusion
The world has been gripped by COVID-19; and the causative pathogen – SARS-CoV-2 – has claimed over one million lives globally. The return to our normal lives can only occur when the rampant transmission of COVID-19 is thwarted. Although the wearing of masks, social distancing, and the avoidance of large gatherings of people has proven useful in slowing the spread of COVID-19, more needs to be done before normalcy is achieved.
We are striving to bring organisations bespoke support in implementing UVC luminaires. Not only can we provide installation, but finance options as well. We want to help stop the spread of this awful virus that is plaguing our society, but we understand financial constraints are tighter than ever. LED Direct can also provide complete lighting design to ensure full functionality of the product, in addition to virtual consultations to discuss any reservations. UV technology could shape the way we handle any future viral breakouts, and we believe it has the power to change the way we clean and sanitise surfaces.
UVC radiation appears to be an extremely effective, safe, and cost effective strategy for the eradication of the SARS-CoV-2 virus on surfaces and in rooms. Even though there are fears concerning the human safety of UV radiation, UVC radiation specifically has been proven to be safe. Emerging evidence supports the role of UVC radiation in successfully inactivating the SARS-CoV-2 coronavirus at doses as low as 1.2mJ/cm2. LED Direct is committed to leveraging UVC radiation in the global fight against COVID-19. To that end, our highly innovative and user-centric professional luminaires can value-add significantly in keeping surfaces and rooms safe, both within the healthcare industry and outside of it.
Daniel Blair
LED Direct Ltd
+44 (0)333 023 0827
Danb@leddirect.co.uk
This article is from issue 15 of Health Europa. Click here to get your free subscription today.