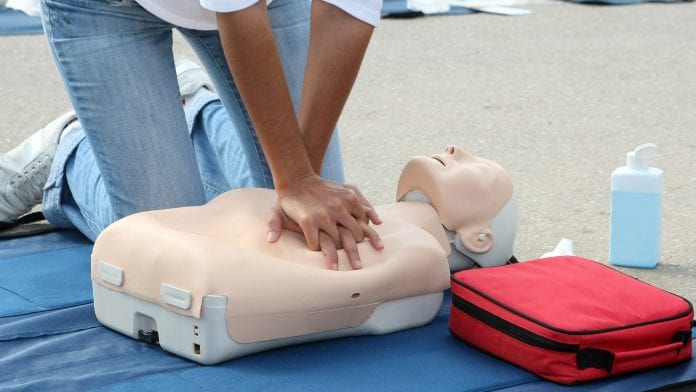 HEQ speaks with Dafydd Beech, National Community Education Manager at the British Red Cross, about first aid education and the rise of digital delivery.
Dafydd Beech interview by Rosemary Lobley.
The British Red Cross, the UK branch of the International Red Cross and Red Crescent Movement, promotes and delivers first aid training across the UK: in 2019 alone, its community education team trained upwards of 147,000 people.
HEQ speaks with Dafydd Beech, National Community Education Manager at the British Red Cross, about first aid education and the rise of digital delivery.
Have the themes and delivery of first aid training evolved in recent years? Have any newer innovations or developments been implemented?
In terms of clinical skills themselves, first aid has not changed that much over the years, except for very small tweaks to the training that we deliver in line with updated guidance from the British Resuscitation Council, as well as updates to our first aid manual which is produced with our tripartite partners. What has changed are the methods of education and delivery which we use. Of course, there have been significant changes in the last year due to COVID-19 and successive national lockdowns, which have meant that we are unable to get to particular venues and meet with groups of people in person to give them first aid education. Therefore, the community education team has been working to convert all our educational resources and delivery to digital platforms, in order to be more accessible for people during lockdown.
How has the onset of the COVID-19 pandemic impacted first aid training?
It has had a massive impact. On the commercial side of Red Cross training, where people can obtain first aid certificates for work, we recognised early on that people still needed those qualifications; because even though lockdown restrictions are still in place a lot of industries – such as the building and manufacturing sectors – have remained open. These are typically workplaces with a lot of employees, and accidents unfortunately do still happen, so people still need that first aid education; so that side of our work has carried on at certain venues, with social distancing and COVID-19-safe guidelines in place.
Within the community education aspect, we were presented with a problem, because we usually go to other people's venues: if we worked with a community group, for example, we would go to their community space; but now those spaces and venues have had to close or have maybe been unable to establish COVID-19-safe areas, so we have been unable to get to those venues. We also do a lot of work with schools, so the schools closing presented us with another problem – but even though the pandemic has been a really horrible time for everyone, we had to look at what we can do positively to support people out there in communities, in terms of education. Therefore, we adjusted all our education work to make it available on digital platforms. We already had some first aid apps, so we kept working on those; but now we have begun promoting a lot more of our education on social media. We have also started to adapt all our educational programmes to be delivered via Zoom, Microsoft Teams and other digital platforms; this has meant we have made significant changes, because delivering training to a group of people face-to-face is very different to delivering it digitally.
In 2019, first aid was provisionally added to the national curriculum in the UK. Was the rollout of that successful or did COVID-19 halt the process?
First aid is now a compulsory part of the curriculum in England, and optional in Northern Ireland, Scotland and Wales. The British Red Cross did a lot of advocacy work with our partners to put that in place, because we thought it was really important to be able to convey life-saving skills to young people as early as possible. We created our First Aid Champions website to support teachers and other educators to be able to teach those skills; and we were just at the point of rolling that out and conducting research and trials to see how we can better support education when the COVID-19 pandemic hit. We are still working with schools; at the moment we are in the process of engaging with teachers to see what is the best way to support them in delivering first aid education.
The Red Cross has a long history of assisting with vaccination programmes. What support is your team providing for the rollout of the COVID-19 vaccine?
There is now a great deal of different work going on across all four nations of the UK, because each of the devolved nations has slightly different health board systems, so we are adjusting our support accordingly. We have been working in partnership with St John Ambulance and local health trusts to provide support for vaccination centres: we have been helping with welcoming patients when they arrive and ensuring that they are comfortable, especially because some people receiving the vaccine may be worried or nervous. We are training volunteers to deliver vaccinations; and we are present throughout the process, both to provide support for patients in terms of their wellbeing, and in terms of any first aid treatment that they might need at that point.
What are the most pressing challenges within community first aid education?
Within community education we try to work with groups which are at the highest risk of something happening to them, but these groups commonly have the lowest amount of resources, such as outside support or close networks to help them out. That can present us with problems in accessing those vulnerable groups, so we are now working very hard through various types of promotion – social media, marketing and through our other partners – to try and access these individuals or communities in order to ensure that we get the right education to the right people.
One challenge which has come about as a result of COVID-19 is that people are quite nervous about performing first aid on someone that they do not know, because they are afraid of putting hands on a stranger due to the risk of transmission of any potential infection. As a humanitarian organisation, we focus on what people can do in an emergency situation, on the basis that doing something is better than doing nothing at all. If you are not able to go close to the person, give them advice on how to help themselves, based on your first aid knowledge. If they are unable to do that and there is someone with them, tell them how to help; and obviously make use of 999, as the emergency response services will have personal protective equipment (PPE).
If you are comfortable, and you have some type of PPE on you, and you want to help, do so in the safest way possible, so that the person gets the help that they need. Even the smallest intervention can make a big difference to that person in terms of getting help to them – even just calling 999 can make a significant difference in terms of a person's recovery in the future.
Can you tell me a bit about the @firstaidtoolkit TikTok channel – what inspired its launch? How have responses been so far?
We have been working closely with TikTok through the pandemic, and in March 2020 the British Red Cross contributed to TikTok's mythbusting campaign by creating videos to dispel fake news around COVID-19. We were one of the first charities to fundraise on that platform; and TikTok was able to match those funds: they raised an incredible £90,000 for the British Red Cross COVID-19 Response.
Following this, we noticed the inherent potential of TikTok to disperse our education to as many people as possible. TikTok has a huge base of people linked into it from all demographics, in all age ranges; and we thought it was a great platform to launch our first aid toolkit. We worked with a number of people who were already on the platform with hundreds of thousands of followers, as well as some of our own team of staff and volunteers here at the British Red Cross, to film some very short and easy first aid skills, in order to get that education out there on the social media platform. The response over the past few months has been amazing – when we initially started working with TikTok we produced a video around hand hygiene; and that video to date has had in the region of 65 million views. If something as simple as washing your hands, which we know is really important during this time, can have that many views; and if we can show people the skills to save someone's life in the same way, then that could have a dramatic effect on people out there in our communities.
Within community education we have just produced a Digital Classrooms booking page for anyone who wants to arrange a first aid training session online. If someone wanted to book a session for an adult group or a school, for example, they could sign up for that online using the form – we try to support parents, teachers and educational establishments with homeschooling resources, by teaching first aid or any other humanitarian subjects.
Dafydd Beech
National Community Education Manager
British Red Cross
www.redcross.org.uk
This article is from issue 16 of Health Europa. Click here to get your free subscription today.