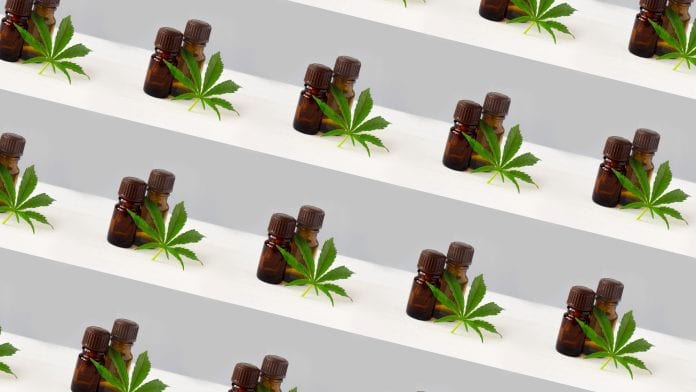 The Food Standards Agency (FSA) has issued its first ever CBD safety advice for consumers, and a stark warning to manufacturers.
Today the FSA has released its first ever safety advice for consumers regarding CBD oil commonly sold in shops across the UK, along with a warning to CBD product manufacturers; stating that CBD products will be taken off shelves if more information about the products is not given.
The CBD safety advice given today by the FSA advises that vulnerable groups, including pregnant and breastfeeding women, should not take CBD, and healthy adults should take no more than 70mg a day.
CBD safety advice
The FSA is advising those who are pregnant, breastfeeding or taking any medication not to consume CBD products. Healthy adults are also advised to think carefully before taking CBD, and the FSA recommends no more than 70mg a day (about 28 drops of 5% CBD) unless under medical direction.
This new precautionary advice is based on recent findings by the government's Committee on Toxicity (COT).
Emily Miles, Chief Executive of the Food Standards Agency, said: "We are advising that CBD could be risky for vulnerable groups, and suggesting an upper limit of 70mg a day for everyone else taking the product.
"The actions that we're taking today are a pragmatic and proportionate step in balancing the protection of public health with consumer choice. It's now up to industry to supply this information so that the public can be reassured that CBD is safe and what it says it is."
Professor Alan Boobis, Chair of the Committee on Toxicity, said: "My committee has reviewed the evidence on CBD food products and found evidence there are potential adverse health effects from the consumption of these products. We are particularly concerned about pregnant or breast-feeding women and people on medication.
"We don't know enough to be sure about such a risk but I am pleased with the sensible and pragmatic approach the FSA is taking. The committee will continue to keep these products under review in the months ahead."
CBD deadline for businesses
The FSA has set a deadline for CBD businesses to provide more information about CBD products and their contents.
The Food Standards Agency (FSA) is giving the CBD industry a deadline of 31 March 2021 to submit valid novel food authorisation applications. After this date, only products which have submitted a valid application will be allowed to remain on the market. The authorisation process ensures novel foods meet legal standards, including on safety and content.
Emily Miles, Chief Executive of the Food Standards Agency, said: "CBD products are widely available on the high street but are not properly authorised. The CBD industry must provide more information about the safety and contents of these products to the regulator before 31 March 2021, or the products will be taken off the shelves."
Local authorities will be responsible for enforcing the novel food legislation and the FSA have been advised that businesses should be able to sell their existing CBD products during this time provided they are not incorrectly labelled, are not unsafe to eat and do not contain substances that fall under drugs legislation.
Impact on the CBD industry
The Association for the Cannabinoid Industry (ACI) has welcomed today's regulatory and precautionary advice.
The ACI states: "We believe it establishes a clear trajectory towards the development of a safe and legally compliant CBD industry in the UK. Today's update will be welcomed by consumers, the industry, and retailers alike. It will generate significant levels of industry investment in research and product quality which will place the sector on a sustainable path.
"Over the past five years the UK CBD market has grown rapidly; today over 1.6 million people consider themselves to be regular consumers. The sector employs thousands of people in hundreds of businesses all across the country. Until now, it had grown in the shadows of the necessary regulation any such industry requires, perpetuating a lack of consumer confidence and business confusion.
"The whole industry is now on notice and we are confident it will respond with urgency to the new clarity the FSA have provided. The foundation goal of the ACI is to facilitate the creation of an ethical, high-quality and innovative cannabidiol industry in the UK. With the publication of this new guidance, we are emboldened in this mission. We will now intensify our work with the FSA, trading standards other Government departments to make this a reality."
Dr Parveen Bhatarah, Regulatory Lead at the ACI, said: "The FSA have today provided us with the regulatory clarity that the industry and consumers have been crying out for. It is critical that the industry now responds by undertaking all the investments required to ensure that we can deliver full regulatory compliance."
Next month the ACI will set out its vision for the future of the industry at the first Global CBD Summit in London.
Sarah Ellson, a regulatory partner specialising in life sciences at law firm Fieldfisher, commented on today's announcement: "The time, cost and regulatory scrutiny involved in applying for a marketing authorisation for medicines has prompted many CBD product manufacturers to abandon or modify claims to their products' medical/health benefits in favour of finding another route to market as a food supplement.
"While this initially looked like an easier way to sell CBD, last year saw the erection of new regulatory hurdles for non-medicinal cannabis products with the European Commission's classification of all synthetically obtained extracts of hemp and derived products containing cannabinoids (including CBD) as 'novel foods'.
"The novelty status of CBD was a blow for the industry, which had hoped that by not making medical claims, manufacturers would be free to sell their products as supplements without significant regulatory constraints.
"This issue is further complicated as it requires many products that are already on the market to seek retrospective approval – something which is proving difficult to enforce.
"The reality of getting authorisation for a novel food from the FSA and EFSA is burdensome and involves a dossier of scientific data that may seem similar to getting a medicine authorised.
"While this may be frustrating, it should be remembered that the rules are set in the interests of public safety, and that attempting to side step or antagonise regulators could have serious consequences for individuals, companies and the CBD industry as a whole.
"For new and would-be market entrants to the novel foods arena, there are however issues which need to be addressed around the lack of available data on CBD, inadequate testing infrastructure and a lack of standardisation across the industry."
Nigel Rowley, Managing Partner at Mackrell.Solicitors, said: "We anticipated and welcome this morning's announcement by the FSA that they will be more proactive in regulating the growing CBD market going forward. The lack of clarity and certainty has always been a cause for concern for our clients and the industry as a whole.
"Our initial view is that strong regulation and a clear regulatory regime can only be positive for those responsible businesses that make up the majority of the industry.
"Questions still remain, particularly in relation to EU Novel Foods authorisation, and whether every business needs to apply or whether a blanket authorisation would cover each end-form of CBD. We will be seeking clarification from the FSA on this and report back to the industry once a greater degree of clarification has been obtained."
Robert Sidebottom, Director of the Hemp and CBD Expo and a leader in the industry, added: "This statement from the FSA has been a long-time coming, regardless of your views on CBD and Novel Foods it is consumer safety that is paramount.
"It should act as a clarion call to the sector to work together, education and advice is now more than ever critical for those working in the cannabis space, I encourage everyone to attend our event at the end of this month and talk to and listen to the leading of legal, trade and medical practitioners who are presenting."