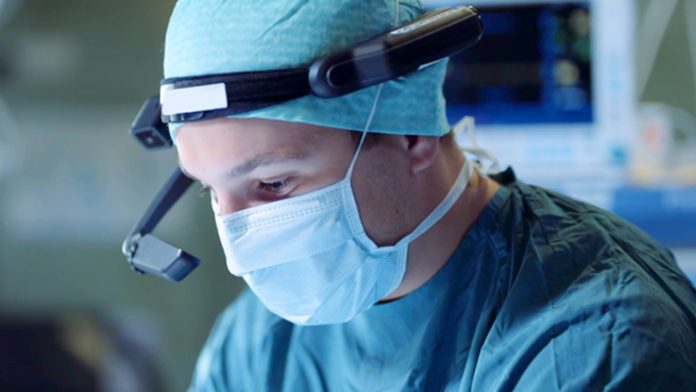 RealWear introduces its assisted reality head-mounted wearables and how the revolutionary technology signifies a paradigm shift in the healthcare sector.
Extended reality and wearables continue to offer significant opportunities to revolutionise healthcare. However, for a true transformation in healthcare, it is vital that health services take more direct action and planning – particularly given current labour shortages and skills gaps. A real step change is needed.
This article will explore head-mounted wearables, particularly assisted reality, and how this technology has unlocked transformational ways for healthcare services to better care for patients.
What is extended reality (XR)?
To begin with, there are various types of head-mounted wearables that fall under extended reality. The umbrella term encompasses the following technologies:
Virtual reality (VR), which plunges users into an all-digital, fully immersive experience;
Augmented reality (AR) and mixed reality (MR), an interactive experience that combines the real world and computer-generated content, where physical and digital objects may co-exist in a blended environment; and
Assisted reality (aR), which is a technology that presents information to the user without blocking their vision. It is designed to assist users in completing real-world tasks without interfering with their situational awareness.

While virtual and augmented reality has garnered a lot of attention in recent years, assisted reality has emerged as the real game-changer. Our experience has shown that many of these emerging technologies are not easy-to-use solutions that provide immediate value or quick returns on investment. In fact, they often require significant effort and investment to implement effectively.
To create VR and AR use cases, applications and environments must be built separately, and that adds a huge level of complexity to rolling it out within the healthcare sector. Therefore, a successful deployment for some of these 'immersive' technologies, where digital is overlaid on the physical world, or even replaces it, requires significant investment, time, patience, and planning with change management.
Leveraging what's here now: Assisted reality for immediate results
Assisted reality is a newer and rapidly emerging XR technology, which lies on the opposite end of the XR spectrum to VR. Unlike VR, assisted reality technologies provide a 'reality first, non-immersive experience', adding digital content and experiences designed to 'assist' users with their physical tasks. The user can consume information and collaborate with others, but these experiences are intentionally separated from the user's physical reality to keep the user present and mindful of their surroundings. As a driver gathers information from glancing at a dashboard, an assisted reality user is presented with information in much the same manner.
One company at the forefront of the assisted reality industry is RealWear. Their unique devices are head-mounted, voice-controlled wearables that provide the user with information via a micro-display that fits just below their line of sight. There is numerous industry and use case-specific applications available on the platform, such as the popular Microsoft Teams, Cisco WebEx Expert on Demand, HandsFree for Zoom, and TeamViewer, to name a few.
The head-mounted wearable technology is well suited to offer remote expert guidance, digital work instructions, field service support, and other use cases requiring a 'reality-first' experience. aR solutions must provide users with hands-free control via voice command capabilities uniquely designed for high-noise environments. In addition, with safety as a baseline imperative, this technology must integrate with PPE (especially overhead bands, clean room straps, face masks and eye protection). At the same time, it must provide comfort and battery power to accommodate shift-long device use.
Current use cases of assisted reality in healthcare
Within healthcare, assisted reality is being used across a variety of use cases.
Education and Knowledge Transfer
Providing the ability to pass expertise from a surgeon to medical students, this use case helps to support transitional students that are going to be working on the frontline. The process brings awareness and provides tangible examples of what they'll be encountering. Head-mounted wearables also speed up the learning process and take remote personnel into environments they can't physically be in.
Operating theatres are a prime example, as you can't have many people inside during the procedure. They are small environments with infection control to consider, and a large group could significantly distract the surgeon performing the procedure. To counter this, head-mounted wearables can facilitate a remote session whereby students can join the live surgery virtually and partake in bi-directional conversation with the surgeon wearing the device. This gives medical students a real-time, remote first-person view and insight that has never been available before.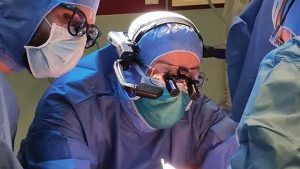 Use case in action: NHS
One NHS Trust that is leveraging RealWear's solution is a pioneer in innovation. Their team lined up a project in which they tried and tested various headsets across the XR spectrum. Ultimately, they landed on RealWear because their devices are ruggedised, offer great visibility and viewability from the display, and are well suited to those carrying out a procedure. The Trust's main use case was in orthopaedics, whereby the surgeon wore the device to allow students to join virtually from several different disciplines. The remote audience could view the experience and communicate with the surgeon throughout.
Community nursing
Community nursing is where a medical professional visits patients in their own homes rather than physically entering a hospital or a GP practice. This is largely the way that a lot of care is going to be delivered in the future. When nurses enter those environments, they may need immediate access to an expert or senior team member who can offer either sign-off, diagnose, or provide guidance on treatment. This is a fantastic use case because it speeds up many patient treatment processes and enables expertise to be shared easily amongst colleagues.
Use case in action: Podiatry
One example of this use case in action is the use of assisted reality wearables by podiatrists in a community clinic to support real-time contact with other healthcare professionals to seek advice on treating patients. Remote-based senior podiatrists can immediately help support treatment and care and even be part of the conversation with the patient. Since deploying the head-mounted wearables, the community clinic has seen a reduction in travel, increased efficiency in care delivery, and decreased treatment delays.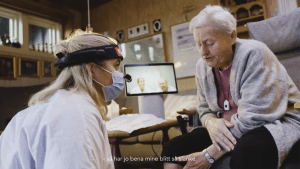 Emergency medical technicians (EMT)
Assisted reality wearables enable EMT workers to receive live support from experts at the hospital to inform them about a patient arriving soon. This results in better care for a patient in critical condition. EMT workers can also get guidance from specialists and subsequently perform more advanced treatment in the field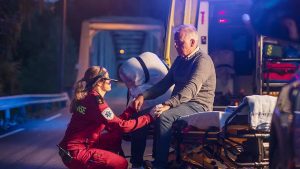 Use case in action: First responders
An organisation that RealWear works with in Norway has deployed assisted reality wearables to first responders and paramedics. As Norway is a very rural country, ambulances can often be hours away from the patient. The head-mounted wearables help first responders provide eyes on the ground to a situation before the ambulance crew arrives. For instance, in the case of a road traffic collision, those paramedics who are travelling to the incident can provide patient triage as they know what to prepare, which hospitals to go to and how to prioritise that patient.
Emerging use cases for assisted reality wearables
Whilst the above use cases are already in practice today, we are just scratching the surface in terms of the capabilities of head-mounted wearables.
Hazardous environments
Other areas in healthcare that will seriously benefit from assisted reality wearables being deployed are hazardous environments. The COVID-19 pandemic is a prime example where you had to have limited numbers of people in hospital wards. The ability to take assisted reality head-mounted wearables into a heavily limited environment and have remote guidance is invaluable. This also applies to remote patient assessment and second opinions.
For instance, assisted reality enables the wearer to have immediate access to an expert who may be based in a completely different location or only have a small window to speak with a patient in between their meetings. Therefore, an experienced doctor, consultant, or physician can join a video call and guide the person on the ground and give that second opinion or assessment remotely.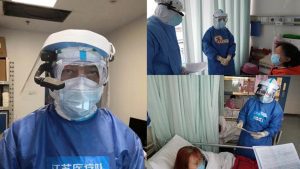 Facilities management
Looking ahead, there are additional use cases to be explored which will provide significant value. One such example is facilities management. If we step away from direct patient care and look at the hospital's facilities, they're filled with complex machinery. With much of it being legacy equipment due to a lack of funding, machinery is likelier to break down or require repairs at a moment's notice.
Assisted reality head-mounted wearables can improve the process of scheduled maintenance and pre-scheduled equipment checks or reduce downtime. People on the ground can get in touch with specialists from the equipment manufacturers via the device and carry out the work in real-time rather than wait for a visit from a technician
How this technology is suited for frontline healthcare workers
It's important to note that a key component is the environment in which assisted reality is being used. In the community, you won't connect to a patient's Wi-Fi when you go into their house because that would present far too many security compliance issues and connectivity issues. To combat this, RealWear has released a 4G modem that can be plugged directly into a headset and can connect the device wherever 4G connectivity is available.
This means that the user wearing the device is always securely connected and can step into any environment with the necessary support. As the Workband included with each device isn't suitable for infection control, RealWear also has overhead bands and different forms of PPE mounting solutions that are wipeable with up to 97% ethanol. This keeps the device sanitised so it can be used in sterilisation units as well.
Assisted reality head-mounted wearables are actively improving and speeding up the effectiveness of patient outcomes in the healthcare settings that have deployed this technology. We are just scratching the surface, with more and more use cases becoming apparent. The key factor in this is accessibility. There is a small learning curve in getting to grips with this technology so that deployment can be carried out quickly. Once adopted, assisted reality wearables ease the strains on the day-to-day requirements of people's roles within healthcare and, like all advancements in modern medicine, will ultimately help to improve patient outcomes and save lives.
Special Report Contact Details