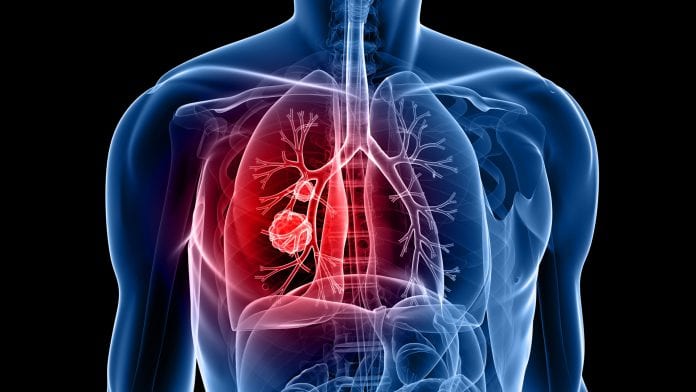 A combination treatment has proved effective in treating patients with lung cancer whose disease progressed after treatment with osimertinib.
The Janssen Pharmaceutical Companies of Johnson & Johnson has announced updated data from the Phase 1 CHRYSALIS study. The data shows that treatment with amivantamab in combination with lazertinib led to a median duration of response of 9.6 months in chemotherapy-naïve patients with non-small cell lung cancer (NSCLC) and EGFR exon 19 deletion or L858R mutations whose disease had progressed after treatment with osimertinib.
Osimertinib is used to treat NSCLC that has begun to spread. It is used if tests on a sample of the tumour show the cancer cells have a mutation in a gene called EGFR.
The data from the study was presented at the 2021 American Society of Clinical Oncology (ASCO) Annual Meeting on Friday June 4.
The research also highlights the importance of biomarkers to identify a subgroup of patients more likely to respond to amivantamab and lazertinib. Results from the CHRYSALIS study have led to new studies to further evaluate the potential of amivantamab and lazertinib combination therapy, which include the Phase 3 MARIPOSA study and Phase 1/1b CHRYSALIS-2 study.
Additional targeted options
Byoung Chul Cho, M.D., Ph.D., Yonsei Cancer Center, Yonsei University College of Medicine in Seoul, South Korea, and lead study investigator, said: "Typically, patients whose disease no longer responds to osimertinib therapy would have little opportunity to seek additional treatments, other than chemotherapy. However, the durable responses we are seeing with the combination of amivantamab and lazertinib suggest an additional targeted option may be possible.
"The results from this CHRYSALIS study cohort also offer promising insights that may help identify patients more likely to respond to an amivantamab and lazertinib combination regimen."
Combination therapy
In the combination cohort of the Phase 1 CHRYSALIS study, 45 patients with NSCLC with EGFR exon 19 deletion or L858R mutations whose disease had progressed on osimertinib, but who had not yet received chemotherapy, received the combination dose of 1050 mg (for patients who weigh less than 80kg) or 1400 mg (for patients who weigh more than 80kg) amivantamab and 240 mg lazertinib.
Of those patients, 36% had a confirmed response (one complete response and 15 partial responses) with the regimen. The median duration of response was 9.6 months. The median progression-free survival was 4.9 months and the Clinical Benefit Rate was 64%.
In the study, each patient's tumour was characterised through genetic testing of circulating tumour DNA and tumour tissue biopsy to identify the mechanism(s) of resistance to osimertinib.
The study identified 17 patients with EGFR and/or MET-based resistance; of those patients, the overall response rate was 47%, median duration of response was 10.4 months, Clinical Benefit Rate was 82%, and median progression-free survival was 6.7 months. Of the remaining 28 patients without identified EGFR or MET-based resistance, 29% of patients experienced a confirmed tumour response.  Among these 28 patients, 18 had unknown mechanisms of osimertinib-resistance and ten had non-EGFR/MET mechanisms of resistance. The study also examined 20 patients who had sufficient tumour tissue to do immunohistochemistry (IHC) staining for EGFR and MET expression. Among ten patients whose tumours stained high for EGFR and MET expression, 90% had a tumour response. Janssen will prospectively validate both next-generation sequencing (NGS) and IHC based biomarkers to identify patients most likely to benefit from amivantamab and lazertinib in a cohort in the CHRYSALIS-2 study.
The most common adverse events were predominantly Grade 1-2 and included infusion-related reactions (78%), rash (acneiform dermatitis, 51% + rash, 27%) and paronychia (49%). 16% of patients experienced treatment-related Grade ≥3 AEs. Discontinuations were seen in 4% and dose reductions in 18% of patients.
In the post-platinum, EGFR exon 20 insertion mutation NSCLC setting, Janssen will present an indirect treatment comparison demonstrating that clinical trial patients treated with amivantamab monotherapy had a ten-month higher overall survival compared to those treated with real-world therapies such as immune checkpoint inhibitors, tyrosine kinase inhibitors and single-agent chemotherapies in US databases. In a separate study using French real-world data from the Epidemiological Strategy and Medical Economics (ESME) database, the prognosis for patients with NSCLC with EGFR exon 20 insertion mutations appears to be worse compared to those with the common EGFR mutations, exon 19 deletions and L858R.
"Patients with non-small cell lung cancer and EGFR mutations continue to experience significant unmet need for treatment options and often face a poor prognosis," said Kiran Patel, M.D., Vice President, Clinical Development, Solid Tumours, Janssen Research & Development, LLC. "We remain committed in our efforts to transform the treatment of lung cancer through the ongoing investigation of amivantamab as a monotherapy and in combination with lazertinib as a potential treatment option for patients with various genetic alterations."
Dr Catherine Taylor, Vice President, Medical Affairs for Europe, Middle East and Africa, Therapeutic Area Strategy, Johnson & Johnson Middle East FZ-LLC, said: "Janssen is committed to researching and developing new precision treatments for patients facing limited effective treatment options, such as non-small cell lung cancer with EGFR mutations, which often results in a poor prognosis for patients with this disease.
"By bringing together our heritage in oncology and our challenger mindset, we aim to break new ground and make a meaningful impact in this area of great unmet need in lung cancer."
Recommended Related Articles