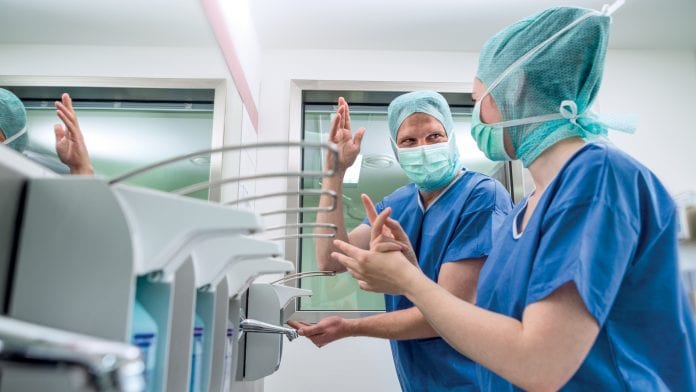 HARTMANN GROUP has developed a new programme to prevent and control healthcare-associated infections.
Healthcare-associated infections have been a challenge before the COVID-19 pandemic and they will still be there when the pandemic is over. With its Mission: Infection Prevention (M:IP) programme, HARTMANN offers a solution: a concept to minimise the risk of nosocomial infections.
We have seen first-hand how a disease can turn the world upside down. This is what we have been experiencing since the beginning of the year 2020. Closed borders, deserted streets, restrictions on personal contact and coffins piling up. The pandemic has turned images from science fiction movies into a stark reality. The effects on global society and the economy – be they positive or negative – will be long-lasting. But if we set the doomsday mood aside for a bit, we will be able to see how much we have learned over the past few months and how flexibly we have adapted. A tiny virus controlled us – and now at the end of the day, we have come a long way towards controlling the virus. We have learned that interrupting chains of infection as quickly and early as possible has to be our absolute, number one priority.
"The COVID-19 pandemic is a textbook example of how the consequences of an infectious disease can get totally out of hand if chains of infection go unchecked," says Thomas Haeni, Vice President for the prevention of healthcare-associated infections at HARTMANN GROUP. Founded in 1818, HARTMANN has been preventing infections since the mid-1860s, when the company offered antiseptic wound dressings.
Today, the brand has expanded its portfolio to include all products required for professional hygiene in the nursing and medical segments, with examples including the hand disinfectant Sterillium® and the protective equipment Foliodress®. What is the common purpose of all these products? To prevent the transmission of germs, especially in clinical settings. This issue has been the subject of repeated public debate over the past few years, but there have not been any real improvements yet, as evidenced by the increased spread of hospital germs. So, after two years of preparation, HARTMANN is now about to embark on a mission with the aim of minimising infection risks – the Mission: Infection Prevention. A look at the figures shows that there are very sound reasons for the launch of this project.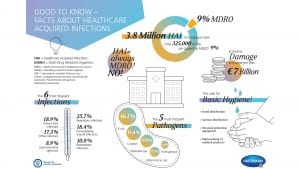 Hospital germs cost European healthcare systems €7bn per year
The term 'nosocomial infection' refers to diseases that people contract in hospitals, nursing institutions or at any healthcare related treatment facility. This means that, ironically, people contract diseases in precisely those places that are dedicated to curing them: healthcare institutions. Consequently, these diseases are known internationally as healthcare-associated infections (HAIs). According to surveys conducted by the World Health Organization (WHO), 7% of all patients in developed regions – such as Europe or the USA – contract an infection in the course of their treatment.
For developing countries, the figure rises to 10%. For Europe overall, the number of infections amounts to 3.8 million. HARTMANN focuses on the main four healthcare-associated infections:
Ventilator-associated pneumonia (VAP)
Catheter-associated urinary tract infections (CAUTI)
Surgical site infections (SSI)
Central line-associated bloodstream infections (CLABSI)
Throughout Europe, almost 80,000 people per year die from hospital germs, whether as a result of infections leading to sepsis or due to multi-resistant pathogens for which there is no cure. The annual financial damage amounts to approximately €7bn.
When it comes to HAIs, the difference in proportion between developing countries and developed nations such as Germany is only around 3%. On the one hand, we have countries that are inadequately equipped, where people are insufficiently vaccinated, if at all; and on the other hand, we have a high-tech country, a global market leader in the development of medical devices – but which is not a leading nation when it comes to hygiene. One explanation for this phenomenon is that healthcare workers are at the centre of this crisis, especially as they have to work under high pressure and time constraints. This has been further highlighted by the WHO, which launched the 'Clean Care is Safer Care' campaign, aimed at promoting best practice in hand hygiene at all levels of healthcare around the world, in 2005. The chain of transmission via hands is the main contributing factor to nosocomial infections. According to research done by the WHO, correct hygienic hand disinfection is often performed in between 40% and 60% of all cases, whereas a compliance rate of over 80% should be the actual target.
Lack of time is often cited as a reason for this discrepancy. In busy institutions where a healthcare worker would actually have to disinfect his or her hands up to 50 or 100 times a day, these moments can easily be skipped.
Mission: Infection Prevention as an answer
It will be part of the mission to clarify which of the two options – 'must' and 'may' – is the correct choice in any given situation.
Consequently, the holistic HARTMANN infection prevention approach is based on four components: consulting, digital monitoring, training concepts and bundling products. 50 hospital directors and heads of hygiene were interviewed for the mission and contributed their knowledge on the topics of hygiene and infection protection, along with the evidence-based solutions of the Bode Science Center, the company's own scientific competence centre.
The company wants to create a broad knowledge base on the issue of infection prevention, explains Haeni: "Even though we are on a mission, we certainly don't intend to preach. But we want to sensitise professional users in the health system and signal: we understand your needs, we are your partners. We want to offer a programme within the system itself, in the shape of individual advice to institutions, to optimise processes, interrupt chains of risk and drive home that you can prevent suffering and earn money with infection prevention." From the company's Risk Prevention and Disinfection divisions, two of HARTMANN's core competencies, the four components of the mission flow into respective prevention programmes. The available tools, information and procedures are matched with the corresponding product bundles for each individual type of infection.
Education, information and digital tools: within the scope of the mission, all these components will flow into the communication and content hub available at www.missioninfectionprevention.info. Professional users will find everything they are looking for on the digital platform. The final goal is to allow them to also create a customised dashboard for their specific requirements here, forming their own infection prevention plans. The content hub also serves as a base for branched communication, including webinars and social media, working closely with key opinion leaders to create content.
HARTMANN intends to carry out its own status analyses within institutions, which will serve as a basis for a definition of requirements and, eventually, a solution strategy. Specialists from the company will advise the institution during the implementation of this strategy; and also provide regular trainings and optimisation.
In this, standard operating procedures (SOPs) based on the recommendations of the relevant institutions (such as the Robert Koch institute, Centers for Disease Control and Prevention or WHO) play an important role in reliably defining the sequence of work processes. If these SOPs are applied to all staff members to the same extent, awareness of infection risks grows, as does process compliance. "This improves hygiene behaviour throughout an institution, because universal validity creates assurance," Haeni says. The My Hygiene SOP app has been specially developed to support the correct execution and monitoring of SOPs.
Health protection as a value for all
Mission: Infection Prevention has been put in place to help reduce the prevalence of nosocomial infections; and to establish HARTMANN as the European leader for infection prevention by 2025. While COVID-19 still claims the lion's share of people's attention at present, the virus has also helped to pave the way for the mission: the pandemic has served as a wake-up call for all those who had lulled themselves into a false sense of security. As a result, Haeni is hopeful.
"We expect that certain topics in the health segment will be regarded in a new light," he says. "In a supermarket, spirits with 40% alcohol cost more than a hand sanitiser, which contains 70-80% vol. alcohol. We pay more for something that is harmful than for something which could save a life."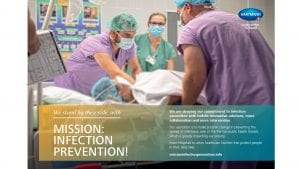 The paradigm shift towards prevention
When they implement comprehensive preventive protection protocols, healthcare institutions not only avoid unnecessary patient suffering and the ensuing costs caused by diseases, but they also prevent scandals. After all, an infection triggered by hospital germs can destroy a good reputation in one fell swoop. And this effect is long-lasting and does not just concern the public: a destroyed reputation makes the search for staff more difficult, especially if you are after the best.
"One of the greatest fears that patients entering a hospital had before the onset of COVID-19 actually was that they would acquire a nosocomial infection," says Haeni.
However, Haeni is realistic enough to know that any protection that is 100% safe does not and will never exist – but even though the seatbelt and the airbag did not make driving a car 100% safe, they substantially reduced the number of traffic fatalities.
It is the small things, such as the regular washing or disinfecting hands and adhering to the rules on wearing masks, that can intercept major waves of infection in a population. HARTMANN's Mission: Infection Prevention is launched at the right point in time. Former certainties are being replaced by new ones.
Haeni concludes: "On average, we witness an outbreak every five years and this is gaining traction. It may be that from now on we'll have a damaging outbreak of a virus or bacteria on a regular basis. The world is not getting any cleaner. We have to make sure that we protect ourselves well."
All illustrations and images used in this article are property of the copyright holder © PAUL HARTMANN AG
References
1 Suetens et al. Prevalence of healthcare-associated infections, estimated incidence and composite antimicrobial resistance index in acute care hospitals and long-term care facilities: results from two European point prevalence surveys, 2016 to 2017. Euro Surveill. 2018
2 Zacher et al. Application of a new methodology and R package reveals a high burden of healthcare-associated infections (HAI) in Germany compared to the average in the European Union/European Economic Area, 2011 to 2012. Euro Surveill. 2019; 24(46): pii=1900135
3 Klevens et al. Estimating healthcare-associated infections and deaths in US hospitals, 2002. Public Health Rep 2007;122(2):160–166
4 www.who.int/gpsc/country_work/gpsc_ccisc_fact_sheet_en.pdf (last accessed 24.06.2020)
5 Magill et al. Changes in Prevalence of Health Care-Associated Infections in U.S. Hospitals. N Engl. J. Med. 2018; 379: 1732-1744
6 Nachtigall & Bonsignore. Ökonomische Auswirkungen der Hygiene. Krankenhaushygiene up2date 2018; 13:419-431
7 Scott. The direct medical costs of healthcare-associated infections in U.S. hospitals and the benefits of prevention. Division of Healthcare Quality Promotion, National Center for Preparedness, Detection, and Control of Infectious Diseases, Coordinating Center for Infectious Diseases, Centers for Disease Control and Prevention, March (2009). http://www.cdc.gov/hai/pdfs/hai/scott_costpaper.pdf (last accessed 24.06.2020)
8 www.hykomed.de/wp-content/uploads/2018/02/Kosten_26-02-2018.pdf (last accessed 24.06.2020)
9 2www.vdgh.de/media/file/1674.Faktenpapier_Krankenhausinfektionen_11-2010.pdf (last accessed 24.06.2020)
Thomas Haeni
Vice President HAI Program
PAUL HARTMANN AG
thomas.haeni@hartmann.info
www.missioninfectionprevention.info
www.hartmann.info
This article is from issue 15 of Health Europa. Click here to get your free subscription today.