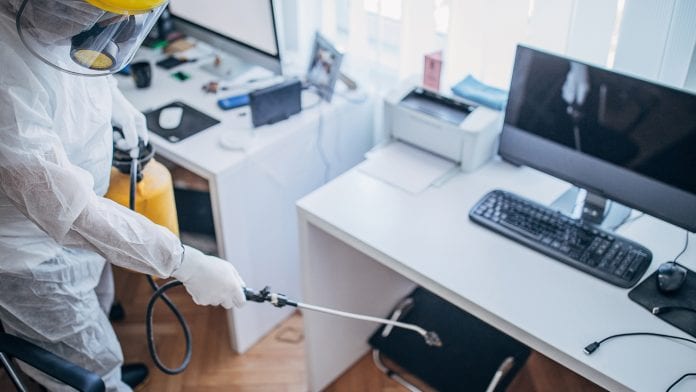 Internet of Things Inc. has teamed up with infection prevention and control experts to help create safer workplaces.
Internet of Things Inc., a software and solutions provider in the artificial intelligence and industrial IoT markets, has joined forces with Get Ready and Protect Your Office to create the Safe Site Global Association that will provide workplaces with the first comprehensive, end-to-end infection prevention and control solution, along with policies and detailed procedures, infrastructure, PPE supplies, and technology applications to minimise risk of spreading contagions.
Protecting the workplace
Safe Site Global will equip businesses with the knowledge and tools to help reopen safe workplace environments for employers, employees, and customers. This collaboration combines the integration of ThermalPass, a high-capacity, fever detection system, with Get Ready proprietary, cloud-based, infectious disease outbreak management programmes, and Protect Your Office personal protective equipment, safety products, and workplace screen and dividers.
Safe Site Global ensures that workplaces are prepared to enact comprehensive protocols for safe reopening and infectious disease prevention that follows government, legislative and Public Health guidelines.
ThermalPass accurately detects human body temperature at a distance as people pass through the system. Unlike camera-based solutions, ThermalPass is comprised of 20 thermal medical-grade sensors, which take 400 temperature readings per second without violating social distancing rules nor encroaching on a person's privacy. A major advantage of ThermalPass is its use in high-traffic locations where people can be screened without any effect on their pace of movement.
Michael Lende, President and CEO of Internet of Things, said: "Combining Get Ready's policies and procedures with Protect Your Office safety equipment and the ThermalPass system, will enable all workplaces to implement an end-to-end solution to ensure a safe working environment.
"Whether it's retail businesses, office buildings, factories or schools, most employers do not know what to do in order to facilitate a safe return to work. Organisations require standard operating procedures, policies and training to implement and execute safe practices to mitigate the spread of communicable illnesses."
Scott Ashley, CEO of Get Ready said, "Most hospitals have had an IPAC program for many years. Now, due to COVID-19, every workplace needs an IPAC solution. With the recent collaboration between Get Ready, Protect Your Office and ThermalPass, we are positioned to be the recognised leader in workplace readiness."
Get Ready has been issuing Workplace IPAC Certification for businesses such as Boston Pizza, AIMCo, IQ Offices, Ryerson DMZ and Communitech, combined with onsite scheduled assessments of workplace environments to instil and maintain a healthy environment.
Dr Michael Christian, MD and Medical Advisor of Get Ready, said: "Safe Site Global is a marriage of resources. Our team of medical and emergency experts ensure that our clients meet the relevant and evolving public health prerequisites as they adjust to the "new norm" of safety precautions in the workplace."