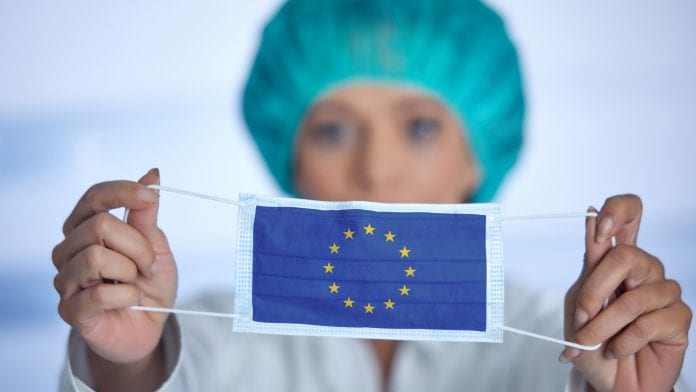 The European Commission has announced it is launching additional measures to help control the spread of COVID-19 as the virus begins to resurge.
As well as controlling the spread of COVID-19, the measures aim to better understand the virus' spread and the effectiveness of the response, increase well-targeted testing, bolster contact tracing, improve preparations for vaccination campaigns, and maintain access to essential supplies such as vaccination equipment, while keeping all goods moving in the single market and facilitating safe travel.
President of the European Commission, Ursula von der Leyen, said: "The COVID-19 situation is very serious. We must step up our EU response. Today we are launching additional measures in our fight against the virus; from increasing access to fast testing and preparing vaccination campaigns to facilitate safe travel when necessary. I call on Member States to work closely together. Courageous steps taken now will help save lives and protect livelihoods. No Member State will emerge safely from this pandemic until everyone does."
Reducing the spread of COVID-19
The Commission has set out the next steps in key areas of focus that will help to reinforce the EU's response to a possible second wave as cases begin to resurge.
It will be improving the flow of information to allow informed decision-making. Through this measure the Commission will ensure accurate, comprehensive, comparable, and timely information on epidemiological data, as well as on testing, contact tracing and public health surveillance.
To improve the sharing of data at EU level, the Commission has called on Member States to provide all relevant data to the European Centre for Disease Prevention and Control (ECDC) and the Commission.
Improving testing and tracing
Testing is vital to understanding the spread of COVID-19  and the Commission has now adopted a new 'Recommendation on COVID-19 test strategies', which includes the use of rapid antigen tests, and has called on Member States to submit national strategies on testing by mid-November.
It will also be mobilising €100m, to purchase and deliver the antigen tests, along with a joint procurement to ensure a second stream of access. The 'European Federation Gateway Service' has also recently been launched which links the different contact tracing apps between different states, and it will be promoting clear communication to citizens regarding COVID-19 information to ensure public trust.
Further measures against COVID-19
The European Commission has launched a number of other measures that aim to protect citizens and limit the spread of COVID-19 across the continent.
Under the EU Strategy on COVID-19 vaccines, the European Commission is currently negotiating agreements with vaccine producers under the EU Strategy on COVID-19 vaccines to make vaccines available to Europeans and the rest of the world as soon as they are proven safe and effective, and has set out key steps that Member States need to take to be fully prepared, which includes the development of national vaccination strategies.
It has also launched a new joint procurement for medical equipment for vaccination and has extended the temporary suspension of customs duties and VAT on the import of medical equipment from non-EU countries. Additionally, the Commission is proposing that hospitals and medical practitioners should not have to pay VAT on vaccines and testing kits used in the fight against the coronavirus.
It is also working to ensure travel between Member States remains safe for all and is calling on Member States to fully implement the Recommendation adopted by the Council for a common and coordinated approach to restrictions to free movement, and is working on a testing protocol for travellers, to be used by public health authorities, airlines, and airports to help the safe arrival of passengers.
Stella Kyriakides, Commissioner for Health and Food Safety, said: "The rise in COVID-19 infection rates across Europe is very alarming. Decisive immediate action is needed for Europe to protect lives and livelihoods, to alleviate the pressure on healthcare systems, and to control the spread of the virus. Next month, we will present the first step towards a European Health Union. In the meantime, Member States must improve co-operation and data sharing. Our EU surveillance system is only as strong as its weakest link. It is only by showing true European solidarity and working together that we can overcome this crisis. Together we are stronger."