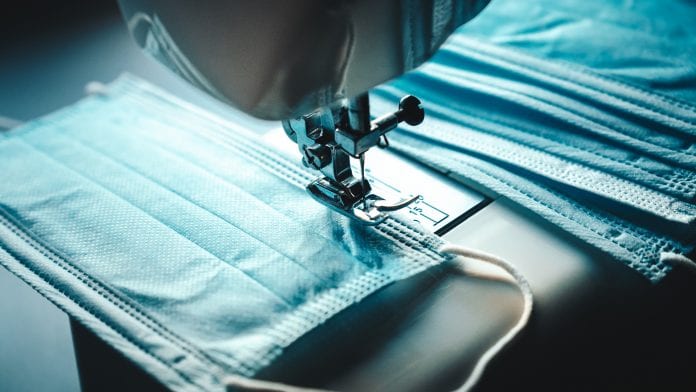 A £53m deal has been struck that will see vital PPE equipment manufactured for NHS Scotland – creating 200 new jobs.
The First Minister for Scotland, Nicola Sturgeon, has announced that British PPE supplier Alpha Solway, part of the Globus Group, has been selected to manufacture 232 million surgical masks and two million visors for NHS Scotland.
The order will meet the demand for Scotland's health and social care sectors through the winter and into the summer of 2021.
The deal will ensure frontline staff in Scotland have the required PPE and will see the creation of 200  jobs at Alpha Solway, in addition to the 50 that have already been created at the firm since the start of the COVID-19 pandemic.
Protecting Scotland's frontline staff
The Scottish Government has welcomed news of the deal that will deliver significant savings to the NHS.
Alpha Solway, which is based in Dumfriesshire, moved its respiratory PPE manufacturing to the UK earlier this year to reduce the disruption to the global PPE supply chain caused by the coronavirus.
Minister for Trade, Investment and Innovation Ivan McKee said: "This is fantastic news for Dumfriesshire and for NHS Scotland. It is great that this substantial PPE order will be supplied by Scottish firm Alpha Solway. It delivers significant savings to the NHS as well as supporting vital jobs – both at Alpha Solway and at other Scottish businesses in their supply chain – and demonstrates that Scottish business is cost competitive on a global stage.
"The order also highlights that the proactive work undertaken during lockdown to bolster the COVID-19 supply chain is continuing to deliver real benefits in the form of higher employment, increased manufacturing activity and savings for our NHS."
As well as surgical masks and face visors, Alpha Solway will also be producing six million FFP3 respirator masks – which offer the highest level of protection against fine particles – fulfilling 87% of Scotland's health and social care needs.
Alpha Solway director, Steven Binnie, said: "Alpha Solway is proud to be awarded this order to further support NHS Scotland during this incredibly challenging time. We are also delighted to announce that it allows us to create 200 new jobs.
"NHS Scotland's commitment to purchase critical PPE from local manufacturers sends positive signals to businesses such as ours and gives us the confidence to continue investing in the local area. Put simply, it enables us to do more in the fight against the impact of COVID-19, but in a way that lays positive, sustainable foundations for the future."