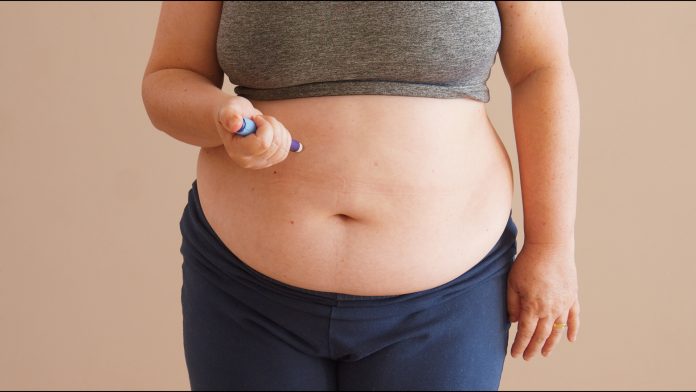 Thousands of people will gain access to semaglutide, a weight-loss drug, as part of their treatment in an NHS specialist weight management service. 
Semaglutide can help people to reduce their weight by over 10% when used with the support of a multidisciplinary team. Having an expert team helping patients mean that potential side effects can be monitored and further support can be given.
The drug has now been recommended by the National Institute of Health and Care Excellence (NICE) alongside a reduced-calorie and increased physical activity to adults with at least one weight-related comorbidity and a body mass index (BMI) of at least 35kg/m2.
Offering new weight loss treatment to NHS patients
To qualify for semaglutide, patients must meet certain criteria – having a BMI of 30-34.9 kg/m2 and one weight-related comorbidity. Weight-related comorbidity could be dysglycaemia (prediabetes or type 2 diabetes mellitus), hypertension, dyslipidaemia (in which disturbances in fat metabolism lead to changes in the concentrations of lipids in the blood), obstructive sleep apnoea or cardiovascular disease.
The drug requires the patients to inject themselves once a week with glucagon-like peptide-1 (GLP-1), which is released after eating. It makes people feel full, resulting in people eating less and reducing their overall calorie intake. 
Helen Knight, director of medicines evaluation at NICE, said: "For some people losing weight is a real challenge which is why a medicine like semaglutide is a welcome option.
"It won't be available to everyone. Our committee has made specific recommendations to ensure it remains value for money for the taxpayer, and it can only be used for a maximum of two years.
"We are pleased to finally publish our final guidance on semaglutide, which will mean some people will be able to access this much talked about the drug on the NHS."
Semaglutide helped patients lose 12% of their body weight
Semaglutide can only be prescribed for a maximum of two years within a specialist weight management service that provides multidisciplinary management of overweight or obesity. This recommendation mirrors the clinical and financial modelling supplied by the company that people treated for a maximum of two years in specialist weight management services.
Clinical trial evidence from STEP 1, a randomised double-blind trial, showed that participants taking semaglutide lost 12% more on average of their body weight compared with a placebo. However, patients reported side effects, including nausea, diarrhoea, constipation and vomiting.
Recommended Related Articles