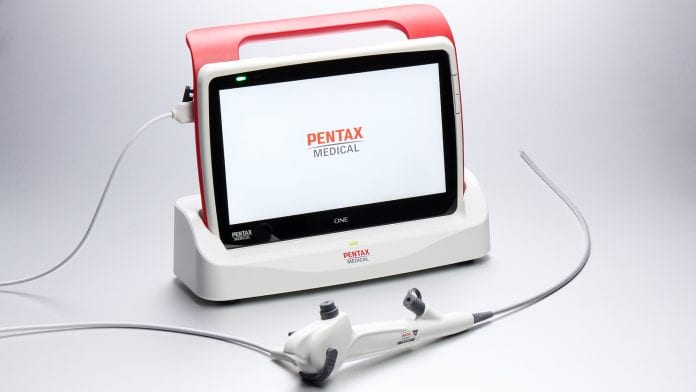 PENTAX Medical ONE Pulmo is a single-use bronchoscope providing superior suction and HD image quality to help improve pulmonary care.
The COVID-19 pandemic has underlined the unmet need for medical devices that are able to manage airways safely and effectively – especially for high-risk patients requiring urgent care. Bronchoscopy procedures in intensive care units and emergency rooms require a constant supply of readily accessible sterile bronchoscopes. Single-use bronchoscopes can not only provide a safer way to perform procedures, but they can be easily added into the pre-existing solutions within a clinician's endoscopy suite to simplify workflow, providing an alternative that can be used on a case-by-case basis. To ensure quick adaptation by hospitals around the globe and clinicians' familiarity with new instruments, the new system seamlessly integrates into the existing workflow and does not require any change in usage techniques. In order to help tackle the challenges that the COVID-19 pandemic has presented in providing safe, hygienic and readily available bronchoscopes, single-use but still highly effective bronchoscopes can help meet these needs.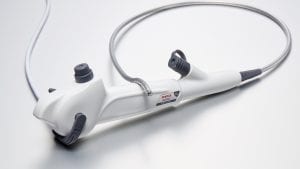 Providing high quality care without compromise
This single-use bronchoscope offers sterility whilst maintaining its high-level HD visualisation, broadening its clinical application beyond that of a standard disposable scope. The large working channel provides up to 50% more suction capacity, compared to scopes of a similar outer diameter, for quick and efficient patient care and the unparalleled ergonomics are designed to mimic the ergonomics of a reusable endoscope. Furthermore, the comfortable scope handling and best-in-class tip angulation requires no change in physician technique and both manoeuvrability and device insertion are easy and intuitive, creating a seamless user experience. The sterile-packed scopes are ready to use anytime, anywhere, allowing quicker care delivery to the most vulnerable patients, and saving time as they do not need manual sterilisation, eliminating wait times between procedures and making the overall workflow more efficient.
Dr Erik van der Heijden, Associate Professor of Interventional Pulmonology at the Radboud Universiteit Nijmegen, shared his expectations for the PENTAX Medical ONE Pulmo: "This is great news and the PENTAX Medical ONE Pulmo is a big step forward in interventional pulmonology. I am looking forward to the 'clinical-grade' high-resolution image quality that is equivalent to or exceeding the current PENTAX Medical EB-J10 scope line. This scope will be ready to use for all diagnostic procedures, allowing the use of all diagnostic tools. Furthermore, the large working channel allows for better combined suction and sampling in a slimmer scope."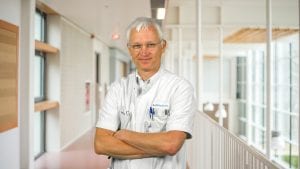 Dr Rocco Trisolini, Head of the Interventional Pulmonology Unit at the Policlinico Universitario Agostino Gemelli continued: "The large operative channel of the PENTAX Medical ONE Pulmo will allow for more effective management of tracheobronchial obstructions from mucus or clots. It will allow large instruments such as foreign body removal tools or potential large balloon blockers to be introduced in the airways. Moreover, the relatively small diameter of the endoscope will allow to benefit from the above advantages even in patients intubated with tubes 7mm or larger, with only modest compromise of the area at disposal for ventilation. Being similar to the PENTAX Medical EB-J10 series regular video bronchoscopes, as far as the ergonomics are concerned, the PENTAX Medical ONE Pulmo will finally provide the users of a single-use bronchoscope with the same comfort which is currently guaranteed by the top-level regular video bronchoscopes."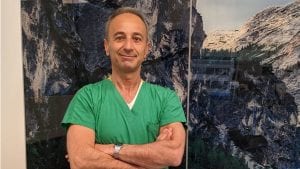 The PENTAX Medical ONE Pulmo is available in two different sizes and comes with a portable monitor. Through ensuring a range of clinical applications and choice in instruments, the newly introduced bronchoscopes both simplify hospital inventory management and allow for a reduction in purchased inventory.
Engineered in close and continuous collaboration with healthcare practitioners
To ensure that the product addressed relevant and pressing unmet clinical needs, the PENTAX Medical ONE Pulmo was designed in close collaboration with healthcare practitioners. Physicians from multiple countries and varying fields of expertise, such as interventional pulmonology, intensive care, and anaesthesiology, were heavily involved throughout the process. Through a design thinking process and by involving these end-users from the beginning phases, PENTAX Medical was able to learn first-hand from these experts. What were they missing in their daily practice? What types of products would contribute to the safety and efficiency of their operating rooms? A key learning point from these discussions was the sentiment that a simple single-use bronchoscope that emulates the haptics of a conventional reusable bronchoscope would solve a lot of the problems the community faces surrounding infection in pulmonary care. To ensure a smooth transition to the use of single-use bronchoscopes in hospitals we resolved not to change any of the core technologies or tools of the product, and to keep the non-reusable scope as similar to the reusable scopes in terms of usage and performance as possible.
The PENTAX Medical Black Box innovation sessions brought clinical and technical experts together in order to brainstorm the best solutions for our customers with as many varied points of view as possible. Furthermore, to understand the actual use case and environment of a potential single-use bronchoscope, the PENTAX Medical team was present in multiple operating rooms to experience first-hand the procedures which the PENTAX Medical ONE Pulmo could be used in. Through an agile and iterative process there was a constant review on the development of the concepts, and ultimately several prototypes of single-use bronchoscopes were created. These models were brought on-site and in the Black Box sessions clinicians were able to evaluate the actual haptics and functionalities of the prototypes.
By continuously involving clinicians from across the European healthcare field in the development of the PENTAX Medical ONE Pulmo, we ensured that we were designing a useful, safe, and clinically relevant product. Wolfgang Mayer, Head of Research and Development at PENTAX Medical EMEA, commented: "The single-use bronchoscope was developed in close collaboration with physicians to offer them a solution based on their needs. As part of our Triple Aim program, we continually improve patient outcomes by offering evidence-based solutions."
Ensuring hygiene in the operating room
Bronchoscopy is a clinical area which carries a high risk of infection, making the need for sterile, accessible instruments increasingly vital. Single-use scopes are ready-to-use, with no hospital sterilisation needed, and potential vulnerabilities in the reprocessing of reusable scopes are therefore avoided. Rainer Burkard, Chief Executive Officer PENTAX Medical EMEA and Commercial Officer AMERICAS, commented: "At PENTAX Medical we are committed to addressing the medical device hygiene challenges by continually innovating products, optimising processes, and integrating feedback from the market. Our main objectives are to minimize the risk of infection, improve clinical outcomes, and enhance the professional's experience and healthcare productivity within endoscopy. We are proud our portfolio now includes a single-use bronchoscope to enhance infection prevention without compromising on high quality pulmonary care."
This article is from issue 18 of Health Europa. Click here to get your free subscription today.
Contributor Details