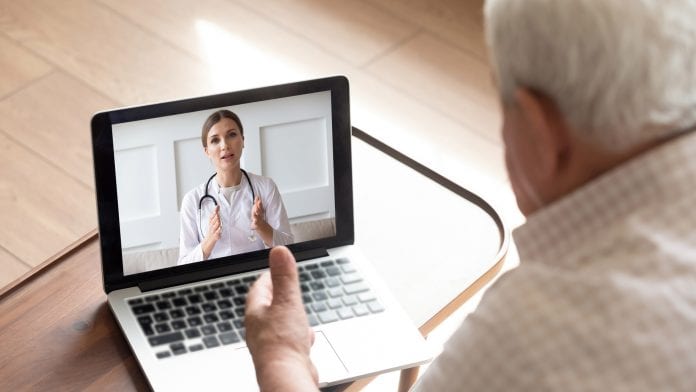 A new remote diagnostic platform will be integrated into GP practices across the UK to help improve access to care homes and minimise the spread of COVID-19.
Arc Health has partnered with leading GP supplier EMIS Health to improve GP access in care homes with its remote diagnostic platform. The partnership will introduce Arc to 57% of GP practices across the country using EMIS Web, the UK's leading integrated clinical IT system.
The collaboration sees GP surgeries undertake virtual ward rounds, which will help with minimising care home visits and preventing unnecessary hospitalisation of residents, in addition to reducing transmission of COVID-19.
Improving access to care homes
GPs that have been struggling to visit care home residences can now conduct regular appointments via video and remotely examine the patient with Arc. Arc moves beyond a simple video call with the doctor by giving the patient access to a connected stethoscope, pulse oximeter, blood pressure monitor, contactless thermometer, and a close inspection camera to check the ear, throat, and skin.
With the addition of diagnostics, doctors using Arc can diagnose and treat an additional 75% of conditions compared to other solutions, with just 6% of consultations requiring a follow-up face-to-face consultation.
The NHS-approved technology saves crucial time spent travelling to and from care homes, as well as offering a convenient and cost-effective way to enhance support for patients and meet obligations for regular monitoring.
Connected Nottinghamshire
Connected Nottinghamshire, a programme set up by Nottingham CCG to create and develop their local digital roadmap, is among the first to adopt the new technology from Arc and EMIS Health in care homes.
Jane Scarborough, Project and Business Change Manager at Connected Nottinghamshire, said the new remote consultation system is proving popular with patients and their carers, giving them a convenient way of accessing their GP remotely.
"The integration of a stethoscope and medical camera is particularly helpful for GPs to support a holistic remote consultation.
Scarborough said: "One dementia patient, a resident in a retirement living complex, needed to see a GP for a suspected chest infection. Previously, their carer would have had to take them into the surgery but with Arc, the patient was able to be seen remotely in surroundings they knew well."
The partnership comes as remote consultations have become an essential channel to reduce the spread of infectious diseases during the COVID-19 pandemic.
Dr Zubair Ahmed, Chief Executive of Arc Health said: "Recent events have made the problems facing care home residents even more pronounced. It is more important than ever to support the health of care home patients by offering timely access to good gold standard clinical care whilst simultaneously saving time for clinicians."
Suzy Foster, Chief Executive of EMIS Health, said: "The NHS wants to use digital technology to widen access to healthcare services in the most effective and equitable way possible, and we are responding by providing our customers with the tools to deliver 'digital-first' primary care."