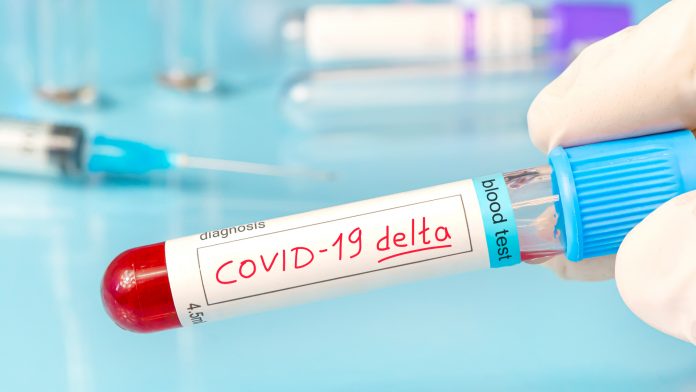 A novel study has revealed that the SARS-CoV-2 Delta variant may be the deadliest, demonstrating a two-fold increased risk of hospitalisation compared to the Alpha variant.
In the most extensive investigation of its kind, researchers at Public Health England and the MRC Biostatistics Unit, University of Cambridge, examined over 40,000 COVID-19 cases, identifying that the SARS-CoV-2 Delta variant causes twice the estimated risk of hospitalisations of the Alpha variant. The study included both vaccinated and unvaccinated individuals.
The team confirmed this harrowing statistic through virus genome sequencing, adjusting for differences in cases such as sex, age, ethnicity, deprivation, region of residence, date of a positive test, and vaccination status. Furthermore, when widening the scope to assess the risk of hospital admission or the requirement of emergency care, the SARS-CoV-2 Delta variant was 1.45 times higher than the Alpha.
The study is published in The Lancet Infectious Diseases
The largest study to date
For their investigation, the team compiled 43,338 SARS-CoV-2 Delta and Alpha cases from people who tested positive for COVID-19 between March 29 and May 23, 2021. Furthermore, it is notable that the majority of the study subjects were either unvaccinated or partially vaccinated, with 74% being unvaccinated, 24% partially vaccinated, and 2% fully vaccinated.
This means that the study's findings illustrate the potential risk of hospital admission for those who are only partially vaccinated or unvaccinated. Due to the minimal number of hospitalised vaccinated cases, it is impossible to accurately calculate the difference in hospitalisation rates between the SARS-CoV-2 Delta and alpha variants.
The devastation of the Delta variant
In multiple higher-income and lower-income countries around the globe, the SARS-CoV-2 Delta variant is the most common of COVID-19, equating to 99% of new cases in England. This indicates just how dire the consequences of future Delta variant outbreaks could be for healthcare services, meaning that advances in healthcare practice, planning, and response will need to be made. The study signifies that these effects will be felt most significantly in unvaccinated or partially vaccinated populations.
According to prior studies, Delta and Alpha spread much more rapidly than other variants. This means that the combined effects of their quick dissemination and high risk of hospitalisation in severe cases in unvaccinated populations will place an immense burden on healthcare services during outbreaks.
Nevertheless, further investigations have demonstrated that widely available COVID-19 vaccines are proficient in combatting symptomatic infections against both variants, especially for those with a full vaccination cycle of two doses, protecting those who are infected from hospitalisation.
Dr Anne Presanis, the Senior Statistician at the MRC Biostatistics Unit, said: "Our analysis highlights that in the absence of vaccination, any Delta outbreaks will impose a greater burden on healthcare than an Alpha epidemic. Getting fully vaccinated is crucial for reducing an individual's risk of symptomatic infection with Delta in the first place, and, importantly, of reducing a Delta patient's risk of severe illness and hospital admission."
Dr Gavin Dabrera, a Consultant Epidemiologist at Public Health England, said: "This study confirms previous findings that people infected with Delta are significantly more likely to require hospitalisation than those with Alpha, although most cases included in the analysis were unvaccinated.
"We already know that vaccination offers excellent protection against Delta, and as this variant accounts for over 99% of COVID-19 cases in the UK, it is vital that those who have not received two doses of vaccine do so as soon as possible. It is still important that if you have COVID-19 symptoms, stay home and get a PCR test as soon as possible."
Recommended Related Articles