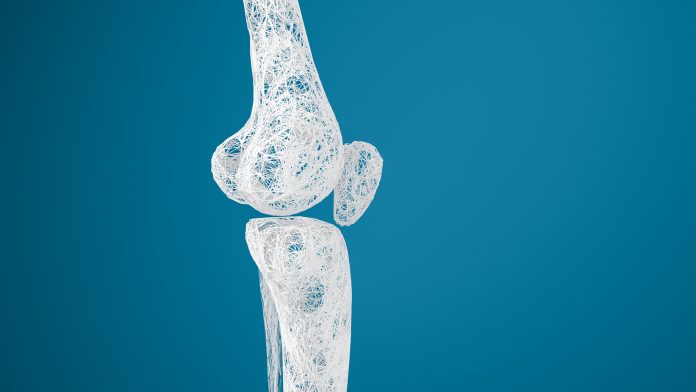 A new high-efficacy drug delivery system has been launched to fight bone infection and bacterial resistance.
Every year, around 700,000 people die due to antibiotic resistance. Rapid population growth has led to increased resistance to established antibiotic treatments. A new study from Brigham and Women's Hospital looked to address this issue by developing a novel approach to identifying the most effective antibiotic treatments for conditions such as bone infection.
The researchers have developed a robust, computer-programme-generated library of antibiotics based on a bone cement matrix. This approach may be used to treat bone infection, a common complication after orthopaedic surgery.
The results have been published in the journal Nature Biomedical Engineering.
Bone infection has become harder to treat
"Currently, the Food and Drug Administration (FDA) has only approved of bone cement loaded with antibiotics not originally developed for bone tissue," said Hae Lin Jang, PhD, co-director of the Brigham's Center for Engineered Therapeutics and principal investigator on the study.
"In addition to not being bone tissue-specific, resistance has emerged against these antibiotics. We must create a new generation of antibiotics that are optimised to meet this emerging need."
The struggle against antibiotic resistance has been associated with an increasingly aged population, which means more orthopaedic procedures are required. Standard procedures such as knee and hip replacements can result in bacterial bone infection. These infections are usually treated with systemic antibiotics.
Common antibiotics do not specifically target the infection; therefore, large doses are often needed. Large doses can lead to drug resistance and the destruction of beneficial microbiota in the body. To combat this, the researchers created a locally delivered and potent combination of antibiotic and bone cement.
The effects of VCD-077
The researchers shortlisted molecules for antibiotic design and screened drug-susceptible and drug-resistant bacteria in a preclinical model. They then compared the clinically used bone cement via a prophylactic and a Staphylococcal-infected injury model.
The researchers identified the dual-action antibiotic VCD-077, before testing its efficacy in cell and animal models. VCD-077 exhibited the desired drug release kinetics without affecting the stability of bone cement. The VCD-077-loaded bone cement showed greater efficacy than all currently used antibiotic-loaded bone cement against Staphylococcal bone infections in the animal model.
Before VCD-077 is used to fight bone infection clinically, the researcher must complete more toxicity studies. However, the novel application of the researcher's computer engineering to find molecules and optimise antibiotic design was highly successful. The team's findings highlight the potential for computer programming and Artificial Intelligence to streamline development.
"The future lies in mixing artificial intelligence and drug discovery to make developing new antibiotics more efficient and cost-effective than ever before," said co-corresponding author Shiladitya Sengupta, PhD, co-director of the Brigham's Center for Engineered Therapeutics.
"Interdisciplinarity in our approach and specificity in our drug development will truly bring about a new medical engineering paradigm."
"Treatment may be getting more complicated, and bacteria may be getting more sophisticated, but us biomedical engineers are getting more sophisticated, too," added Jang.
Recommended Related Articles