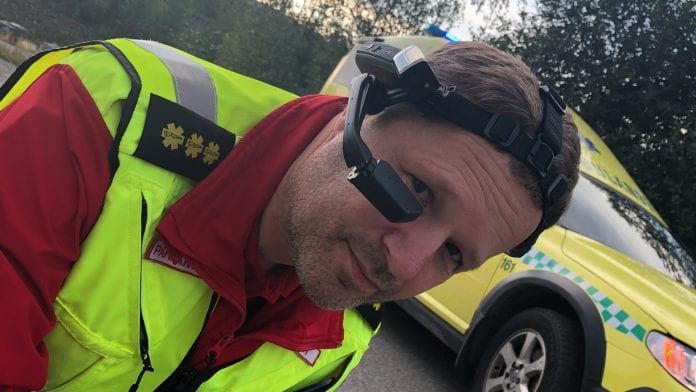 HEQ speaks to Jodapro CEO Kristil Håland about the company's secure telehealth provision.
Norwegian tech innovator Jodapro delivers the software and hardware needed to connect emergency services personnel with clinical staff, so that ill and injured patients can receive the immediate treatment they need before arriving at the hospital. With 120 cameras in stock and software capable of operating on any smartphone or tablet, Jodapro is ideally equipped to manage emergency care under the shadow of COVID-19.
CEO Kristil Håland tells HEQ about the company's successes and goals.
Can you tell me a bit about the services Jodapro provides?
We provide a secure way for paramedics to access the appropriate clinical advice while they are at the patient's side: paramedics working in the ambulance service are often in a hurry; they have very sick patients – maybe they've attended a car crash or someone has experienced a cardiac event – so we use a camera which can be worn on the head. This means that the user has both their hands free, while a doctor in the hospital can observe the patient remotely and issue guidance to the paramedic on how to keep the patient stable and what to do next while they are in the process of transporting the patient to the hospital. In cases which require complex or specialist treatment, paramedics will be able to contact the relevant specialist teams for bespoke support.
How can you ensure a strong, stable connection even in rural areas?
The camera connects primarily through wifi, but it is also attached to a series of SIM cards which then connect with a 4G provider. The dual connectivity methods, along with the connection diversity offered by multiple SIM cards, reduce the risk of broken or weak connections.
What measures and standards are in place to ensure Jodapro is as safe as possible?
In Norway, where we are primarily operating for the time being, we have something called the Norwegian Health Net: this is a secure network which can only be accessed by healthcare providers. This means that we can connect directly into our clients' Health Net networks and they provide the security – and of course our video calling facility benefits from end-to-end encryption going both ways. We operate at the highest standard of security for video calls within a secure network.
Looking to the future, are there other potential uses for Jodapro technology – maybe establishing communication between facilities or even between countries?
With the outbreak of COVID-19 we have already seen users of the Jodapro system expand the scope within which they use it, from predominantly in ambulances to 'fever clinics' – during the pandemic, when people are feeling sick or feverish, they have been asked not to go to the hospital; instead they go to these specialist outpatient clinics which have been established specifically for the duration of the pandemic, to be tested for COVID-19. Once they have been tested, if they are not actively in need of hospital treatment, patients may stay in the fever clinic until they feel better: these clinics are more or less somewhere between a small hospital and a hotel.
Because of the design and logistics of these fever clinics, it is impossible to have all the necessary medical practitioners in the same place, so they have begun using the Jodapro system so that staff at the clinics can connect with doctors in hospital, in order to ensure patients can receive the best treatment no matter where they are or what their symptoms are – it's the same system, but a different use case. Another significant use case which has arisen with the pandemic is the use of Jodapro to mitigate the cumbersome or time consuming elements of personal protective equipment (PPE): staff wearing PPE can equip the Jodapro camera and treat patients with the guidance of doctors working remotely from clean rooms. This enables doctors to help a lot of patients in a short space of time, without having to repeatedly equip and then unequip and dispose of high volumes of PPE.
Has the COVID-19 outbreak led to increased demand for telehealth services?
Everyone working in this field has seen not only an increase in demand, but a broader understanding of what we are trying to do. More and more people are acknowledging that telehealth is the way to go, both during the current crisis but also once that crisis has passed – to a degree the pandemic has normalised telehealth and remote treatment.
Do you plan to extend the range of products or services on offer? Are there plans to expand into other regions?
We're planning some regional expansion: the UK will be our first stop, because we already have a partnership established there. Our UK solution would be the same product in a new market, but of course when we see now that our customers are already using our system for different use cases then of course we will build on that. We want to make clinical processes as efficient as they can be, so that doctors and the nurses are able to do more; so when our users find new use cases, we will follow their lead and help them get what they need.
There is another, markedly different use case for the Jodapro outside of hospitals and ambulances: it has great potential for use in care homes for the elderly. At least in Norway it is common that when a resident in one of these care homes gets really sick the staff call an ambulance; and what very often happens is that the paramedics bring the elderly person from their care home into the hospital, and this is just disturbing for an older person who would, more often than not, be so much better if they could just stay in the care home. What we are looking into, therefore, is helping care homes and hospitals arrange remote treatment facilities using Jodapro so that they don't need to move patients unnecessarily.
Essentially it is a new use of the system that we have already built, connecting nurses and carers at the care home with doctors at the hospital so that they don't need to move the patient – this could save both resources and, to a degree, improve the welfare and safety of the patients. It is the case for so many elderly patients that even where they do have something wrong and are in need of treatment, their symptoms or comorbidities become worse when they get into the hospital, because they are confused or they're frail. For the caring profession as a whole, it is so much better for elderly residents to stay with the staff that they know and the beds that they're used to.
Kristil Erla Håland
Jodapro
+47 90606433
keh@jodapro.no
www.jodapro.no
This article is from issue 14 of Health Europa. Click here to get your free subscription today.