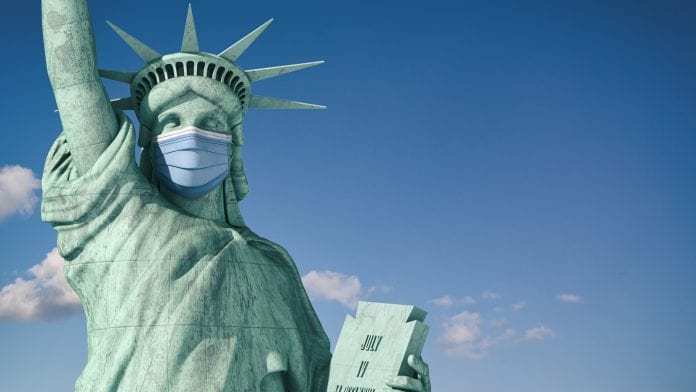 HEQ explores the CDC's response to the COVID-19 pandemic.
With infection rates in many states still well above public safety standards set by the World Health Organization (WHO) and schools beginning to reopen following summer breaks, the US Centers for Disease Control and Prevention (CDC) has urged Americans to wear masks to guard against transmission of COVID-19, citing two new case studies which indicate a direct link between widespread masking and falling infection rates in high-contact settings.
Dr Robert R Redfield, Director of the CDC, said: "We are not defenceless against COVID-19. Cloth face coverings are one of the most powerful weapons we have to slow and stop the spread of the virus – particularly when used universally within a community setting. All Americans have a responsibility to protect themselves, their families, and their communities."
"We are not defenceless"
The 'association between universal masking in a healthcare system and SARS-CoV-2 positivity among healthcare workers' study, published in the Journal of the American Medical Association, analysed the impact of mandatory mask-wearing in Mass General Brigham (MGB), the largest healthcare system in Massachusetts. 'Universal masking' policies were introduced across MGB's 12 hospitals, with more than 75,000 employees in total, in March; and were associated with a significantly lower rate of infection among healthcare workers. The study's authors said: 'These results support universal masking as part of a multipronged infection reduction strategy in health care settings.'
The second case study, published in the CDC's Morbidity and Mortality Weekly Report under the title 'Absence of apparent transmission of SARS-CoV-2 from two stylists after exposure at a hair salon with a universal face covering policy — Springfield, Missouri, May 2020', examined the spread of infection at a hair salon where two employees had tested positive for COVID-19. The subjects, termed Stylist A and Stylist B, continued to work at the salon despite developing symptoms of the virus; with Stylist A receiving a positive COVID-19 test result eight days after the initial onset of symptoms and Stylist B testing positive two days later. Once their test results were received, colleagues who had worked closely with A or B were quarantined and the 139 customers they served while symptomatic were contacted and monitored closely for signs of transmission; however, none of the colleagues or clients who had come into contact with either stylist presented any symptoms or positive tests for COVID-19.
The study attributed the lack of transmission from Stylists A and B to Salon A's assiduous compliance with municipal guidelines on disinfection protocols and mandatory mask-wearing in businesses; and concluded: 'A policy mandating the use of face coverings was likely a contributing factor in preventing transmission of SARS-CoV-2 during the close-contact interactions between stylists and clients in Salon A. Consistent and correct use of face coverings, when appropriate, is an important tool for minimising spread of SARS-CoV-2 from presymptomatic, asymptomatic, and symptomatic persons. CDC recommends workplace policies regarding use of face coverings for employees and clients in addition to daily monitoring of signs and symptoms of employees, procedures for screening employees who arrive with or develop symptoms at work, and posted messages to inform and educate employees and clients.'
"We all worry"
The CDC has launched a programme of tools and resources, based on current best practice, to support parents, teachers and pupils as schools begin to reopen. While infection rates remain elevated across much of the country, the CDC's guidance has emphasised that students face a greater risk in the longer term from not attending school.
Redfield highlighted a number of key issues facing children in the US which can be best addressed by a prompt return to education, including:
Poverty and deprivation
Mental health issues
Drug use
Molestation and abuse
He said: "There really have been substantial public health negative consequences for children not being in school. The public health benefit is going to be far greater by getting these schools reopened, so it's going to be an individual parent decision – I understand, as a parent and a grandparent of 11 [children], that we all worry. We are hoping that people will see the substantial benefits to their children, and particularly individuals that have been socially disadvantaged, to get them back in school."
However, school districts in Texas and Georgia which have started to reopen have already encountered controversy after the release of photographs showing students crowding together and not wearing masks. Students in Georgia have been suspended from school for taking and distributing the pictures. In response to concerns from teachers over the safety of returning to school without a comprehensive infection prevention plan in place, Brian Hightower, Superintendent for the Cherokee County School District (CCSD) in Georgia, said in an email to staff: 'For those of you who are unhappy with various facets of our reopening plan, I ask you to reflect on the best direction for you in your role with CCSD.'
This article is from issue 14 of Health Europa. Click here to get your free subscription today.