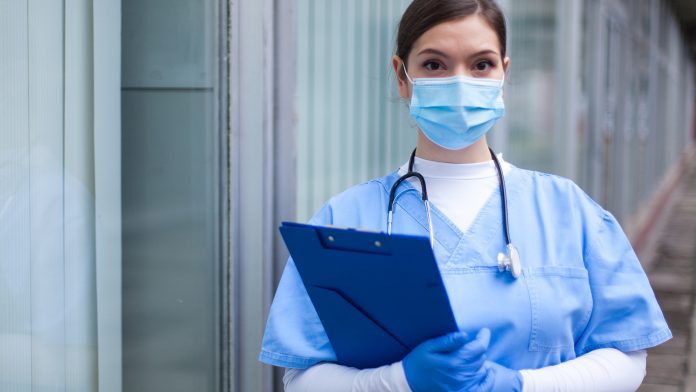 New research suggests that the rapid vaccine rollout in the UK prevented 10% of Covid infections among NHS staff.
Evidence shows that the Covid vaccine rollout starting in December 2020 mitigated the spread of infection in a significant number of NHS staff during the pandemic's second wave. The study identified that vaccines helped to avert 10% of infections in patient-facing hospital workers and that without them, staff absence would have been 69% higher. Additionally, for each day a health worker went without vaccination, the risk of infection rose by 2%.
NHS staff vaccination coverage
NHS staff were some of the first people eligible to receive a Covid vaccination, and during the rollout, vaccination coverage varied between healthcare worker groups, resulting in disparities in exposure and protection across the NHS. Because of this, researchers wanted to analyse the impacts of vaccines during England's second wave between 1 September 2020 and 30 April 2021.
The team employed a combination of statistical and mathematical modelling to analyse data of 18,284 NHS staff from 105 NHS hospital trusts in England who showed no evidence of a previous infection. The participants were enrolled as part of the SARS-CoV-2 Immunity and Reinfection Evaluation (SIREN) Study.
The individuals completed a survey about their demographic, household and job characteristics, and also completed fortnightly questionnaires that included their vaccination status. During the study, the participants completed PCR tests every fortnight and antibody tests every month.
Reducing the risk of Covid infection
After accounting for these factors, 2,353 (13%) of the participants were infected during the second wave. Factors that increased the risk of infection during the second wave included being under the age of 25, living in a house with five or more people, being exposed frequently to people with Covid, working in an emergency department or inpatient ward, and being a healthcare assistant.
The mathematical simulations revealed that an additional 10% of NHS staff would have been infected if the vaccine coverage was not achieved and that for every day NHS staff went without vaccination, their risk of infection rose by 2%.
Study limitations
Due to its observational nature, the study cannot establish a cause, and studies include the lack of detail required to explore variations in hospital infection control policies and behaviour differences in NHS staff that may have impacted results. Despite this, SIREN is an extensive study that is well-equipped to examine Covid infection rates in the NHS workforce.
The researchers concluded: "This study reinforces the importance of vaccination among healthcare workers during a significant wave of the SARS-CoV-2 pandemic in England. A greater understanding of transmission dynamics among healthcare workers, particularly according to role and setting, will support NHS trusts in protecting their workforce and patients from SARS-CoV-2 infection and potentially other seasonal winter viruses."