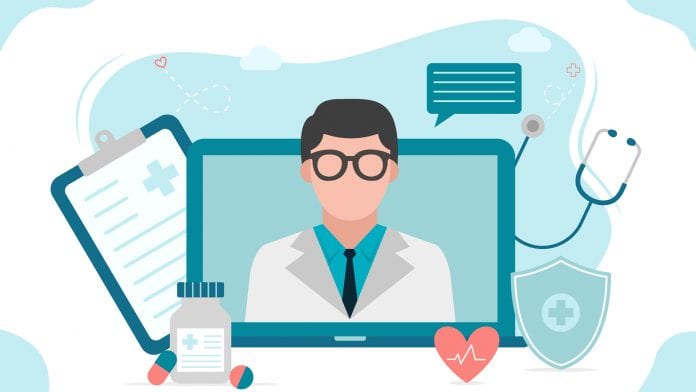 COVID-19 has forced the rapid adoption of new technologies and new ways of delivering care.
COVID-19 has seen healthcare practitioners offering virtual patient visits and appointments over the phone, and via digital methods to ensure the safety of patients and minimise exposure to the virus for all. One institution, The Medical University of South Carolina, has rapidly adapted telehealth technologies to meet the needs of its patients during the pandemic.
The Medical University of South Carolina (MUSC), one of only two federally recognised Telehealth Centers of Excellence in the USA , quickly mounted a response to the COVID-19 pandemic which ensured both continuity of care for patients with suspected or confirmed COVID-19 and continued ambulatory, also referred to as outpatient care, for all other patients.
The team of telehealth and bioinformatics experts who led the effort documented their approach and its success in a recent article in the Journal of the American Medical Informatics Association.
Co-ordinating responses to COVID-19 with telehealth
Early on, MUSC Health and telehealth leaders saw the need for a co-ordinated response to the pandemic.
Dee Ford, MD., director of the MUSC Telehealth Center of Excellence and lead author on the article, said: "The same realisation was coming to the forefront of the minds of the leadership, myself included, in telehealth that this was going to be a big problem. We needed in our own way to create some kind of response to what we believed to be a pretty significant public health problem. Planning started before we even had a case in the state."
In addition to instituting mobile testing sites across the state, the centre set up a series of remote assessment and treatment processes including:
Virtual screening for patients with suspected COVID-19
A remote home-monitoring programme for patients with less severe symptoms of COVID-19
A 'telesitter' programme for hospitalised patients enabling care providers to monitor and communicate with patients via an audio-visual monitor"The state of South Carolina made an investment in MUSC years ago to develop telehealth programmes, which then led to a high state of expertise and readiness to pivot when COVID-19 arrived," said Patrick Cawley, MD, CEO of MUSC Health. "The MUSC Health Center for Telehealth is to be congratulated for this ability to lead during this crisis."
Virtual urgent care
The centre has been able to provide patients with a convenient way to be seen for minor illnesses through virtual urgent care technology and has adapted its existing virtual care programme to create a   platform which can screen patients with suspected COVID-19 and schedule appointments for them at mobile testing sites.
Edward O'Bryan, MD, telemedicine director for the Emergency Department and direct-to-consumer and institutional telehealth at MUSC, ,  worked, along with other telehealth leaders, with the virtual urgent care vendor to adapt the technology to screen for COVID-19 symptoms. O'Bryan estimates that more than 150,000 patients have now been screened for COVID-19 through the modified virtual urgent care programme.
"We were the first people in South Carolina to offer free virtual care COVID screenings," said O'Bryan. "I'm really proud that we were able to roll it out so quickly and that so many South Carolinians took advantage of it."
Artificial Intelligence
An Artificial Intelligence algorithm has now been developed that can analyse symptom data provided by patients during virtual urgent care screenings and prioritise those most likely to have COVID-19 for testing.
The algorithm proved critical when testing capacity was challenged and is expected to  continue to play a key role as the implementation of batch testing – where samples from patients thought to be at low risk of having COVID-19 could be tested in batches of five to extend testing capacity – begins nationwide. The algorithm helps identify low-risk patients for whom batch testing would be suitable so that individual testing can be reserved for higher risk patients.
Remote patient monitoring
Remote patient monitoring has been gaining traction in recent years and its use has been catalysed by the pandemic. At the centre, part of the approach to adapt telehealth services included expanding its  remote patient monitoring provision, where patients who tested positive were then invited to enrol in an existing remote patient monitoring programme.
The programme, which had been used to track data on patients with chronic disease, was transformed into a virtual means of monitoring and delivering acute care to patients with less severe COVID-19 who were recovering at home. RPM nurses contacted patients by telephone or text to ask if they wished to enrol in the programme.
By the end of August, 735 patients had been treated through the RPM programme. Of those patients, 20% were considered high risk and 32% medium risk. Some of these patients lived alone or in rural areas, and the daily contact and calls with RPM nurses were an emotional, as well as a medical, lifeline.
What is the telesitter programme?
The third element of the centre's approach is  a telesitter programme, which is intended for patients hospitalised with more severe COVID-19 . An audiovisual cart, previously used to monitor patients to keep them from falling, was adapted so that caregivers could monitor and interact with patients with COVID-19, while limiting their low exposure to the virus, without needing to use personal protective equipment (PPE).
"That's been a real satisfier for the clinical teams. They are able to have that kind of ease of communication without having to go into the patient's room each time," said Ford.
Transforming hospital care
Across the world normal health services have been limited during the pandemic, as COVID-19 patients have saturated the capacity of hospitals and care providers. To tackle  this problem, the MUSC's team of telehealth and bioinformatics experts, began preparing to transition the majority of its  outpatient visits to telehealth appointments. .
"Telehealth has always been seen as the promising solution for access to the health care system, but its utilisation hasn't picked up as quickly as we expected," explained co-author Jillian Harvey, PhD, associate professor in the Department of Healthcare Leadership and Management at MUSC. "Now, because of COVID, there has been a huge ramping up of telehealth across the country, especially in March, April and May."
During that timeframe, telehealth visits soared from less than 5% to more than 70% of all visits at MUSC Health. Between March and July, almost 30,000 outpatients met with their physicians via secure video teleconferencing.
"There's no real going back to a lack of telehealth use," said James McElligott, MD, executive medical director of the MUSC Health Center for Telehealth. "That has probably been forever changed."
"Our health care system has always been very focused on a provider-centric view of health care. In other words, you as a patient come to the provider, and that's how we work," he added. "Just using distance technologies starts to reverse that. This terrible pandemic has forced a reckoning and a realisation that, in terms of the long-term goals of improving health, it's really more important to meet the needs of patients where they're at."