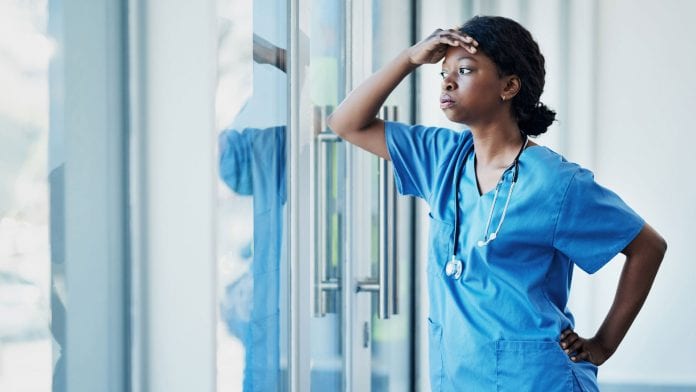 C3 Collaborating for Health explores nurses' mental health for 2020 Year of the Nurse and Midwife.
When the World Health Organization (WHO) designated 2020 as the Year of the Nurse and Midwife, celebrating 200 years since the birth of the founder of modern nursing, Florence Nightingale1, they had little idea of how the year would start for the world's nurses.
As the COVID-19 pandemic swept across the globe, the skills of nurses have been shown to the world. Nurses themselves were shocked as they battled against this new and frightening pandemic, a very contagious virus with no cure, and little treatment.
The mental health of nurses during COVID-19
In late April the International Council of Nurses (ICN) reported that "there is strong evidence that nurses are experiencing unprecedented levels of stress," going on to say that nurses are at "high-risk for full-blown stress response syndromes, anxiety, depression, post-traumatic stress disorder, chronic illness and burnout."2 Impossible workloads, the fear of exposure to COVID-19, and risking their own health and that of their families. Lack of childcare has also been a problem for nurses, along with financial pressures, long shifts with little to eat or drink, personal protective equipment shortages, and deaths of patients and colleagues, all of which are contributing to nurses' poorer mental health. Additionally, there are reports about nurses being attacked for working with COVID-19 patients, including being heckled, spat on, verbally abused and called "disease spreaders".3
The pandemic has hit the nursing workforce when staff are already experiencing widespread stress, mental health problems, and burnout. A recent report by the Society of Occupational Medicine highlights the high demand experienced by nurses in the UK and how this affects their mental health4. The report, written before the pandemic, shows that the stress of work was leading to long term and widespread mental health problems among nurses. Current working conditions experienced by nurses pose a significant threat to their mental health. Workplace factors such as excessive workload, bullying, inadequate support, and emotional labour have a strong impact on nurses' mental wellbeing as well as on their ability to deliver high quality care to patients.
Work-life balance is generally poor among nurses and a major cause of stress. Longer shifts, as well as limiting opportunities for rest and recovery, can also be detrimental for their mental health, wellbeing, and job satisfaction. Adequate opportunities to recover from the job mentally as well as physically are vital to ensure health and optimum job performance.
Improving mental health support
Nurses are at considerable risk of work- related stress, burnout and mental health problems such as depression and anxiety. The risk, including the rate of suicide among female nurses, is greater than that of the general working population or those in other professions.  A recent report into suicide by female nurses showed the suicide rate was 23% higher amongst nurses than the UK national average5. More than half of the nurses who died were not in contact with mental health services, suggesting a need to improve access to mental health care in nurses, as in many groups.
Self-poisoning rates were high and further study of self-poisoning among female nurses is needed to inform prevention measures. Suicide is complex and the specific effects of workplace, financial, and personal problems can all play a part. The stigma faced by those with mental health problems and a perceived 'failure to cope' mean that many nurses are reluctant to disclose such difficulties and therefore may not access support. It is crucial to tackle the stigma associated with seeking help, otherwise, even the best-planned and resourced support initiatives will not be effective.
The high levels of work-related mental health problems are likely to have risen further due to the exceptional pressure that many nurses are experiencing during the pandemic and will likely increase for some time to come. Many staff are at high risk of post-traumatic stress symptoms and are experiencing moral distress. Employers of nurses should be concerned about these mental health issues in their key workforce.
Overall, nurses are deeply engaged in the work they do and strongly motivated to make a positive difference to the lives of patients and their families. Most strive hard to ensure that any stress they may experience does not adversely affect their patients. Nonetheless, there is strong evidence that poor mental health and wellbeing among staff impairs the quality of patient care. Nurses are at particularly high risk of moral distress if institutional pressures and constraints stop them from pursuing what they believe to be the most appropriate course of action for their patients.6
Ethnic minorities in the workforce
There is much less knowledge of the mental health of ethnic minority nurses.  In the UK, staff from black and minority ethnic backgrounds are known to be at greater risk of bullying and harassment than other groups. Many of the attacks against nurses for working with COVID-19 patients are racially-based7.
Black and Asian nurses in the UK are disproportionately represented amongst COVID-19 deaths. Of the 540 health provider deaths in the UK, some early studies are showing that more than 60% were from minority communities8. Most other European countries do not monitor the ethnic heritage of their staff.
COVID-19 has made hospitals and other areas of healthcare face up to the stress experienced by nurses and we are seeing some welcome initiatives to improve wellbeing and resilience.  One training initiative showed a significant improvement in nurses' mental health over a three month assessment period9. There was also a significant increase in nurses' ability to be less reactive, and to recover faster from, stressful events; and, an improvement in nurses' ability to engage in actions that were consistent with their personal values.
All healthcare providers need to think about the mental health of nurses, their key frontline staff and learn from them and others the best way to support them.
References
1 https://www.who.int/campaigns/year-of-the-nurse-and-the-midwife-2020
2 https://www.nursingtimes.net/news/mental-health/global-nursing-body-issues-warning-on-nurse-mental-health-during-covid-19-crisis-30-04-2020/
3 https://www.nursingtimes.net/news/coronavirus/nurses-fighting-coronavirus-facing-abhorrent-abuse-from-public-20-03-2020/
4 https://www.som.org.uk/The_Mental_Health_and_Wellbeing_of_Nurses_and_Midwives
5 Mitchell, G. Figures spark call for inquiry into 'alarming' levels of nurse suicide. Nursing Times. Accessed online 15 May 2019 https://www.nursingtimes.net/news/workforce/figures-spark-call-for-inquiry-intoalarming-levels-of-nurse-suicide/7028770.article
6 https://engage.healthynursehealthynation.org/blogs/8/531
7 https://www.nursingtimes.net/news/coronavirus/nurses-fighting-coronavirus-facing-abhorrent-abuse-from-public-20-03-2020/
9 https://www.thelancet.com/journals/eclinm/article/PIIS2589-5370(20)30168-1/fulltext
10 Northumbria Healthcare NHS Foundation Trust Resilience training
Special Report Contact Details