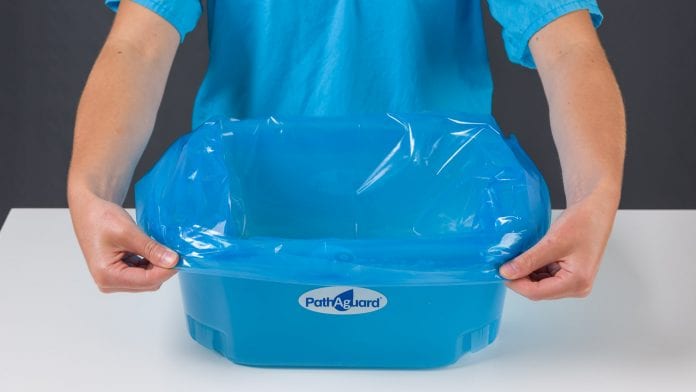 Ireland's CMC Hygea Ltd has developed answers to some of the most pressing issues in preventing healthcare-acquired infections.
Until recently, preoccupation with infection control matters has mainly been the preserve of healthcare-related and food preparation settings. Individuals who are immunocompromised and medically vulnerable have always been aware that a simple pathogen could end their lives prematurely. Many live in fear of clinical settings where nosocomial infections abound.
The current global pandemic of SARS-CoV-2 virus, which has rapidly spread throughout the world with devastating consequences, has focused our minds on all matter's infection control. Most of us are now aware of our vulnerability to this particular novel coronavirus.
Living alongside infectious diseases is something our ancestors in the pre-antibiotic era were painfully aware of. However today the rise of nosocomial infections, where patients acquire an infection in a healthcare clinical setting, has been well established. The emergence of multidrug-resistant organisms such as methicillin-resistant Staphylococcus aureus (MRSA) and vancomycin-resistant Enterococcus (VRE) has posed serious challenges to our ability to treat some infections. A post-antibiotic era, with diminishing effective antibiotics, threatens to undermine many amazing medical advances which support our current longevity.
This is a vast, controversial subject which requires gargantuan efforts, similar to those we are currently employing, to tackle the events where no suitable antibiotics are available for certain drug resistant infections. In the meantime, can we take simple effective measures in basic areas of patient hygiene to help mitigate the ever-present risks of healthcare-acquired infections (HAIs)? One Irish company, CMC Hygea Ltd, has the answer to some of the challenges faced when dealing with simple hygienic tasks such as patient bathing and toileting.
To bathe or not to bathe? That is the question
Michael Malone, CEO of CMC Hygea Ltd Ireland, developed the PathAguard® ABLiS® Antimicrobial Bathing and Liner System after a close family member contracted a hospital-acquired infection. Intrigued as to why this happened and how a person with just one illness could acquire another so easily, he set about researching this topic. Having spent many hours visiting his relative during their hospital stay, he made careful observations about the caregiving routines. He noted that many single use items were used to prevent cross-infection, but the plastic basin used to bathe bedbound patients raised red flags for him. Often this basin was used for other purposes such as incontinence clear-up or as an emesis bowl when a patient was vomiting. It was usually stuffed full of incontinence products and placed under the bed or on top of a cupboard.
Malone's research journey took him to a paper written in 2009 by key opinion leader Debra Johnson MPH, BSN, RN, OCN, CIC, FAPIC, based in the USA. Her investigations into whether patient bath basins were a potential source of infections concluded that they were indeed a reservoir for microorganisms and may be a source of transmission of HAIs. Some form of bacteria grew on 98% of the basins studied. A larger US study by Marchaim in 2011 provided confirmation that the bath basin could be a possible vector for transmission of hospital-acquired infections.
Malone was determined to address this issue in an area of care that is often marginalised due to its simple nature. It was evident from his research that a self-sanitising product was needed to break the chain of infection transmission. He determined that silver ions were the way to go, with silver having the highest antimicrobial activity of all the heavy metals. Integrating silver ions into products is well established in healthcare and other areas such as food production. Addmaster, the company supplying the Biomaster® silver ions used in his products, has an excellent reputation for scientific rigour and support of companies who wish to incorporate antimicrobial protection into their products.
This unique product is now in clinical use and has generated very positive feedback from caregivers and patients alike. It consists of a patented polypropylene basin and a fitted disposable inner liner with the Biomaster ingredient added during the manufacturing process. Used together, the two components enable the patient to be bathed safely, as their bath water never comes in direct contact with a potentially contaminated surface. It also ensures any possible pathogens the patient may be harbouring on their skin do not get transmitted to the environment, as is possible with standard basins. Comparative antibacterial activity testing undertaken at Trinity College, Dublin under the guidance of Adjunct Associate Professor Ronald J Russel concluded that the PathAgaurd ABLiS samples were capable of reducing challenge bacterial counts by more than 99% at 24 hours and 99.99% at 72 hours. High counts of bacteria were able to survive in viable form and were recoverable from standard bath basins after three days. Further studies undertaken by Industrial Microbiological Services Ltd UK confirmed these findings, so it was with confidence the PathAguard range of products were developed.
How do silver ions work?
Silver used to be the most important antimicrobial agent before the introduction of antibiotics. Without any understanding of germ theory, our ancient ancestors figured out that silver helped preserve food from spoiling too quickly and promoted the healing of wounds, to name but a couple of its benefits to human health. In more recent times and with a wealth of scientific knowledge at our disposal, silver ion technology has been applied in healthcare, food and other industries requiring antibacterial protection.
How does it work to protect surfaces from contamination by pathogens?
It interferes with the microbe's ability to replicate. Silver ions incorporated into products such as plastic, paint, building materials and paper provide 24-hour antimicrobial protection against pathogens for the lifetime of the product. It achieves this by binding to the cell wall and disrupting growth. It interferes with enzyme production stopping the cell producing energy and interrupts the cell's DNA preventing replication. Pathogens are unable to proliferate on such surfaces like they do on standard surfaces which require frequent chemical disinfection which only lasts for a very short period of time before they start to multiply again.
CMC Hygea Ltd. took this technology and incorporated Biomaster silver ions into their PathAguard range of products.
LUCA® Leg Ulcer Cleaning Aid: addressing issues associated with leg ulcer therapy
Following on from the patient bath basin, the LUCA Leg Ulcer Cleaning Aid was developed. This developed when Malone decided to see if he could utilise this technology to address an issue with leg ulcer therapy that greatly concerned him. Again, personal awareness of a friend's treatment – which involved soaking the leg ulcer in a bucket lined with a refuse sack – led CMC Hygea Ltd to research this practice in order to improve options for staff tasked with cleansing and treating leg ulcers. CMC Hygea Ltd discovered there is a lack of availability of proprietary items dedicated to leg ulcer soaking, hence the Heath Robinson setup where refuse sacks are used to line a plastic vessel.
Further research raised. Malone's concerns regarding this practice, as plastic refuse bags are primarily made of recycled plastic. They are, after all, designed to hold waste that is disposed of, not to hold water with an open wound just centimetres from a possibly heavily contaminated surface. These recycled plastics come from various sources, and are therefore not a homogenous, standardised material subject to strict quality control during the collection, manufacturing and storage processes. These liners are not medical grade issue; arguably, their use in a clinical setting is questionable. There are no studies examining the presence or absence of pathogens growing on these bags.
'To bathe or not to bathe' is still hotly debated. Jacqui Fletcher, a clinical strategy director at the Welsh Wound Innovation Centre, stated in a 2015 paper that 'the use of lined buckets filled with warm, potable water appears to have significant benefits for patients with leg ulcers' (Fletcher, 2015). A year previously, Fletcher and another colleague similarly promoted the benefits of leg ulcer soaking, suggesting 'leg ulcer soaking can help achieve the goals of wound bed preparation by assisting in the removal of loose materials allowing better visualisation of the wound bed and creating a more optimal environment for healing' (Wolcott RD, 2014).
Patients with compression bandages are unable to maintain adequate personal hygiene unless their legs are soaked in water regularly and this can lead to patient distress and concerns about malodours. The PathAguard LUCA provides a medical grade antimicrobial plastic liner to facilitate soaking of limbs. It is secured with special ties at knee level so the entire ulcer can be easily covered. This product addresses the issue of possible cross-contamination of wounds, which appears to be an area of concern for many clinicians involved in the care of leg ulcers. These liners can be used on their own or used to line a unique PathAguard vessel on wheels. This also addresses the issue of manual handling risks associated with disposal of water.
In the awareness that the LUCA is definitely a superior, more hygienic product than existing items in clinical use, CMC Hygea Ltd launched the LUCA after clinical evaluation provided positive feedback. The single use translucent liner facilitates leg ulcer cleaning and soaking and is now widely used in clinical and community settings.
Anecdotal evidence began to emerge from clinician feedback that some patients with difficult to heal wounds had made remarkable progress once they changed to the LUCA liner for their regular dressing changes. This has resulted in a number of leg ulcer specialists wondering if the device is having a therapeutic effect and has the potential to accelerate the rate of venous leg ulcer healing. Clinical trials will be needed to examine healing time in greater detail. Reducing the time taken to heal, especially in the case of poorly healing wounds, would be an enormous benefit – not just financially, but in human costs to the patient, where leg ulcers can be very debilitating and interfere with mobility and quality of life. Evaluation to identify potential improvements to leg ulcer therapy may change the lives of millions who suffer from the effects of these wounds.
Our LUCA leg ulcer cleaning aid, which won the Irish Medical Surgical Trade Award (IMSTA) for best product in primary care in the community in 2016, has achieved a place in the treatment of leg ulcers in the Republic of Ireland, Northern Ireland and the UK; and has been acknowledged to be a safe way of bathing leg ulcers.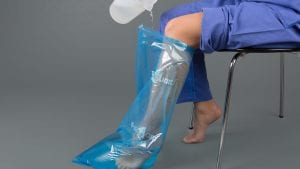 Reducing the risks of nosocomial infections in clinical practice
When addressing the issue of hospital-acquired infections, one particular area which can get overlooked is the detail in the use of bedpans and commodes. The cross-contamination risk to people and the environment from aerosolisation of faecal microparticles is high in certain settings – consider outbreaks of Norovirus on board cruise ships and the Ebola crisis in Africa. The majority of patients are able to use bathroom facilities, but those who cannot tend to be the sickest and most vulnerable patients. They are also the least able to mount a robust immune response to invading pathogens that healthy people fight off without even knowing.
Assisting a patient with bedpan or commode use is a very basic care issue carried out numerous times by healthcare staff during their working day. Disposable gloves and aprons may be worn at the bedside, but during transportation and disposal of contents there is a risk of cross-contamination to staff and the environment. At one end of the scale, a patient may unwittingly harbour intestinal organisms that may prove pathogenic to another patient if released into the environment. At the other end of the scale, a full outbreak of Norovirus on a ward gets everyone's attention and major strategies are implemented at great cost, to contain and prevent more patients and staff getting infected.
CMC Hygea Ltd has a new product currently in development that provides a solution to help mitigate this cross-contamination risk. It is called the Body Waste Containment System (BoWCoS). It consists of a soluble bedpan/commode liner that seals body waste at the bedside. This ensures staff transporting and disposing of the contents are less likely to become vectors of infection transmission: potentially infective agents never come in direct contact with the bedpan, which means they are no longer a source of infection risk. The liner can then be safely transported to a bedpan washer where it completely dissolves during the disinfection cycle. This special liner ensures body waste never actually comes in contact with the container and aerosolisation of contents is mitigated.
This unique product is a welcome development in an area of infection prevention and control that may have been overlooked. Feedback following clinical evaluation has been extremely positive. Generally, healthcare workers do not dwell on the potential contaminants that their clothes and body may harbour after a busy day. With the introduction of the BoWCoS, this cross-contamination risk can be greatly reduced. Norovirus, C. difficile, SARS-CoV-2 and other intestinal organisms that may be present in body waste are safely contained, transported and disposed of using this new and innovative product.
SARS-CoV-2: the secondary transmission route we may be overlooking?
SARS-CoV-2 is primarily transmitted via the respiratory route, but initial research from Chinese clinicians and scientists warned of possible secondary routes. Studies demonstrated continued viral shedding of the virus via the intestinal route even after pulmonary clearance (Zhang, 2020). This means in theory, patients including those who are thought to be clear of the virus and presumed to be no longer infectious could in fact contaminate the environment when using bedpans. This could have worrying implications for disease control if live viral particles persist weeks after apparent recovery. In the chaotic environment of a totally new infectious disease with limited understanding of its aetiology and evolution, protecting healthcare workers is now extremely difficult.
The transmission occurring via faecal contamination means that this PathAguard BoWCoS liner has the potential to help to physically contain intestinal viral particles while infected patients are being cared for. Clinical evaluation of the BoWCoS has been completed and feedback is extremely positive in an eminent Irish hospital, with pathways to upscaling manufacturing already in place. Yet another tool in the arsenal of infection prevention and control is to be welcomed – especially at a time of limited understanding of this novel virus, which may have several routes of transmission yet to be identified.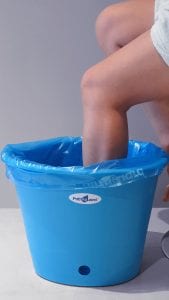 Conclusion: out of sight should not lead to out of mind
What held true for Florence Nightingale during her heroic efforts to save soldiers during the Crimean War in the 1850s still holds true today. Despite the increased standards of nursing care, many patients still died as a result of poorly maintained sewage systems when diarrhoeal illness ripped through the wards.
Nightingale finally identified this; and since then hospitals all over the world have followed her lead in ensuring adequate sanitation and hygienic standards. She also pioneered modern nursing and her insistence on high hygienic standards was central to preventing cross-infection in the pre-antibiotic era. With the advent of many modern medical advances, the basics of care can somehow get overlooked if a laser focus on this issue is not maintained. Simple tasks like bathing and toileting may appear innocuous and mundane, not worthy of much attention in the midst of pioneering and exciting therapies. However, simple body functions can also pose risks to vulnerable patients; and innovative products such as the PathAguard range have the potential to refocus our attention and help mitigate the inherent contamination risks.
Never before has the entire global population been so focused on avoiding an infection. This pandemic has opened our eyes to invisible threats. We may not be able to see the virus, but we are seeing the devastating effects of COVID-19. Likewise, we may not be able to see the pathogens lurking on patient basins or bedpans, but they too can pose a risk to certain patients. The HAI contracted today may not be directly traced to the basin, but products that provide a hostile environment for pathogens are to be welcomed. Their proliferation on surfaces will always pose a problem; and infection control and prevention measures could do with an addition to their arsenal of tools.
References
Fletcher J, Ivins N. (2015). Is it time to review how we clean leg ulcers? Wounds UK Vol 11, No 4, 2015.
Woolcott RD, Fletcher J. (2014). Technology update: role of wound cleansing in the management of wounds. Wounds Middle East (1); 28-42.
Zhang J et al. (2020). Molecular and serological investigation of 2019-nCoV infected patients:implication of multiple shedding routes. Emerging Microbes Infection 2020, 9:386-389.
Michael Malone
CMC Hygea LTD
info@cmchygea.com
www.cmchygea.com
linkedin.com/company/cmc-hygea-ltd/