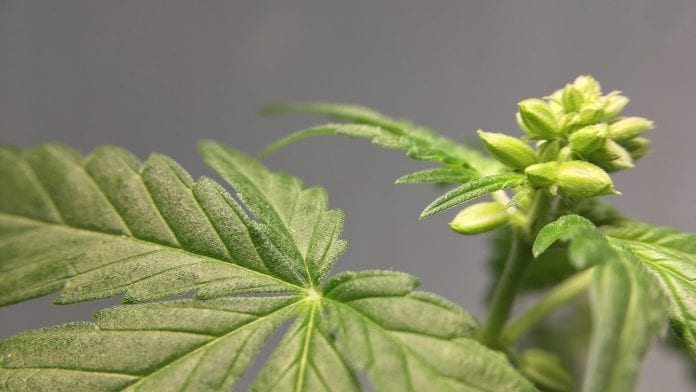 Leafcann Group CEO Elisabetta Faenza explores regulatory reform, best practice standards and the future of the medicinal cannabis market.
Many industries around the world are currently experiencing a significant downturn. The impact of COVID-19 is obvious, and the ramifications will be felt for some time. However, for those in the medicinal cannabis market, the future is not so dark. The use of cutting edge technologies to produce beneficial medicine will continue to be in high demand, and may even become one of the most stable sectors for investment and employment in the future.
The initial excitement sparked a few years ago by the growth of the medicinal cannabis sector has died down somewhat, but has not disappeared altogether. It is time to take a deep breath and look at what is needed to ensure medicinal cannabis remains a viable and effective industry throughout the current environment and into the future. The success of the medicinal cannabis industry in the future requires three things: continued strong investment; a fully trained professional workforce; and sustained regulatory reform across the globe.
Why should people invest in the sector?
Despite the recent downturn in market sentiment, the forecasted demand of cannabis for medicinal and adult use continues to grow. In 2015, the legal cannabis market was forecast to reach $24.07bn by 2025, with $13.2bn of that for the medicinal cannabis market. In 2018 the medicinal cannabis market was forecast to reach $39.4bn by 2023. By late 2019, new forecasts indicated that by 2024 the demand for medicinal cannabis would grow to $62.7bn. With each successive forecast, the market for medicinal cannabis has got bigger.
In just four years, the forecasts for medicinal cannabis have themselves grown by a massive 370%. The increase in demand for cannabidiol over the next three years alone is expected to be five times the current demand. Based on this forecasting trend, even the current 'hiccup' due to COVID-19 will not stop the significant expected growth. Data from European countries such as Germany and Italy indicate that the uptake of medicinal cannabis is here to stay and will continue to grow. In 2019 alone, Germany imported over 6.7 tonnes of medicinal cannabis product and will import more in the coming years.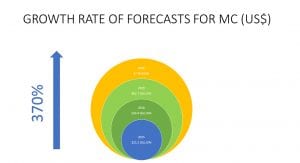 The strength of the sector relies on its people
Recruiting under pressure and not preparing staff properly can costs millions of dollars. Based on intelligence gathered from licensed operators across the globe, the greatest recurring cost to businesses is still likely to be their people – and this can also be their weakest link. Indeed, cases such as Zenabis – which was prohibited from selling and importing cannabis in Malta after failing a good manufacturing practice (GMP) compliance inspection – and Canntrust, where staff were found to have introduced black market cannabis seeds into the supply chain, showed just how serious investors take non-compliance, with both companies experiencing significant falls in share price after their misdemeanours.
Human error can be awfully expensive. A case in 2019 saw an individual lacking an adequate understanding of the technology used in their greenhouse to meet the plants' needs; and thereby ruining a crop. Although this was a crop intended for recreational use, the principle is still the same for medicinal cannabis. However, the ramifications for a medicinal cannabis operation could be worse than just a monetary loss, including loss of licence and a drop in market confidence.
What can we do to ensure human errors do not occur? We hire the right people and train them correctly from the start. The success of the sector relies on having the most trustworthy and professional people. This means they are:
• Skilled: they have knowledge and skills in controlled horticulture, GMP and good agricultural and packaging practice (GACP. They are competent, work ready and practise according to both the current evidence and industry standards of best practice;
• Professional: they have undertaken standardised, accredited training that has been designed to meet industry needs, delivered by accredited training providers; and
• Trustworthy: they comply with the highest standards of 'fit and proper persons', are as invested in achieving high operating standards as their employer, and conduct their work according to industry standards and their enterprise operating procedures.
Ultimately, establishing a professional workforce revolves around the concept of quality. It is not enough to have a terrific quality management system if no one is following it. It is not enough to have a terrific quality assurance and compliance team if no one listens to them. Organisations, patients and governments need to be assured that the work of every single person is integrated within the quality system; and that all their practices reflect the GMP standards.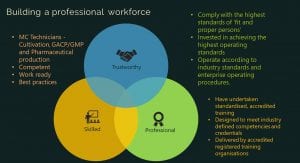 Regulatory reform takes time and perseverance
The case for regulatory reform continues to evolve in all jurisdictions which permit the use of cannabis for medicinal purposes. It is fair to say that no jurisdiction has a perfect model; however, there are some that are moving faster than others.
At its core, regulatory reform must always be about ensuring that patients, and the public as a whole, are safe and have unfettered access to high-quality medicine. There is no point in having hundreds of producers making hundreds of products if patients cannot then access them because of bureaucratic red tape or exorbitant pricing.
Pricing will eventually come down due to market forces – but only when competition is healthy and supply is abundant. Equitable access to products during the early stages of a new sector's emergence can be assisted through sensible policies that make products more affordable or even free to some parts of the population. For example, the acceptance of medicinal cannabis use by health insurers in Germany has been beneficial to many patients who can now be reimbursed for their prescription. The UK's recent changes to import restrictions means more medicinal cannabis will be available in a matter of days, not months.
Regulatory reform for patient access must also include improved training and communication with health professionals. Unlike traditional pharmaceutical practice, wherein health professionals might be trained on a drug-by-drug basis, the medicinal cannabis industry needs to support a broader-based approach; because the endocannabinoid system and its integrative role in health are new to many health professionals. Without a detailed understanding of the endocannabinoid system, these health professionals do not have a conceptual framework in which to place cannabinoid product-specific information. Regulatory reform must include working with professional health bodies to ensure that those who are able to prescribe medicinal cannabis have a thorough knowledge of the range of product classes and how they can be used.
Furthermore, health professionals must be able to operate in the confidence they will be backed by their professional bodies.
Lastly, regulatory reform must look at methods to assist high-quality producers to enter the market, in order to ensure a sector filled with reputable producers. There is an opportunity for inexperienced companies looking to make quick money to enter the market if regulations are too lax. Such a move could be detrimental to the entire sector on a worldwide scale.
This is why GMP accreditation is so vital, and must become the global standard. Only GMP products provide patients the assurance that they are receiving a high-quality product from well trained personnel, who are operating under a robust pharmaceutical quality management system. These systems provide authorities with evidence that every task was performed by trained personnel who follow established procedures and document their actions and decisions. The European Union already has strict GMP standards which must be met by companies looking to enter that market.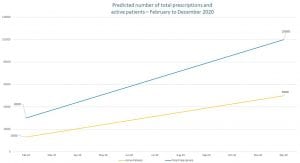 What does the future hold?
Despite some employment layoffs over the last six months, the cannabis industry is still one of the fastest growing sources of jobs. Between 2017 and 2018 the number of jobs nearly doubled in the US, still growing by 15% over the last year. In 2018-19, job listings in Canada increased by 650%. Once COVID-19 restrictions are eased, the number of jobs will again increase. A recent survey conducted by New Frontier Data found that 72% of respondents expected the industry to grow in 2020 and 80% expected investment to increase or stay the same.
The demand for medicinal cannabis is not waning: in fact, it is increasing. In Australia, the medicinal cannabis sector received confirmation that it was considered an essential service and is therefore continuing working to maintain an operational supply chain. This decision will allow it to work unencumbered by the uncertainty of coronavirus lockdown policies.
Australia's medicinal cannabis prescriptions have increased dramatically. From October 2016 until May 2020 there were approximately 42,000 prescriptions written. However, it is predicted that by December 2020 over 100,000 prescriptions for medicinal cannabis will have been written. Furthermore, projections show that the number of active patients will reach approximately 50,000 by the end of 2020. Furthermore, there are currently 21 clinical trial notifications in Australia.
The medicinal cannabis industry has been challenged with uncertainty for decades and continues to show remarkable resilience. Current challenges notwithstanding, the industry is well placed to grow and make an impact in 2020 and beyond.
Elisabetta Faenza
CEO
Leafcann Group Pty Ltd
+61 414 447 275
ef@leafcann.com
www.leafcann.com.au
This article is for issue 3 of Medical Cannabis Network. Click here to get your free subscription today.
Recommended Related Articles