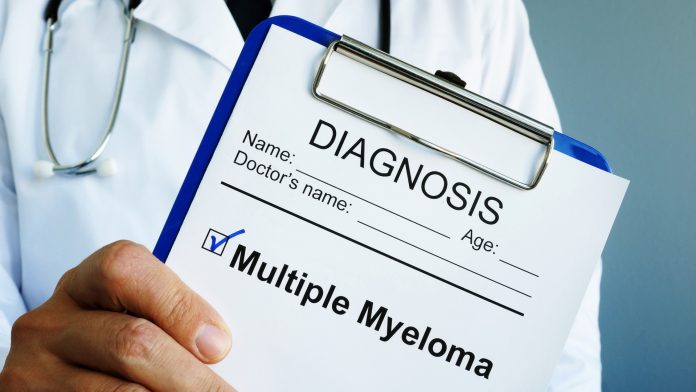 The NHS has announced that a life-extending injection for multiple myeloma, a bone marrow cancer, will be available to 350 patients per year in England.
Multiple myeloma, a type of bone marrow cancer, gets its name from the way this cancer type affects several areas of the body, including the spine, skull, pelvis, and ribs. In the early stages of multiple myeloma, no symptoms are present but eventually result in a wide range of problems such as bone pain, bone fractures, raised calcium levels and unusual bleeding.
Current treatment options for this type of cancer may be either non-intensive which is typically recommended for older or less fit patients, or intensive, which is aimed at younger or fitter patients. Treatments available include chemotherapy, steroids, thalidomide, bortezomib, and stem cell transplant.
Injectable treatment for multiple myeloma
The injectable treatment, called daratumumab, is a monoclonal antibody administered regularly that takes around five minutes and generally causes minimal side effects. It attaches to a protein on cancer cells, signifying the immune system to kill it.
The drug can extend the lives of patients with recurring and incurable multiple myeloma cancer by an average of nine months; it was recently given the green light for routine use by NICE after it was made available for a limited period through the Cancer Drugs Fund.
This new treatment, available on the NHS, will be offered to patients with recurring multiple myeloma who have tried at least three other treatments. The opportunity to extend the lives of multiple myeloma patients will give these individuals a better chance of accessing future treatments.
NHS Chief Executive, Amanda Pritchard, said: "This quick injection can have a real impact on the lives of patients and their families and so it is important news that it is now routinely available on the NHS.
"The drug will offer a ray of light to hundreds of people each year who have had limited success with other treatments for this devastating, advanced blood cancer.
"It is also the latest in a long list of cutting-edge, targeted cancer treatments that the NHS has secured routine access to through the Cancer Drugs Fund, making it good value for taxpayers too.
"The NHS has continued to prioritise cancer care throughout the pandemic and I urge anyone with concerns, to come forward and get checked".
Health and Social Care Secretary Sajid Javid said: "It is great the NHS will begin routinely administering daratumumab to blood cancer patients – this life-extending drug is another example of an innovative treatment being rolled out on the NHS, marking a significant stride in our mission to make the country's cancer care the best in Europe.
"The government is placing huge emphasis on research into the best possible care and treatment for cancer as part of the 10-Year Cancer Plan, as well as improving early diagnosis so treatment can be more effective".
Clinically effective and affordable treatment
The NHS initially made this treatment available through the Cancer Drugs Fund in 2018, allowing patients access to groundbreaking medicine whilst further data was collected on its clinical and cost-effectiveness.
The evidence collected indicated that the drug is clinically effective at a price that is affordable to the taxpayers, and this will continue to be evaluated to determine how early it can be administered to multiple myeloma patients.
Helen Knight, programme director in the NICE Centre for Health Technology Evaluation, said: "Based on real-world evidence collected from over 2000 NHS patients while daratumumab was available via the Cancer Drugs Fund, together with further trial data, the independent appraisal committee agreed that daratumumab increased how long people with relapsed and refractory multiple myeloma lived compared with standard care.
"Having first recommended daratumumab through the Cancer Drugs Fund in December 2017, we are pleased that the latest evidence means this drug will now be available for routine use in people with this very serious form of cancer."
Recommended Related Articles